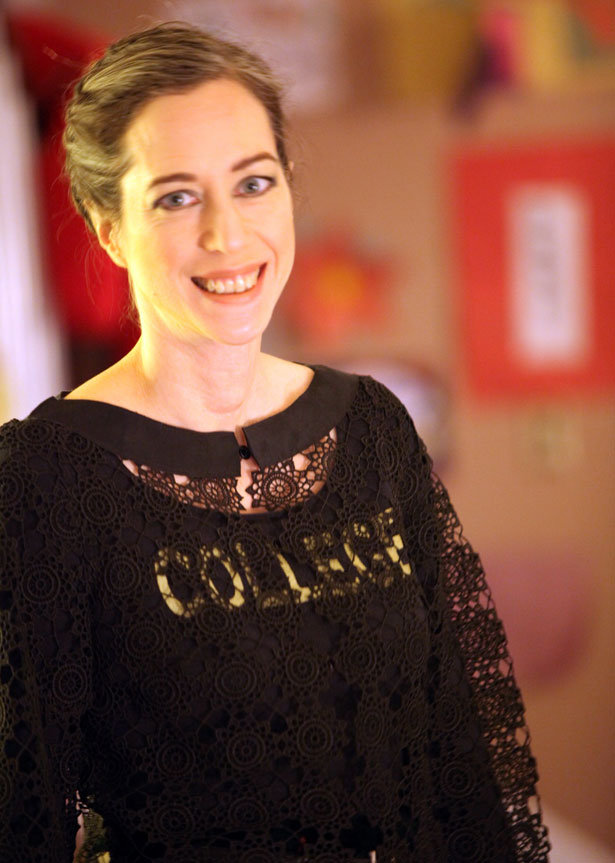 ShareThis
Where are you from and where do you live? What do you do other than sewing?
I was born and raised in Pennsylvania, USA and now I live in New Jersey, USA. I am a stay-at-home mom to 2 lovely daughters.

claudine01's family.
How did you begin your sewing journey, and what have been your greatest achievements along that journey so far?
I started sewing at a very young age. My mother used to make my clothes, but I was a rather ungrateful child. I was convinced I could do better myself.
I continue to sew because of a compulsion I have to make things. I get all nervous if I don't have anything to do with my hands.
Great sewing achievements include 2 wedding gowns (my own and my best friend's), 3 prom gowns (2 for me and one for my other best friend), one mother-of-the-groom gown for my mother at my brother's wedding, and one Zevo-3 Elastica costume for my younger daughter.
Who or what inspires you?
My style icons are all people so far removed from my personal lifestyle that I can't fathom how they have caught my imagination. They include Susie Bubble, Tina Turner (Beyond the Thunderdome is my all-time favorite movie for costumes), Helena Bonham Carter (A Room with a View makes me swoon), and Queen Rania of Jordan.
I am inspired by all kinds of things. I read fashion magazines obsessively, I love Pinterest, I read loads of blogs, and look at all the fashion shows on style.com. I keep photos cut from magazines all over my sewing room walls, and replace them every season. But sometimes I'm just inspired by the colors of nature or a fluffy dog.
What's your sewing secret weapon?
I line just about everything in silk. A silk lining feels fabulous and elevates every garment.
Tell us about your sewing experience.
I listen to music on Internet radio when I am sewing. My niece makes me playlists so the music that I listen to is not so terribly out-of-date. I've been enjoying music by Jamie Cullum and Two Door Cinema Club lately.

claudine01's sewing room.
I have trouble focusing on sewing if there are no distractions. Somehow, I get more sewing done if my kids are bothering me. If they leave me alone, I just waste time on the internet and don't do any sewing at all.
I am lucky enough to have my own sewing room in a spare bedroom in my house.

Another look at claudine01's room.
What is your dream sewing project?
That's a tough one. I have lots of possible projects in my head all the time, but to call one of them my "dream" project would be a slight to all the others. My almost-eight-year old has lately started making sketches of dresses. I'm thinking of asking her to pick her favorite sketch and I will make that dress for her for her birthday. I'll call that my dream project of the moment.
How long have you been a member of BurdaStyle, and what keeps you coming back?
I've been a BurdaStyle member for quite a while. I am known in the online sewing community by my first name, so I wanted to keep that going on BurdaStyle. Claudine was taken, so I chose Claudine01. My favorite thing to do on BurdaStyle is to page through the newly posted projects. I find it relaxing to see what other people are sewing. I visit several times a week.
What are your favorite BurdaStyle and/or burda style magazine patterns, and why?
I love the trouser patterns in Burdastyle magazine. They fit me well and the styles tend to be very current.
What is the most frustrating thing about sewing for you? What is the most rewarding?
I have been sewing for a long time. Sometimes it's frustrating when my project turns out exactly as envisioned. It makes me feel like I've missed an opportunity to learn something new. It's rewarding to learn a new skill. I learned screen printing recently. Now I am hoping to improve my batiking skills.
Check out claudine01's top ten favorite member projects!