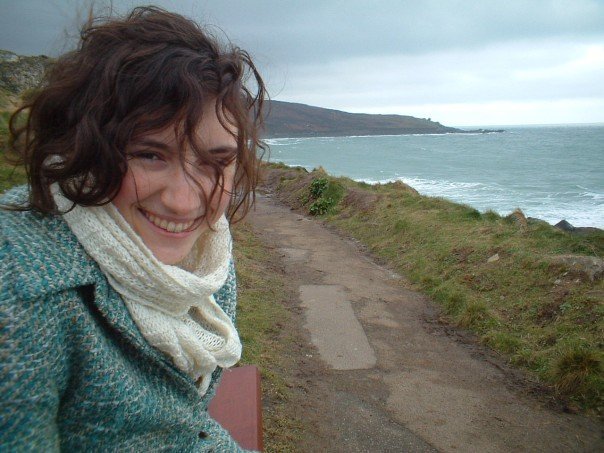 ShareThis
1. Where are you from and/or where do you live?
I grew up with my parents who live just outside London and I came to Plymouth to study,and have been living here by the sea ever since.
2. What was the 1st thing you made? How did you start sewing?
My mum set me up well by teaching me the basics of sewing,and encouraging an interest in craft in general. I used to make dresses for my Sindy doll out of handkerchiefs, but the first thing I ever really sewed for myself was a plaid miniskirt, which I made out of an old granny skirt. I'm not entirely sure my mum knew I was chopping it up while she was in the next room!There seems to be a tradition of crafting on my mums side, my old bedroom is filled with amazing crochet books from the 1910s and suitcases of fabric handed down from grandmas and aunts…
3. What role does sewing play in your life?
An increasing one! Most of the time I was at uni, I didn'thave a machine, and ever since I got my own, I've been making up for lost time!I sew practically every weekend, but in my head I'm sewing 24/7. I'm sewingmore and more for myself these days – I feel guilty buying sweatshop clothes on the high street, so I'm fighting back!
4. What is your favorite and what is your least favorite thing about sewing?
I am a bit under-skilled/lazy, so I take shortcuts and then I get annoyed when the shortcuts don't work out. I should start being more strict with myself, in order that I can appreciate better pieces when they are finished.
My favourite thing has to be just the fascination in seeing a flat piece of fabric become 3D and moving and structured. It's like origami to me.
5. If you could make something for anyone who would it be and what
would you make?
They don't call them classics for nothing – I'd love to have yards and yards of a beautiful silk or something and create an Oscar-winning dress. Possibly for an actress who happened to be exactly the same size as me,and then suddenly couldn't go to the Oscars at the last minute so I could wear it! Muhahhahaha…
Closer to home, I'd like to get my ability to a level, where I'm confident enough to make stuff for other people, my friends and family. It'sall a bit experimental at the moment.
6. What are you looking for on our site? What do you think should be
improved and what do you really like?
I love that Burdastyle aims to teach as well as to share. My learning curve is so steep since I found the wealth of information available tome here, and that Burda-ians seem so happy to help each other. Nowadays I use two machines when sewing – the sewing machine and the laptop! I hope you guys can iron out the kinks soon, just keep being the pioneering site you are and move onwards and upwards!
7. What is your motto?
I guess my friends would say "Every day's a schoolday".
Learn more about ClaireLovesToSew, and the super cool creations she makes on her "70's-tastic sewing machine" by viewing her member profile!