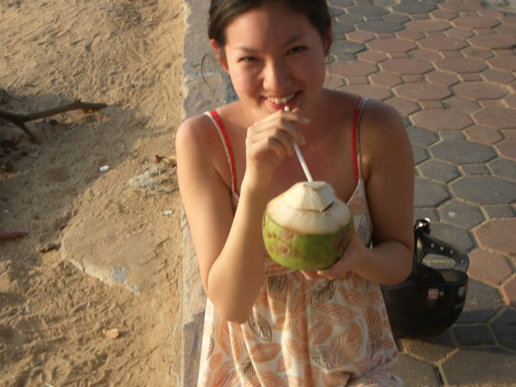 ShareThis
1. Where are you from and/or where do you live?
I am originally from Japan. I grew up there. I came to the States for the first time when I was 17 as an exchange student. After a year of exchange program, I went back to Japan. There I finished high school and started college. In 2004, I transfered to the University in Philadelphia. Since then, I've been in Philly.
2. What was the 1st thing you made? How did you start sewing?
I don't remember the first thing I made…probably some stuffed animal or something. I always loved creating things! I grew up seeing my mom making bags and some decoration stuff. So I just imitated her. The first clothes I made was a black shirt. I traced a pattern from one of my shirts. First thing I made from BurdaStyle was Azalea dress. It took me almost like 8 hours to complete! Thankfully, it doesn't take that long anymore:p
3. What role does sewing play in your life?
Sewing is an essential part of my life! I get jittery when I'm not sewing for a few days, wanting to touch my sewing machine.
4. What is your favorite and what is your least favorite thing about sewing?
My favorite thing about sewing is when I'm putting each piece together, when I'm actually sewing. And I love wearing it.
My least favorite thing is installing a zipper… I hate doing it just because I'm so bad at it. That's why I use stretchy material for most of my dresses, so I can omit the zipper part. I don't like ironing either. And I avoid button halls!
5. If you could make something for anyone who would it be and what would you make?
I want to make a dress for my little sister. I'm working on it right now actually. She loves wearing dresses like I do, and she requested me to make a halter dress for the summer.
People always ask me if I make clothes for my husband. I don't like making clothes for my husband, and I don't think I ever will (sorry Andy!) because all he wears is a white T-shirts and wife beaters! No fun in that.
6. What are you looking for on our site? What do you think should be improved and what do you really like?
Looking for free/cheap patterns! It's so great that you guys offer free downloads. I really like to look user creations. They are all so creative, and inspire me a lot!
7. What is your motto?
vivat veritas. "May truth live". "vivat veritas" is my husband's tattoo on his arm, and I took it as a name of my clothing line.
Chipdale7 has created the perfect summer dresses. Her creations are light and girly but still both classic and trendy. Check out her Etsy shop to see more of her work!