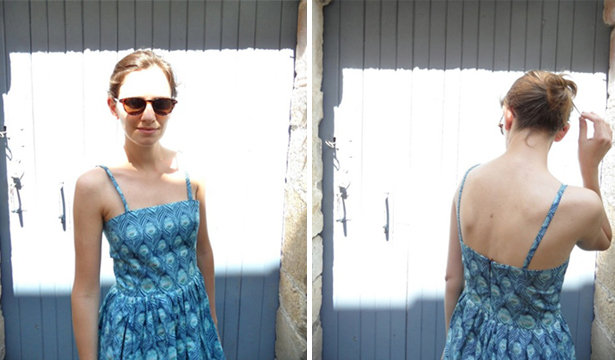 ShareThis
Where are you from and where do you live now?
Hi there, my name is Charlotte, I am 26 and I am from France. I grew up in Brittany but I have been living in Paris for more than three years. It's a great city even if sometimes I miss living by the sea… I have a 9 to 5 daily job that isn't far from home (quite great in a big city) so I don't waste a lot of time commuting every day and I can focus more on my sewing projects.
How did you start sewing?
I started sewing in 2005 because I wanted a floral dress that I've seen on a Cacharel runway show.
I was a student, I couldn't afford it, and so I decided to make my own floral dress! But I really got into sewing in 2007 when I moved to Sweden for a year and met Margareta, a Swedish grandma, who lent me her sewing machine for a few months and taught me a lot of great techniques. She is the best seamstress I've ever met!
Try to describe your personal style in 5 words or less!
Bows, scoop backs, summer dresses, navy blue color, and Liberty fabrics are the five ingredients of my style.
Do you have a style icon who inspires your sewing projects? Where do you go to get inspired?
No style icon in particular, I get inspired by magazines, runway shows, blogs. My favourite brands are Paul&Joe, Orla Kiely, Stella Mc Cartney, Valentino. But what I like the most is following emerging clothing labels such as Nadinoo, Alexandra Grecco or Hetterson. They are talented ladies, amazing seamstresses and their designs are always perfect.
What time of year do you find yourself most creative?
Spring! It's my favourite time of year to start sewing projects because all I can think about at this time of the year is all the summer clothes I would like to wear on my holiday trips to sunny countries. I am passionate about summer cotton dresses :)
What's your sewing experience like?
I've had a sewing room in my apartment (which is also a guest room) for a few months now, and I couldn't be happier with it. I spend many hours per week sewing there, in the evening or week-ends, listening to the Shangri-Las, She & Him and Camera Obscura.
I also spend a lot of a time reading blogs (and BurdaStyle!) on my home-made desk painted with the loveliest blue color.
What is your dream sewing project?
My dream would be to be able to sew everyday, to make a living out of this. So I actually don't have one dream sewing project but many!
That's why I decided a few weeks ago to launch my Etsy shop full of handmade clothes and try the adventure of a handmade clothing label. My fingers are crossed.
How long have you been a member of BurdaStyle?
I discovered BurdaStyle about a year ago and it hasn't been long before I decided to sign up. I visit daily and I comment on projects very often. It's always a great pleasure to get fantastic feedback about my creations, so I share my love for other seamstresses projects too. What I like the most about the website is the BurdaStyle featured member interview; I love having a peek at other people adventures in sewing. That's why I am so thrilled to be a featured member!
What is the most frustrating thing about sewing for you? What is the most rewarding?
The most rewarding thing is when I can't stop wearing an outfit I've sewn. I also like when I look at the inside of my garment and I can tell myself "this looks really pro!"
What is frustrating is when you spend a lot of time sewing a garment and it doesn't really fit. I like when my clothes are completely made to measure. That is why I get a lot of scratches while trying on garments with pins on it!
Check out charlotteauzou's top ten favorite member projects!