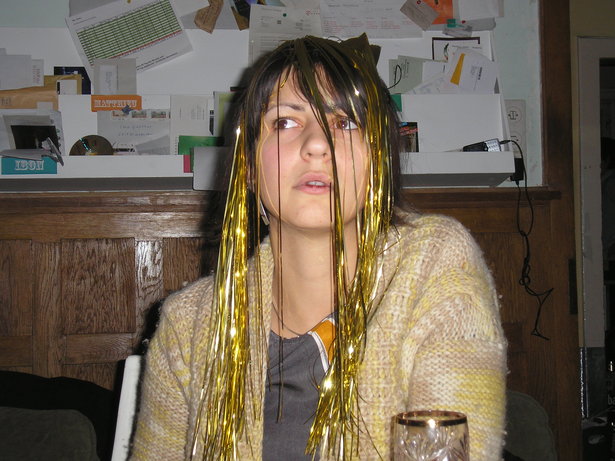 ShareThis
1. Where are you from and/or where do you live?
I am originally from Sofia, Bulgaria. I live since 2000 in Kassel – a middle size city in Germany. I came here to study architecture and I almost did the distance. My last exam is in march, so there is a limited number of sewing sessions till then.
2. What was the 1st thing you made? How did you start sewing?
I am not sure I remember the first thing I've sewn. It must have been a pant or a blouse, when I was a teenager. My mom used to sew a lot so I somehow slipped neatly into it – I even had a small sewing machine as a kid (actually I think I never sewed something complete with it, it was just fine sewing straight lines…). Than I had a long pause and started doing clothes for myself about 2 years ago again, when I bought my own sewing machine.
3. What role does sewing play in your life?
Sewing is a relaxing hobby. I love what I am doing and learning, but it can be very stressful and there is a lot of responsibility of being good and being professional in it. So sewing is a perfect distraction, because I still can do my own thing, but still doesn't have to take as seriously as a profession. I am enjoying my layman status in it… The other role it plays it is this of me being tired of buying stuff, because it is fashionable and because I can afford to buy it, but me ending up with only few pieces I really love. So by sewing I made my resolution to make pieces I will wear for years, because they are exactly my style. And I like the idea it is much more correct and environment friendly… And it has been on the winning spot of best diploma distraction, next to the internet…
4. What is your favorite and what is your least favorite thing about sewing?
My favorite thing is to have the finished garment and have the feeling it is just what you wanted it to be and the satisfaction of being able to pull it through (I still have some unsewn dead bodys, that waited to be brought to live…).
I hate it when I do something wrong and must break the seams and start again. It just stops the flow and feels like a step in the wrong direction. And my machine is not very good at buttonholes…
5. If you could make something for anyone, who would it be and what
would you make?
I will love to make unique things that they really like for my friends and family. If I just only had the time and motivation for it…
6. What are you looking for on our site? What do you think should be
improved and what do you really like?
Hm, improving? I guess I will be happy to get more news feeds – I have my daily routine of checking website before i start working. I also will be interested in a kind of "behind the scenes" of every pattern that you make – the process from the sketch to the photo shoot.
And off course I love seeing the pattern modification how tos , but it doesn't have to be you guys – users are also starting to post more of this. Sometimes when I am sewing something and couldn't decide on a issue I get the desire to discuss is with some other users too.
What i really like about the site off course is the open source community idea. The positive attitude of the other users is a blessing too – it is just keeping one on trying again and being mean, since one can be anonymous is a think I hate about the web sometimes. I definitely sew and enjoy it more since i have the possibility to share the experience and the result.
7. What is your motto?
I don't really have one. If I have to think of something it will be like "Don't give up, keep on!" – just very down to earth and unromantic…
Learn more about ceregana by visiting her profile. Also check out her creations! To catch up more with Ceregana and find out what she's up to, visit her blog!