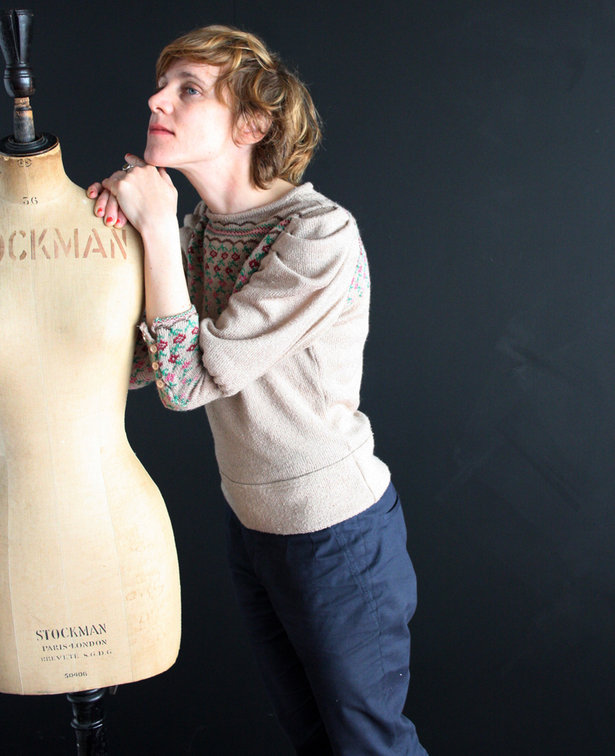 ShareThis
1. Where are you from and/or where do you live?
I am originally from France. I was raised in the Loire Valley near Le Mans, famous for the Le Mans 24 Hour Race. It is not far from Alençon in Normandy, a town known for its intricate lace: le point d'Alençon. [This feature is sponsored by the French expats' tourist board. ;-)] I came to work in England in 1996, first in a small town near Bristol, then in London. I have been working while studying Fine Arts: I am a part-time librarian and I recently completed a research project at the Royal College of Art. I often feel stuck here in London, but I guess these are not the best economic times to leave the city. Rotterdam is my preferred location: it oozes with down-to-earth creative energy. There, over the last 4 years, I have learned how to hand process and print my own film footage (mainly 16 mm). I am a film buff.
2. What was the 1st thing you made? How did you start sewing?
I remember hand-stitching fabric remnants. I was determined to hand-sew as neatly and regularly as the sewing machine itself.
I gave up because I did not aspire to a robot's life. I was fascinated by Christian Lacroix's aesthetics, so I tried to emulate his fashion drawings. Both of my grandmothers taught me how to knit and darn. I remember some extreme mending on one of my favourite pairs of trousers: at one stage, 40 per cent of its surface was literally hand-woven, an exercise in tapestry. Each time an area was mended, another hole appeared. The pair got so tight that I had to widen it by adding a fabric strip along the sides. In my early teens, I got to use a sewing machine: there was a free sewing evening course organised by my village's council, and I learned all the basics of garment making at that time. BurdaStyle's How-To's have consolidated my skills. Recently, a memory resurfaced: I had forgotten that my great-grandmother was a haberdasher. I vaguely remember her empty shop, but by then the merchandise had long been sold (bye-bye Vogue Couturier patterns). I have been told that she disliked sunny days as the light would discolour the items in her shop windows, so she often had the shutters down. (She was not reputed for her sunny disposition in the first place.) She passed on some press-on buttons as a legacy, the only 'notions' of hers she left behind.
3. What role does sewing play in your life?
Creating, sewing and knitting have provided me with the capacity to tolerate solitude, to be self-sufficient and resourceful. These days, I manage to keep consumerism at bay as I am able to create the clothes I want to wear myself. Times are uncertain, and I am likely to go on living on a modest income for a while, but I will do it in style: "my tailor is rich!" (This sentence is the first spoken phrase from the first English-language audio teaching method in France, circa 1920; "But my English is poor" is the next phrase.) When I was writing my thesis, I found it hard to sit down and write; I was thinking and ordering my thoughts better each time I was away from my desk. Sewing helped me with the formal construction of my thesis. While using my hands, the abstract notions I was dealing with made sense: each argument had to blend in with the others as seamlessly as possible. Consequently, I started several sewing projects when I should have prioritised the thesis. When the time came to deal with the details of those sewing projects, I needed to focus on the footnotes for my thesis: this methodology did not go down well with one of my supervisors. Now my thesis is over and I have passed with flying colours, I am back to my senses. I am now able to slowly go through the backlog of unfinished sewing projects I started.
4. What is your favourite and what is your least favourite thing about sewing?
I like to focus on the inside of the garment as much as the outside. It is highly satisfactory when the garments I make correspond to my initial idea.
I have a problem with finishing off garments. Button holes and zippers when badly done can ruin the overall look of a whole outfit, so I dread this final stage. Diagnostic: procrastination.
5. If you could make something for anyone who would it be and what would you make?
Most of the time, I sew and make presents myself so I am waiting for a handmade present for a change. Patti Smith is my hero. Making her a white shirt would be a redundant gesture as Ann Demeulemeester has already set the standard. Instead, I would like to create downloadable patterns. I am astonished by those Japanese books: the construction of their patterns is so perfectly explained visually that the language is not an issue. I find it an example to emulate. My ideal downloadable pattern would have its instructions in French, making the whole sewing experience didactic on several levels.
6. What are you looking for on our site? What do you think should be improved and what do you really like?
I have been using the site for over two years. In August 2009, I had a happy escape from academia. I travelled to New York during my work leave and interned for Burdastyle, combining two dreams together: nourishing my enthusiasm for the community and the chance to experience the city from a working perspective (check out the blogs here and here. I have witnessed the launch of the new site. (A great experience: I recommend it!). Overall, I like the new formula, but I am not too keen on the rating system which I find too arbitrary. It is a great idea to give carte blanche to members to feature their own pattern variations as project of the week. As on Ravelry, it would be good if members could sell patterns, even for a symbolic copyright fee of $2.
7. What is your motto?
Spirit is true only when it manifests itself. At the root of 'manifest' there is the word 'hand'.
Jean-Luc Godard, Histoire(s) du Cinéma
Check out her top ten picks of member creations!
See this week's Project of the Week: Sleeve Study by CarotteSauvage