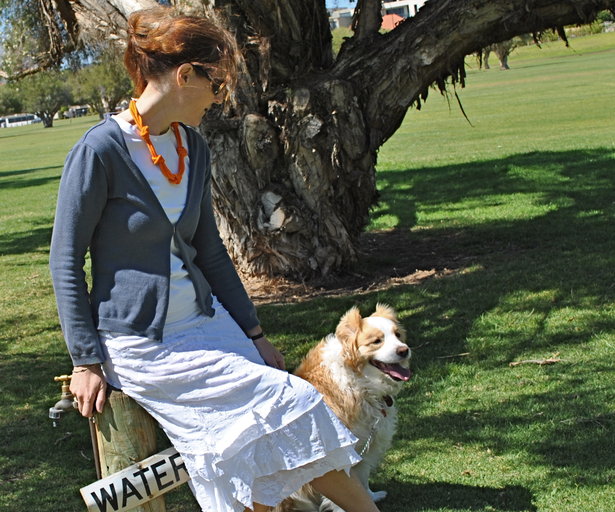 ShareThis
1. Where are you from and/or where do you live?
I live in Perth, Western Australia. Perth is a small city, and probably the most isolated capital city in the world! The term "only 6 degrees of separation" is so very true for Perth-ies. Both my husband and myself were born here, as well as all our three children.
2. What was the 1st thing you made?
My mother and both my grandmothers were both very creative and prolific seamstresses, so I was sewing from an early age. When I was little I made doll's clothes, cushions, pencil-cases and pincushions and so on, one of which I still use today, lol!
The first garment I remember making for myself was a white stretch jersey knit tank dress, printed with pink seagulls (hey, it was the late 70's…) It was pretty basic; but I was proud enough to wear it to a school social. I was about twelve, I think…
I think the project I am most proud of in my Burdastyle studio is my ball gown, made last May, because I put such a lot of thought into its design and it turned out just how I imagined. But really I always like the latest project the most, just because it's the latest baby, and I'm excited about it and wearing it a lot as a consequence; then it's on to the next creative endeavour.
3. What role does sewing play in your life?
Ever present. I've been sewing for myself for over thirty years, and now my husband and the family since they came along. I just love it. I enjoy both the creative as well as technical challenge of it and can't imagine myself ever tiring of it. There is always a new skill and a new challenge to master.
4. What is your favorite and what is your least favorite thing about sewing?
Oooh, well my favourite part of sewing is that wonderfully optimistic planning stage, when you are first inspired by a piece of fabric and where anything is possible and your project is still a perfectly achievable and perfectly put-together outcome in your own mind… When you get into the swing of it, and you're working away all driven and focused completely on what you are doing, and it's like a kind of trance. Hours can go past and you're still happily engrossed in the creativity… I just love this. I love the challenge of working out a technical problem… when I was trying to work out how to attach the lining of a skirt or dress to the inside tape of an invisible zip, I struggled with this one for hours, when it finally came together in my head and I "got" it I was exuberant! A few years later someone lent me a sewing magazine and the method was all spelled out in there down to the last detail; but I get a more of a buzz out of working out a solution to a problem on my own.
My least favourite part; well obviously if things are not going well and I have to make overtime use of the seam-ripper…it's a bit depressing. Also, my relationship with my overlocker is kinda touchy. It has a mischievous tendency to evil.
5. If you could make something for anyone who would it be and what would you make?
I think my dream project would be to make a wedding dress for my daughter one day. I made her ball dress for her final school ball and it is my very favourite sewing project I've done to date… I made it pre-BurdaStyle membership so I don't have pictures of it here, but I do have some pictures on my blog here.
We had such a lovely time together during the making of it, planning, shopping for fabric, and fitting etc. I finished it to the highest possible standards I was capable of, and it was a real labour of love. And she paid me the compliment of being completely thrilled with it and loving it completely.
6. What are you looking for on our site? What do you think should be improved and what do you really like?
I love soaking up the inspiration and creativity from other members' projects on this site; there are so many creative people! I like coming across other like-minded people who also want to create a unique wardrobe as an expression of their own creativity. I love it when people use artistic backgrounds and interesting photography to highlight their work.
The site is such a big one and there is always something new and interesting going on to check out. I'm not sure about the rating system, and I don't rate other peoples' projects because it doesn't seem fair. What are we being rated against?
7. What is your motto?
A borrowed one; just do it! Don't wait until you "learn" how to do something, just have a go.
Check out Carolyn's top ten favorite member creation slideshow!