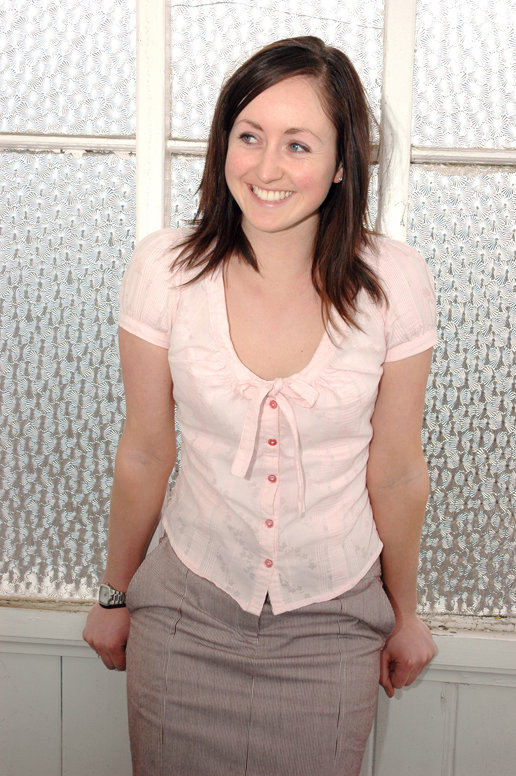 ShareThis
1. Where are you from and/or where do you live?
I'm originally from Dunedin, a university town in the south of New Zealand, but about a year ago I moved to Nelson, a sunny little town at the top of the island. It's surrounded by national parks and beaches, which is awesome, but it's pretty small and lacking in fashion and art so most of my inspiration comes from magazines, blogs and websites.
2. What was the 1st thing you made? How did you start sewing?
What was the first thing you made? How did you start sewing?

As a kid I did any craft I could get my hands on. My mum taught me to sew and I started with dolls clothes and toys before moving on to clothes for myself. In terms of actual wearable stuff, I made a hoodie and skirt when I was about 13 and realized how easy it was to have cool and different clothes, and I've sewn ever since.
3. What role does sewing play in your life?
It's a creative outlet, my favourite hobby and a part-time job! It's quite calming and really rewarding, especially getting comments about my own clothes and also from people I sew for.
4. What is your favorite and what is your least favorite thing about sewing?
Favourites:

When I mail and out-of-town a friend a package of something I've made for them I always get a super excited text message when they open it up – such a good feeling! I also love just chilling out in my sewing room with the stereo pumping and forgetting about time, looking through vintage patterns and reworking vintage clothes.

Least favourites:

Being too rushed and messing up a piece of clothing – such a bummer! Sewing at night and making mistakes, or ending up with 10cm less fabric than I need for a project.
5. If you could make something for anyone who would it be and what would you make?
Nothing special – I would just make amazing dresses for my friends, so when they're famous they can wear them on tv/stage…! One of my friends is a hairstylist and I work with a photographer so we all collaborate and it's exciting just seeing my creations with hair, makeup and in nice photos, even if it's just for fun.
6. What are you looking for on our site? What do you think should be improved and what do you really like?
I really like checking out other people's variations of patterns. Free/cheap patterns are the best thing ever, so thank you! BurdaStyle is an amazing form of inspiration and motivation. I really like the blog as well. The site is much faster now – don't change a thing!
7. What is your motto?
As soon as you make a stupid mistake, you've been sewing too long/late. Go to bed or do something else! There's a reason why you're sewing the wrong sides together…
Carolinesj has incredible craftsmanship, there is no way around that. Check out her creations to see what I mean. My personal favorite is her yellow Gucci dress (I think I like it better than the original). Update! check out her blog!