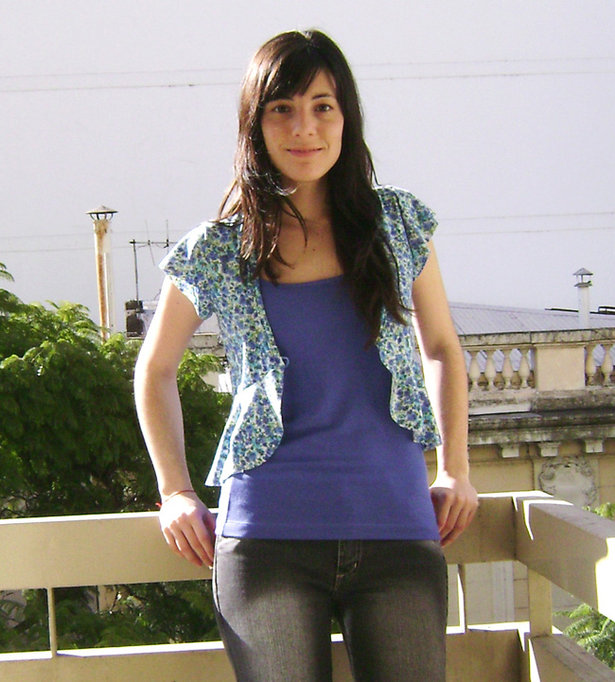 ShareThis
1. Where are you from and/or where do you live?
I'm from Casilda, a beautiful city in Argentina. After graduating high school I moved to Rosario, one of the most important cities of the country, to study Fashion Design. Now I live in both places.
2. What was the 1st thing you made? How did you start sewing?
The first thing I made was a bag out of old jeans, when I was 15 years old. I was so happy with it that I used to wear it all the time! My formal learning began when I started fashion school, but I've also learned a lot on my own, experimenting, trying different things, making mistakes.
3. What role does sewing play in your life?
Sewing plays a major role in my life. It's great to dream about garments, fabrics, colors and shapes, but in order to make those ideas come true you need to know about patternmaking and construction. I'm always sketching, playing with fabrics and patterns, sewing, creating.
4. What is your favorite and what is your least favorite thing about sewing?
There's one thing I love and hate about sewing: mistakes. It's very frustrating when you do something wrong and your project turns into a big mess. But sometimes when you make a mistake you end up discovering new things and ideas that are much better than what you thought in the first place. I love those moments!
5. If you could make something for anyone who would it be and what would you make?
I love to design clothes for women. Create pieces that will make everyone feel special and beautiful.
To me fashion is about having fun and expressing yourself, so I'd create a garment that allow people to play with it, wearing it in different ways, so they can create their own style.
6. What are you looking for on our site? What do you think should be improved and what do you really like?
Burdastyle is an endless source of inspiration and knowledge. I've learned so many things here! I love being part of this community and it's great that people from around the world can share their creations.
The sewing techniques are very helpful, so I'd love to have more of that.
7. What is your motto?
Whatever you do, have fun!
Cam557 has been all over the site and her creations are amazing. If you haven't already seen it, check out her origami necklace! you should also take a look at what inspires her around the site. YOu should also take a look at her amazing illustrations on her flickr page Keep up the great work!