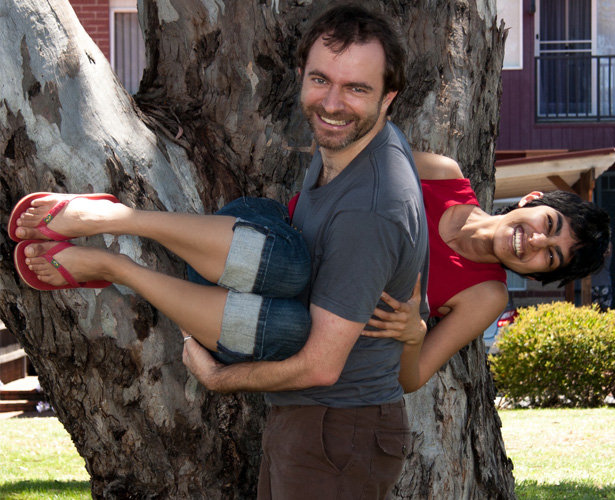 ShareThis
This week we share our interview with amazing BurdaStyle member buddingnaturalist.
Where are you from and where do you live? What do you do other than sewing?
I was born in India and have since lived in Britain, France, Hong Kong, Malaysia, Singapore, Thailand, the Philippines and New Zealand. I currently live in Australia, where I spent the last four years researching my PhD (which I received in October, 2012).
How did you start sewing? Why do you sew?
I bought a vintage pattern off of etsy on a whim and chopped up an old bed-sheet which I then sewed, by hand, over the next two weeks, into the godforsaken tent dress of doom. Obviously, there was no looking back.
That's my partner Carl [in the photo]. He taught me how to use my sewing machine. He's also awesome at taking it apart when it's sputtering and getting it to run smoothly again. Among his other special powers: a high tolerance for all the sewing sh*t everywhere, accidental pin stabs out of the carpet and the ability to critique recent makes in 6 seconds or less (No. It's too granny chic./ Yes but shorten it by 4 cm, etc).

The buddingnaturalist with Carl.
I sew because I enjoy the creative outlet it provides and, more importantly, because I don't want to be responsible for the hideous sweatshoppery that comprises most fashion today. If my not buying clothes means there's even one less blind three year old sewing up tights for two sesame seeds an hour then that is a totally awesome bonus.
How long have you been a member of BurdaStyle? How did you choose your username? What do you like about the site? How often do you visit? I've been a member for two+ years now (actual posting was preceded by a period of silent observation) and my username is based off of my second favourite activity. I visit the
site weekly (more often when under the influence of the urge to procrastinate) and love the contemporary, minimalist makes that some of the members post (which seem, unfortunately, few and far between these days).

The buddingnaturalist first dress.
What's your sewing secret weapon?
The Metric system. Embrace it-it shall set you free. Aside from that I believe in not giving a sh*t what others think and never buying into trends (the latter tends to date clothing fantastically). I don't mark seam allowances I use the gauge on my sewing machine instead. I use a clover adjustable double tracing wheel and carbon paper to add auto-magic seam and hem allowances to all my traced patterns. I generally don't sew big four envelope patterns because I find the excessive ease involved combined with their general inconsistency in sizing disturbs my peace of mind and exponentially increases the number of exclamation marks in my thought bubbles.
Do you listen to music or watch TV while you sew?
I sew when I can and attribute my output to the fact that I don't own a tv – all my entertainment (read TV shows, movies, etc) is live streamed on my computer, the screen of which sits just behind my sewing machine. If I come across anything involving sewing I take screenshots of it then poke fun at it on my blog in a section called Sewing in the Media.
Who or what inspires you?
I stick to a clean, modern, minimalist design aesthetic. Decade-wise this would include some of the fashion from the late 20 and early 30s and the late 90s and early 00s. 50s froufrou and 40s/80s shoulders are anathema to me. I don't do trends because I don't see the point of wearing the same thing as everyone else and sewing gives me the freedom not to have to do that. I prefer natural fabrics for dressing up and jersey for daily wear and follow a fairly bright colour palette.
What is your dream sewing project?
A fully functional (read, road-safe) leather Tron lightsuit with glow panels and built-in heating (with solar + kinetic movement rechargeable batteries) for motorcycling in.
What is the most frustrating thing about sewing for you? What is the most rewarding?
Historically, the insane amounts of excess ease incorporated into big four patterns (most notably McCall's and New Look) have driven many sewists to near-homicidal mania/ raging alcoholism. The measurements shown on the back of the envelope never correspond with the finished measurements on the pattern inside the envelope (and you can't check the latter without purchasing the pattern) so I definitely prefer magazine patterns – once you know your size and any alterations required (if any) every style you sew in that size is consistently awesome – the outcome only varies dependent on your mood, skill and amount of targeted effort you put in.
I love Burdastyle and Knipmode for their consistency in sizing and La Mia Boutique and Patrones for really unique, modern patterns and edgy styling. Another factor here in Australia is the cost. The average pattern magazine costs between A$16-22 while the average sewing pattern costs anywhere from $12-34; $5 sales are rare, so magazines are definitely the way to go.
Sewing is rewarding in many ways, notably the experience of making something yourself that fits you well, compliments your silhouette and style and looks completely different from everything else out there. I also love the fact that nothing I wear is contributing in any way to the suffering and continued enslavement of sweatshop/ bonded workers and child labourers. This, to me, is absolutely priceless. The interaction with other members of the online sewing community is also a definite plus. I've enjoyed all the swaps I've been part of, all the giveaways I've held and all the meetups I've attended, not to mention the interactions with people both via blogs and communities like BurdaStyle.
If you were to give a beginner one piece of sewing advice what would it be?
My advice for a beginner (or anyone at any level really) would be to read every resource you can get your hands on before starting something new. Go through the whole process in you head step by step (in 3D) before starting. If you reach a step where the faced armhole and neckline linings on your dress can't be turned inside out (because it is now a mobius loop) you need to go back and read the instructions again.