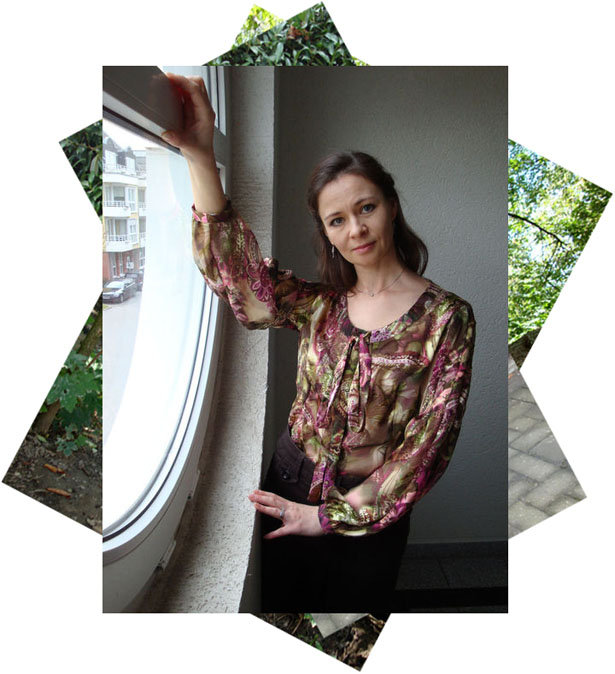 ShareThis
Where are you from and/or where do you live now? What do you do other than sewing?
I am originally from the former capital of Kazakhstan, called Alamty, which I left 17 years ago. Currently, I live in Düsseldorf, Germany.
I am a 3D CAD technical drawer of Architecture. This is one of the reasons why I feel comfortable in the construction and design of clothes, like some of the self-made and designed dresses I uploaded on BurdaStyle.

Apfelbluete's neighborhood.
If we were to come to your town, where would you take us?
Düsseldorf has been known as a European and world wide fashion metropolis since 1946. The entire well known street called Königsallee is almost dedicated to fashion. Quite a lot of notable designers have local affiliates here, like Prada, Gucci, Armani, and Chanel, which is my all time favorite. Whenever I window shop, I am totally amazed. I can't get enough of its special charm.
Moreover, there are some wonderful haute couture fabric stores, like Stoffe Möller. Every time I am there, it is a great experience. I especially have fun talking to the shop associates, who are really [knowledgeable]. I am a maniac for such high quality fabrics, and love to sew and wear with them.

An inside view of Stoffe Möller
How did you start sewing? What motivates you to sew?
I began to sew at age eleven. My sewing machine was only able to sew a straight stitch, and not even capable of a zig zag. To do so I needed to walk to my [friend's house and use their machine]. My parents tried to get a better machine for quite some time, but this wasn't possible before 1988 as they were really rare and hard to get in the former USSR. I almost swooned when a new machine was bought [as a surprise]. My heart was beating and I could not sleep that night. That was a kind of real start for me. As a coincidence, Raissa Gorbatschova and Aenne Burda signed a contract that enabled all women in the USSR to sew and wear modern and fashionable clothes. Nice fabrics were still pretty rare, but we generally looked nicer and much more modern. The Burda magazine wasn't that simple to buy, but we helped each other, and exchanged and copied the patterns manually.
Sewing in the USSR wasn't a hobby; it was a matter of necessity. My mother provided me the opportunity to attend a sewing training class for years. During the first year, I learned how to sew professional [garments], comparable to [what I would learn through] a vocational education in Germany. We started with simple constructions and calculations of patterns, and [various other] techniques. The quality of this training was very high and excellent. In the end, we learned construction design, which allowed me to turn my own designs into a real, technically correct pattern.
Without this knowledge I wouldn't have been able to sew my own clothes, as also clothes were rare to buy during these times. Later on I earned money through sewing. I am able to say that sewing [greatly benefited my life], and Burda [magazines] was of great help, too.
A blouse created, using a 1989 Burda pattern, and modeled by Apfelbluete.
In 1993, I arrived in Germany and recognized that sewing is an expensive hobby and not really needed. With some exceptions (e.g. the skirt below, made in 1998), I wasn't sewing at all.

The Burda pattern Apfelbluete used in 1998, and the final result.
After a 13 year sewing break, I accidentally discovered beautiful old patterns on Etsy, and realized that my childhood dreams could come true by sewing original dresses from the Fifties.
Do you have a style icon who inspires your sewing projects? Where do you go to get inspired?
Any new look is truly inspirational to me, as well as the Mad Men series. [I also love Fifties and retro looks.]
What's your sewing secret weapon? What trick or technique do your sewing projects always tend to include?
When something doesn't work out correctly, I start from scratch, because I know I would not wear it if it is not entirely satisfactory to me.
What's your sewing experience like?
I like to start on a new project when I am crabby. It feels good to cut a new and nice fabric, or to construct something entirely new. Most of the time, I work on many projects at the same time, which is very practical for me because I don't need to exchange the [thread] as I try to sew in phases. [My sewing experience involves] cutting, sewing, hand work and stitching. When I'm working, I like to listen to the TV. On the weekend it can get really late in the night. Once a week, I go to a sewing class. My sewing master, Nicola Bettina Kriegleder, teaches me haute couture techniques. There is no issue she can't resolve. She is truly the best!
It is a lot of fun doing such elaborate work. My sewing classroom looks like this:
It is perfectly equipped and nice to be there.
What is your dream sewing project?
My [big] dream project is pretty simple: the tiny black dress from Dior. It is pure perfection. I don't need such a dress, but I will sew it once.
My current dream project is more realistic. I am going to sew a Chanel jacket, using haute couture techniques.
How long have you been a member of BurdaStyle?
I have been a BurdaStyle member since 2010. Several times a day I browse the site and get inspiration by other members, and discuss them with my sewing friend, who is also a very active BurdaStyle member. We have done special projects together and published them here, as well. I picked my username in recognition of my former hometown, Alamty, which means "Father of the Apples." Apfelblüte is German and means "apple blossom."
What is the most frustrating thing about sewing for you? What is the most rewarding?
I get extraordinarily frustrated and unmotivated when I recognize mistakes too late. In such cases, I have to strip down everything and start from scratch. I am really happy if I am 100% truly pleased about my project, but what is most pleasant is good recognition from my sewing master and other BurdaStyle members about my work.
Discover Apfelbluete's top ten favorite member projects!