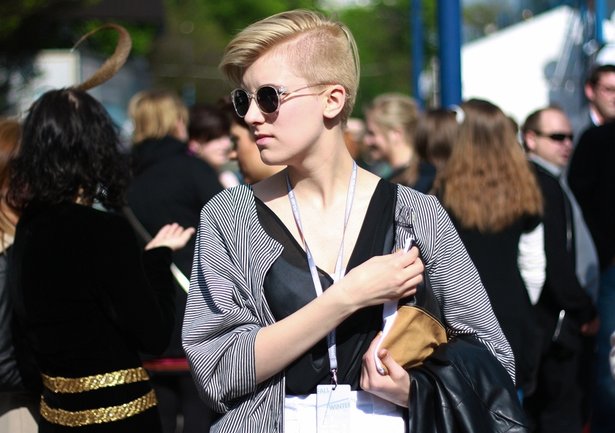 ShareThis
Where are you from and where do you live now?
I live in Lodz, it's a large city in the center of Poland. I have love and hate relationship with this place, it's depressing and inspiring at the same time. I am currently attending University majoring in Psychology.
How did you start sewing?
My mum can sew (she is really good!) and growing up in my home we always had a sewing machine. She stayed at home when my brother and I were younger and she was making a lot of clothes for us. The sound of a sewing machine is one of my childhood memories. My first "creation" was a dress for my plush elephant. I was about seven when I made it. I distinctly remember sewing way too fast, neglecting every rule and braking many needles.
Later I gave up sewing for a long time and came back to it around 2006 but I wasn't motivated to develop my skills so as you can guess progress wasn't extremely fast. In 2010 I bought a new sewing machine from my own money, and it really helped. I was working hard during part of my holiday, missed few good parties and had to wake up early because of that so now I just have to use my machine.

aniomatronika with cool hair even as a youngster!
Describe your personal style in 5 words or less!
Simple. One word is enough.
Do you have a style icon who inspires your sewing projects? Where do you go to get inspired?
I don't have one style icon. I prefer to take a little bit of everything interesting around than focus on one person. I think that people who do something with passion are most inspiring no matter what exactly they do. My sewing projects are inspired with sewing, street fashion and personal style blogs, BurdaStyle members creations, runway shows, burda mag patterns…. Sometimes when I see fabric or piece of clothing I know what exactly I want to make out of it.

Inspirational images courtesy of hel-looks.com, style.com, love-aesthetics.blogspot.com, agatiszka.blogspot.com, thesartorialist.blogspot.com, hanneli.com, childhoodflames.blogspot.com and vanillascented.freshnet.se/
What time of year do you find yourself most creative? Why?
I don't think that in my case it depends on time of year. Maybe seasons changing in general makes me creative, I discover that I don't like most on my things anymore and I need new clothes. And I'm ALWAYS the most creative two hours before going out for party when I have nothing to wear :D.
What's your sewing experience like?
Listening to music for me is a must. The most often I choose old rock bands or my fav radio channel. I also need to have big cup of coffee near my desk. I don't have one favourite moment of the day but I prefer to sew when I can spend more time on it. I'm really scatterbrained and focusing on one thing takes me some time, so sewing for half of an hour doesn't make sense.

Her sewing space
What is your dream sewing project?
I would love to sew really interesting, well made jacket. I have few ideas and I want to start working at this project in August. I'm going to make muslin for the first time in my life and all that serious things that I always neglect. Another dream project is a nice dress for my mum. Sewing a gift for someone who's a better sewer than you doesn't sound like a best idea. But one day…
How long have you been a member of BurdaStyle?
It's half funny and half embarrassing… I registered at BurdaStyle for the first time in 2007. Unfortunately I forgot my password… and I forgot my old mailbox password… So my new beginning was in 2010. Now I visit BurdaStyle site every day or almost every day. The best thing about the site is possibility of discovering people who sew from all around the world who I wouldn't "meet" in any other way. I also like reading articles from the BurdaStyle blog. And feedback from other users is really motivating.
What is the most frustrating thing about sewing for you? What is the most rewarding?
The most frustrating thing is when I have picture of PERFECT garment in my head and do my best, I reap every seam that's not perfect and sew it again (and again), read instruction carefully… and in the end let's say it's no so perfect. I called it "I could make it better" syndrome because it's only me who think that this item is sewed terrible and doesn't fit.
Most rewarding is when I like thing that I made, wear it often and feel good in it.
Check out aniomatronika's top ten member projects slideshow!