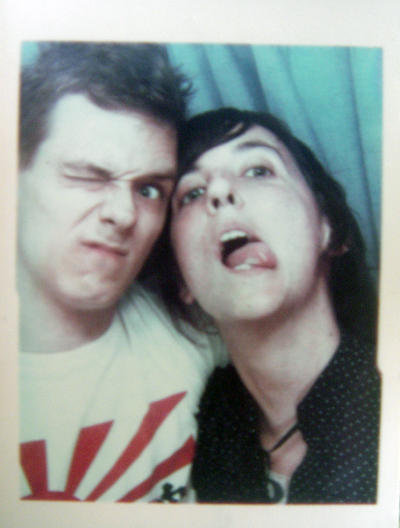 ShareThis
1. What was the 1st thing you made? How did you start sewing?
The first thing I ever made were drawings, but the very first thing I ever sewed was this astoundingly monstrous jersey knit outfit for a Girl Scout badge. Ohh, I wish I still had that thing. It was amazing. Amazingly terrible. The fabric was unbelievably ugly—-I think it has a pineapple print—-and about five seconds into the pattern I freaked out from the difficulty of it all and demanded that my mom finish the entire project for me. I was 10 years old and I actually have never used a store-bought pattern since then. Sometimes I try, but I always end up panicking and just drawing my own patterns.
2. What role does sewing play in your life?
I taught myself to sew so I could avoid getting a normal job and instead just sit around all day at home making stuff to sell on Etsy.com. Then after a year of that I accidentally got an abnormal job working for Etsy, and now I teach other people how to cheat at their intimidating sewing projects. I love cheating.
3. What is your least favorite and what is your most favorite thing about sewing?
I hate screwing up and having to undo everything via the seam ripper. This happens alot, as I hardly ever measure, iron, pin or do much planning at all. So actually, my least favorite thing is probably doing most anything you're supposed to do to avoid sewing disasters. I really enjoy connecting things to one another.
4. If you could make something for anyone who would it be and what would you make?
I want to make my fiance dinner. He's been away at school for two months now and I miss him.
5. What are you looking for on our site? What do you think should be
improved and what do you really like?
I became immediately addicted to BurdaStyle the moment I started poking around and playing. I really like being able to upload How Tos and link them to related creations. Alot of the stuff I find most exciting I haven't even tried yet, like adding video. I think the site has so much potential and its only going to get better and better as more people use it.
Anda is our office neighbor, we love her energy, never ending creativity and all the diamonds she makes that bring sparkle in our lives! She is working in the EtsyLabs and is still a seller at Etsy, check out her shop stopsandstarts. To find out more about Anda check out her member profile, her website and this Wikipedia link. And guess what: Anda is getting married to Pete and she will sew her own wedding dress and share her endeavor step by step on the site! So stay tuned for Anda's make of the wedding dress!