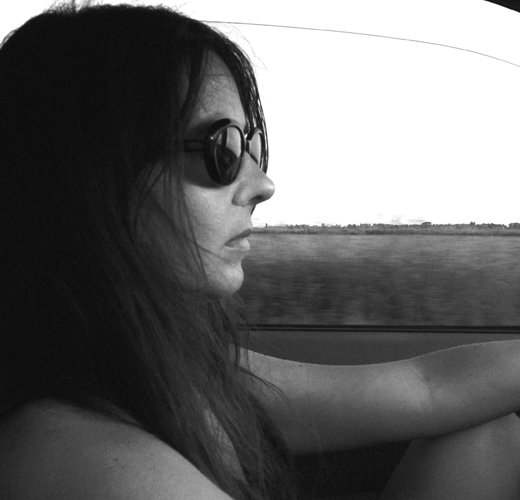 ShareThis
1. Where are you from and/or where do you live?
I was born in Milano Italy and have lived here all but one year (I spent my 16th year near St.Louis in Missouri). I wish I could leave this gray, noisy, polluted town, but it seems as Milano has the power to hook you in the back and never let you go. Also because of my job (graphic design in the fashion and art field) this is the place where I have to live.
2. What was the 1st thing you made? How did you start sewing?
I really don't remember sewing anything but buttons in my childhood. I was more for crochet and cros-stitch and some knitting, I learned that from my crafty aunts and grandmother.
I've always had trouble finding clothes that I really like 100% or that fit me right, especially pants, always too big on the waist, but most of all, I find it really disturbing to wear something that thousands of people also have, so I was always having a tailor modify my clothes.
15 years ago, I decided that I should start making my own clothes, so I bought a basic sewing machine that I still use (Pfaff hobby 303) but I got so frustrated because I didn't know where to start, or what to do, so I just used it to hem my pants and fix the holes in my jeans…
Then a couple of years ago, I saw a skirt I liked in a shop, it was really just simple cotton, 2 side seams and the hem, and they were selling it for an embarrassing high price. So I decided to try and make my own inexpensive version of it. It came out fine (I didn't post it though, I might get pictures of it and post it) it's my favorite summer skirt, and after that I kept on making my experiments without patterns.
3. What role does sewing play in your life?
I am now totally crazy with this sewing thing. I do it anytime I get the chance, that means mostly in the evenings, till 3 am. I think I need a bigger house because my wardrobe is experiencing a dramatic increase.
I just started pattern making school where this special and very patient lady teaches us, besides the basics, whatever we want to make, and I wish I could go there every day.
It is so relaxing and it also clears my mind from daily and work troubles. Sewing also makes me feel self sufficient, like growing your own vegetables or traveling with the wind on a sailing boat.
4. What is your favorite and what is your least favorite thing about sewing?
The thing that I hate the most is marking the pattern on the fabric with the loose stitches, it takes too long, even though I like to see the fabric laying on the table, with loose white thread loops that look like a misterious 3-D hand-writing.
I love the sound of scissors when I cut the fabric, and most of all I really enjoy the fact that I can create something beautiful from a flat piece of fabric, something the way I like it (almost…).
5. If you could make something for anyone, who would it be and what
would you make?
I was thinking lately, with a friend, that I could do one of-a-kind models on which she could hand paint something, and then sell them.
I think I could also enjoy making unique clothes on request, for special occasions.
I would love to be good enough to make whatever I'm asked for, especially for my mother (she is very demanding.) I also enjoy making things for my friend's newborn babies, so far I've been making 3 mini jeans jackets, one mini dress and three mini knitted baby sweaters
6. What are you looking for on our site? What do you think should be
improved and what do you really like?
What I really like is the sharing and the feeling of cooperation. I am so much inspired by all the other member's creation, it pushes me to do better.
I am very grateful for the patterns you provide, and it is great that also the members get to upload and share their own patterns and advice. The how-to section is also very helpful. It's very encouraging when I receive nice comments on my creations (and also very flattering…)
But you know all these things, it's the reason why we all are here.
It's a great community with an enormous potential that must be improved!!! There are a lot of members, I can't imagine how many creations and interesting discussions are happening. What I really miss is some sort of notification when I get comments on my creations, but especially on other members creations. I wish I could "subscribe to the creation" and have some sort of panel where I can keep track of the discussions or comments I'm participating in or something like that. I easily lose track of where I made a comment or asked something, and unfortunately it gets lost in thosands of creations and discussions.
Besides that, thanks burdastyle team, and thanks to all the members!
7. What is your motto?
I don't have one, but if I did I guess it would be something like: I can learn anything that anybody else can do, it's just a matter of time
Learn more about ale.b by visiting her profile. Also check out her creations which include the almost Pollini dress pattern which is available for download. She loves photography and has a great photoblog which should definitely not be missed. For more examples of ale.b's creative side, check out her graphic design portfolio. Keep up the great work!