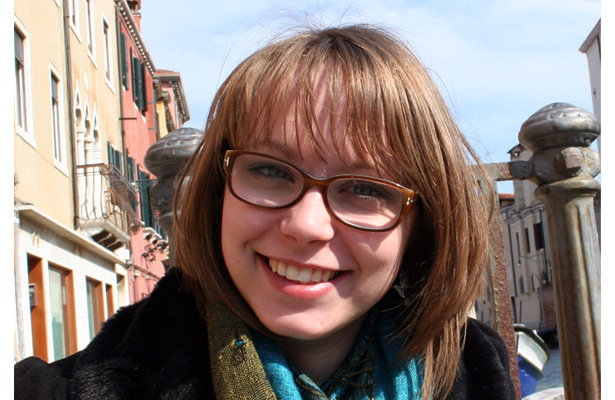 ShareThis
I was born and live in Munich, the capital of Bavaria, in Germany. It's most well known for the Oktoberfest, but honestly, that is the one thing I like least about my wonderful city. Currently I am attending Esmod International Fashion School and am just about finished with my first year. I am however, for a fashion student, relatively disinterested in current fashion. Instead, I'm hoping to become a costume designer after I graduate.


Tell us about your sewing experience.

I have always loved arts and crafts and so as a kid I did sew… but mostly things like pincushions or oven mitts and always by hand. I only really started sewing in 2005, when I decided to go to Ring*Con (a Lord of the Rings Convention) and needed a costume. I had nobody to teach me how to sew, so it was more of a trial and error thing and indeed, I was never really content with this first project. At some point I threw it away before ever wearing it. The next thing I made (my second try at a costume for the same convention) however is still in my possession and I love it (even though I am horrified at the craftsmanship)!

Now that I can focus on my sewing pretty much all the time, I'm more creative than ever. Also, school forces me to be creative in new areas. For example, I never thought I would have enjoyed designing men's clothes, but surprisingly, I loved it!




I pretty much sew every day. There is really no way to get around it as my sewing stuff takes up most of my room… it's a bit chaotic, but I guess it is creative chaos.

While I sew I like to listen to audio books or watch a TV series (Glee is my absolute favorite at the moment) and I mostly sew in the evening or you could really say at night (I'm often up sewing until the wee hours.)

How long have you been a member of BurdaStyle?

I joined BurdaStyle on December 3rd, 2008. Wow, that's actually quite a long time, especially because I visit every single day! I really love that the site showcases so much talent and creativity. It's always great to see what other people are making as inspiration. Also, as I don't really have that many "sewing friends" I like having a community with which to share my love.

My favorite projects in my studio certainly are my Victorian dress and undergarments, which were quite a big undertaking. A close runner up would be my Shieldmaiden gown (another costume for a convention)…




Try to describe your personal style in 5 words or less!

I found this to be the most difficult question so I decided to skirt responsibility and I asked a few people to provide one word to describe my style. …I was even more excited to find out the answer(s) to this question than you are to reading it now!

Their answers:
- open to anything
- feminine
- elaborate
- sensual
- elegant
I'm flattered now!

What inspires you?

I don't have a style icon… I don't care about "trends", I just wear (or make) whatever I think looks pretty. I always say that either makes me a really good designer or a horribly bad one. So that probably means anything and everything can inspire me.

Something that is always an inspiration for me is historic fashion. I'm in love with the second volume of the book Fashion, featuring all sorts of (mostly historic) garments from the Kyoto Costume Institute. I find myself leafing through it all the time. At the moment I especially love the 50s era and the Victorian age has a special place in my heart.

Simply walking through a fabric store inspires me. Ideas come to me whenever I see fabric I really like or when I run my hands over a beautiful texture.




What is your dream sewing project?

Hmm, it was a proper historically correct costume for a long time, but I have already done that and am working on a second one. At the moment I have this crazy idea to design and make outfits for a bunch of Shakespeare heroines… you could call that my current dream project. I'm thinking of doing it for my diploma in two years time.

What do you find to be the most frustrating and rewarding things about sewing?

It's not really a frustrating thing but I really don't like cutting the fabric when I'm working with a pattern. I know it's an important first step towards a finished garment, but I always have the feeling I haven't really accomplished anything when I'm done with it. The thing I like most about sewing is seeing how whatever I'm making slowly take shape as I'm working on it, going from literally nothing to something someone can (for example) wear. And then, when it's done, it very often makes somebody happy. That person may be me or the person [for whom] I'm sewing… That's awesome and that's also the reason why I love sewing for other people.

We have put together a gallery slideshow of alasse's top ten favorite BurdaStyle member projects. Check it out!