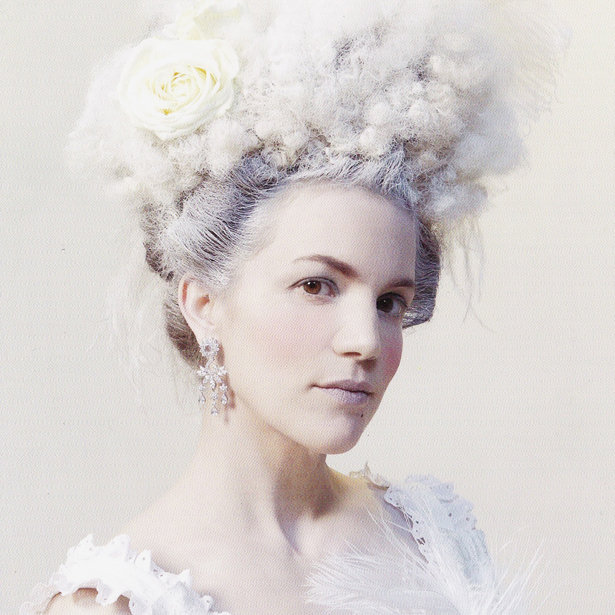 ShareThis
1. Where are you from and/or where do you live?
I'm originally from Zurich, Switzerland, but I live in Vienna, Austria.
2. What was the 1st thing you made? How did you start sewing?
I started making things very early on… first miniature clothing – and other stuff – for my dolls house, then for my bigger dolls and later for myself… My grandma was a seamstress and my mom a very good sewer. However, I always just did it somehow, but lately I have become much more picky, I want it all to look professional, inside and out, and it seems like I have to learn sewing all over again – this time for real!
3. What role does sewing play in your life?
It's a great honor to be featured here – but it almost seems too early… Sewing has become extremely important in the past few months, but I feel like I am at the very beginning of a long journey. For quite a while I had been trying to find a hobby to fit me and I have finally found it. It had to be something "crafty", I did a lot of knitting, even learned how to make bobbin lace, I tried to get back to painting – an earlier hobby of mine, but finally it clicked: I HAVE TO SEW! I'm intrigued by vintage patterns right now, learning so much about construction and fitting, but I really want to move on to my own designs soon, I want to find my own personal style…
In real life, I am a singer. I actually had wanted to become a set-/costume-designer, but somehow ended up on stage. One of the best things is getting costumes made for me… I am reading this book on "haute couture" at the moment, and I realized that I am very familiar with most of those techniques. So at my last fitting I made a comment about that, and the seamstress confirmed that it is basically "haute couture" they are doing, except for the fact that they have to manage with only two fittings (and they sew a little less by hand). It's great to be around these sewing pros – and I really know what a perfectly fitted garment feels like. Unfortunately, my need for perfectionism in my own garments seems to grow faster than my skills…!
4. What is your favorite and what is your least favorite thing about sewing?
When I sew, I'm in "the zone", time flies and I can totally forget about what I call my "real life" and whatever problems I might have to process. I believe it is very healthy for me… As a musician, I make art, but it is so futile! After a performance it's all evaporated, nothing to proof the hard work with. You go home, and it is gone. … When I sew it's so satisfying to have something to look at and hold in my hands after a few hours of work.
Least favorite: The amazing amounts of dust it causes.
5. If you could make something for anyone who would it be and what would you make?
Don't really know. I have only recently discovered how fun it is to make something for someone other than me… I could see myself design and make gowns for singers to wear at concerts… I know very well what their special needs are – for example lots and lots of place to breathe without having to fear loosing "chest coverage"… and I guess I would love to design a robe for any "queen of the night"!
6. What are you looking for on our site? What do you think should be improved and what do you really like?
What I really love is seeing the different versions of the same pattern.
I am not sure about the categories one has to fill in when posting a project – like it is often good for more than one season, so I never know what to put, also the "style" I usually leave blank. But we could use more garment types. Like "gowns" or a different category for day/evening dresses, or divide it up in lengths (mini-knee-long…) But that's no biggie.
I really don't know the point in the rating system though. I love that there are no "thumbs down" people on this site, if you don't like it, just don't comment, it's usually just constructive criticism. I think the rating can be completely left away, or it would have to become more specific: 1-5 points for different aspects like fabric/color choice, fitting, execution, design.. But I don't know if we really want to go there… we want to keep this as encouraging as it is!
7. What is your motto?
Leap and the net will appear.
Ajtak7171 has amazing creations! Check out what inspires her with her top ten!