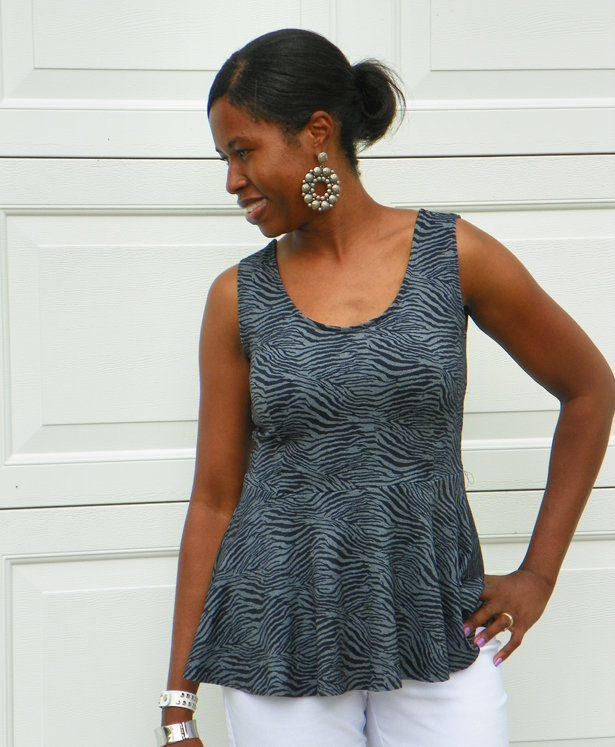 ShareThis
Meet Victoria Baylor, the bubbly personality behind our upcoming pants fitting web seminar. Read about her business, studio, and sewing inspiration.
Where are you from originally, and where do you currently live?
I don't really consider myself to be from any one place since I was raised a military brat (Army) and we traveled all over. I was born on a military base in Colorado and currently reside in Savannah, where I've lived for the past 17 years. Trust me, that is the longest I've ever lived anywhere!
Do you have a day job besides sewing?
Sewing currently is my day job! Nine months ago I left my last job of 15 years in the field of research science. I've had my sewing business as a side business for the last 8 years, so now it's my full time focus. Going from employed to self-employed was a pretty big leap of faith to take! I couldn't be happier with the decision. In addition to my budding career in sewing, I am also a stock/day trader.
How and when did you start sewing?
Truthfully, I started sewing when I was around 7 years old when I would hand sew custom jeans for my Barbie dolls. I'd cut holes in them and draw on designs with markers. Then I got into crocheting and knitting and stopped the hand sewing. I used my first machine in Home Ec in high school and made a pillow. Fast forward 7 years, and I ended up inheriting my grandmother-in-law's sewing machine after she passed away and began sewing again as a way of commemorating her legacy. And thus the true obsession began…
Do you prefer to work from patterns, or draft your own?
I prefer a little of both. I often use commercial patterns as a jump off point and modify them to create what I want. Years ago I was obsessed and felt I needed to prove something by learning how to make all of my own patterns. I'm so over that now. I appreciate the skill of being able to manipulate as well as create my own patterns. Earlier this year I took draping lessons so I could become a bit more independent in that regard.
How would you describe your personal style?
My personal style is fun, colorful, and feminine with a hint of flirtiness. I love a wardrobe with basic pieces as well as colorful ones that are easy to mix and match. I LOVE COLOR! The brighter the better! I'm not big on trends; I want pieces that can make my wardrobe go the distance. If you follow my blog then you know I'm knit obsessed. I love their comfort, ease of wear, and how most don't require ironing.
What other creative pursuits do you enjoy?
I'm funny. I'm usually an all or nothing kind of girl. My time's split between other ventures outside of my family and creative world (church, volunteer work, etc.) so I try not to splice my creative time up doing too many things. Now with that said, I'd like to expand my creativity within the realm of my sewing. I'd love to experiment with fabric painting so I can transfer some of the patterns floating around inside of my head onto fabric. I'd like to learn some other fabric manipulation techniques and play around with dying fabric.
Tell us about your sewing studio… what kind of space inspires you?
A well organized room is what inspires me! I ABSOLUTELY LOVE my sewing studio! It's my sanctuary and haven. Its purple (my favorite color) and is customized for my sewing needs. I wanted my studio to be professionally equipped to handle my business volume. To maximize the space I have custom built shelving in the closet to store my fabrics and along the walls for supplies and patterns. I have a gravity feed iron as well. I have 5 babies— also known as my sewing machines. I have an industrial straight stitch sewing machine, a computerized conventional sewing machine, a serger, a coverstitch machine and industrial blind hemmer. I also have an awesome cutting table that sits on rollers and has shelving beneath it on both sides. It provides excellent storage space. I have my own little library containing dozens of sewing books, textbooks, DVDs and magazines. And like most obsessed sewers I have hundreds of patterns.
What's your sewing secret weapon?
I don't really consider it a secret, but if there's something that I'm always pulling out nonstop to help me in a pinch it's the disappearing wax tailor's chalk. It's a white chalk that you can use to mark on nearly everything (test first) and even shows up on white fabric. And when you're done you can use your iron to remove.
How do you stay motivated on long projects?
By not thinking so hard about them! I'm a bit over-analytical by nature so I've learned when to shut my brain down and take breaks when necessary. When I'm on a long project I have to pace myself or I'll get a bit overwhelmed. On a positive note I am very structured and am also a planner (my Hubby acts like those are curse words LOL) so when I outline how I plan to undertake a project it helps me see a beginning and end and keeps me motivated.
What has been your favorite project recently?
Recently I've been making lots of knit peplum tops for myself and a few for some clients. The top is simply a tank top with a peplum attached and I just LOVE IT! I just have a bit of an obsession with them. I've only made 3 for myself but probably won't be satisfied until I've made 10. They're just so cute and easy to wear. Definitely my personal favorite project for this year so far.
What's your favorite thing you've made for a client?
My favorite client project had to be a Mother of the Groom dress and wrap I made for a client. Both pieces were made out of a beautiful mint cream dupioni silk. She had searched and searched for the right outfit for her son's wedding but just couldn't find it. She would find something but the fit would be off or the color would be all wrong. I remember getting that phone call while I was at the mechanic shop. It was the sound in her voice that just let me know I had to do everything in my power to help her. So when we came up with her outfit idea, ordered fabric, had multiple fittings and it turned out beautifully I was more than thrilled for her. I really do live for those special moments!
What would your dream studio look like?
It would be purple again but it would be about 1500 sq ft and have the largest cutting table with custom made rotary cutter mat on it. It would have a small area to serve as a boutique where I could sell my custom pieces, a full dressing room for clients, a walk-in fabric closet, built in bookshelves, etc. I'm getting excited just thinking about it! I know I'll have one like that one day.
How has blogging and owning a business influenced your process?
I think both blogging and business ownership has definitely expanded the way I see the craft of sewing and has caused me to think outside of the box. Blogging helps me to analyze and articulate my projects to other in a way that causes me to think deeper about each and every project. I also can solicit the advice and opinions of others which is most helpful. I love to visit other blogs and gain inspiration as well. With business ownership I always have to be on my toes and am constantly learning which really is exciting and inspiring. Whether it's trying a new technique or combining different sewing methods I'm always having to creatively develop ideas or solve problems. Now that can be a little nerve wracking at times but it's definitely pretty exciting and has made me grow in my craft more than anything else.
Thanks so much for chatting with us!
Sewing full time is a dream for so many, and we love hearing about our entrepreneurial members.
You can see more of Victoria on her blog, Ten Thousand Hours of Sewing, her Facebook of the same name, and in the upcoming web seminar, Learning Backwards: Dispelling Old Practices and Perfecting the Art of Pants Fitting and Construction the Easy Way.