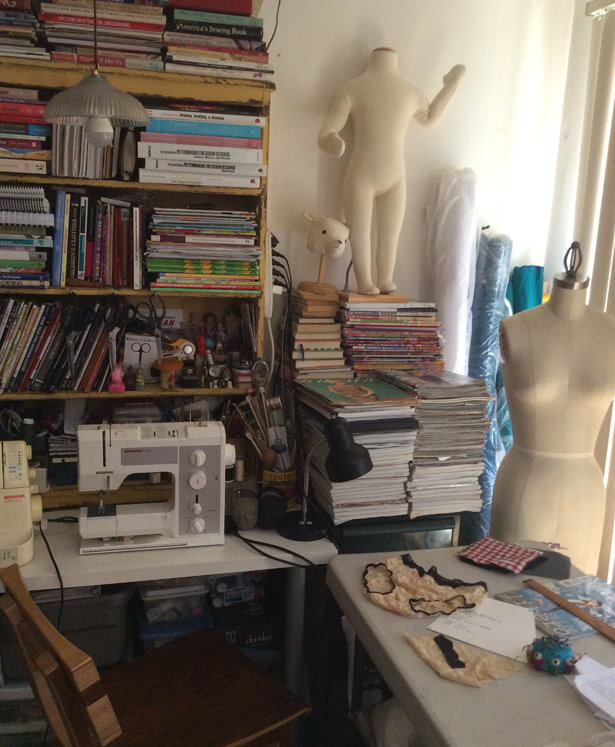 ShareThis
Meet Simone Sangerman, designer, pattern maker, and lingerie expert. Get inspired by her eclectic style and learn more in the upcoming lingerie sewing and design course!
What would you say your day job is?
I am a freelance designer and pattern maker.
How and when did you start sewing lingerie?
In 1979 when I opened my first boutique "Poke-a-Dot Clothes." I designed and created all of the clothing that was sold in my store. I was strongly influenced by the UK punk scene and stitched up lots of plaid garter belts, corsets and leather bustiers.
How would you describe your personal style?
I believe fashion is a language and should be used to express one's personality, opinions, viewpoint and most of all, ideas.
Who are your style icons?
Coco Chanel, Yves Saint Laurent, Karl Lagerfeld, Sonia Rykiel, Rei Kawakubo, Isabel Toledo and Charles James.

a bed jacket you'll make in the lingerie course
What other creative pursuits do you enjoy?
Furniture refinishing, knitting, decoupage, drawing, portrait painting and sculpture. Reading is a passion of mine.
Tell us about your sewing studio… what kind of space inspires you?
I have recently moved my studio into my home from my retail space, which I closed. I have ceiling high bookshelves crammed with source materials and two long tables that are used for sewing, drafting, etc. I keep my patterns in large storage bins– most of which are coded for fast and easy retrieval.
Does sewing lingerie affect your confidence?
Taking a clean sheet of paper and creating a piece of lingerie that has been elusive until my pencil touches the paper and my idea becomes concrete is very rewarding.
Is there something special about sewing custom sexy things?
I'm not so sure that there is something "special" about sewing lingerie– but it certainly keeps my imagination on the move.
How do you stay motivated on challenging projects?
It's not easy! Getting started with projects for others requires a punch clock/workman like mentality. Starting at the same time each day helps me to focus and to stay organized, while at the same time meeting deadlines.

undies like what you'll make in the lingerie course
What has been your favorite project recently?
I've recently been focusing on a line of children's clothing.
What would your dream studio look like?
My two Tabby cats wouldn't forgive me if I left them out but think industrial, solid furnishings, hard wood floors with attention paid to details. A well lit space with dimmers on all lighting sources. A large window with a view of a city street for people watching. A large collection of source materials (books and magazines) and a great audio system.
What are some of your favorite fabrics to work with?
Melton wool, velveteen and modal jersey.
What's your current sewing soundtrack?
I love all types of music but tend to listen to experimental soundtracks that I turn into playlists. I love Americana, jazz, old and new classical.
Anything else you'd like us to know?
My husband and I love to collect all kinds of things … from old wagon wheels & religious icons to huge abstract pieces of cement.
Thanks so much for chatting with us!
Like Simone's style? Register for her upcoming online sewing course! The Unmentionables class will show you how to design and sew your own lingerie at any size. This is a fun course to expand your sewing repertoire and leave you with the tools for a foxy, customized lingerie wardrobe.