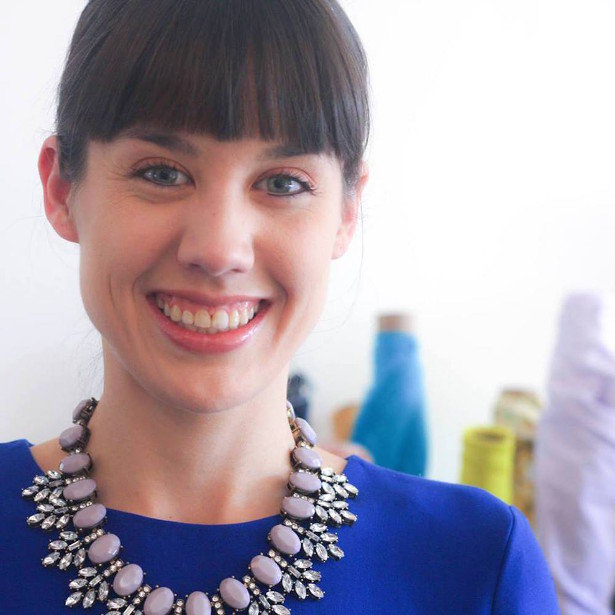 ShareThis
Nasya fell in love with sewing when she was five years old. Taught by her Grandmother who's mother had taught her, Nasya always believed that sewing was a part of her DNA. We're so happy to have Nasya teaching our students here at BurdaStyle and are excited for the chance to get to know her more in our first interview with her!
Where are you from originally, and where do you currently live?
I'm from Denver, Colorado originally and moved to New York City over ten years ago.
What do you do besides sewing? (What's your day job)
During the day I work at THe Fashion Institute of Technology , in the Fashion Design Dept. Fabric Lab. I get to help guide students to find the fabric they need for their designs and assist in displaying their creations around campus. However, I also own and run The Haute Hive . So at lunch and after my "day job" I head to my studio (within eye shot of FIT) to teach private lessons, meet with clients or work on client sewing projects. My whole world revolves around sewing and design including my "day job", it is non-stop 24/7 for me, but I get to do what I enjoy every day, and not many people can say that, so I feel very lucky.
How and when did you start sewing?
I started sewing when I was 5 years old. My Great-Grandma, Grandma and Mother were all seamstresses. So as a result it seemed only logical for my Grandma to gift me a sewing machine for my 5th birthday, followed by one on one sewing lessons from her.
Do you prefer to work from patterns, or draft your own?
I actually enjoy both! I like to amalgamate my drafted patterns with details from commercial patterns and create something new, especially when I am short on time.
How would you describe your personal style?
Structured, clean lines, and classic with a touch of vintage.
What do you love about sewing for others? Any favorite clients?
The elated look on my clients face when they put on the garment they envisioned creating or finished a design project that they just don't have the full skill set to complete, that is where I came in. Favorite clients………..I can't narrow that down.
Tell us about your sewing studio… what kind of space inspires you?
I have a sewing studio in the city and at my home. The one at my home is where I get the majority of my work done and where I am right now actually. Its organized, stocked with supplies and has a space for napping and taking a break. I find that if everything is in order I am more inclined to stay focused on the task at hand. I have a large bulletin board I use for inspiration/planning, framed sewing images I took and vintage sewing machines/tools that are family heirlooms. Lets not discuss the stuffed fabric closet…

One of the corners of my sewing studio at home, bulletin board in my studio, sewing images on my wall taken my me.
What's your sewing secret weapon?
Tissue paper! I love it for anything slippery, sequined, sticky, or generally tricky. I sandwich my fabric between tissue paper and sew the seam, then tear the paper off. Solved all sorts of issues, like markings on the fabric from your feed dogs, sequins getting stuck in your machine, coated fabrics from sticking to the throat plate and so much more.
What has been your favorite project recently?
I recently just finished some adorable children's clothing samples for a clothing line called, Natty NY . Worked on samples for my new online Burda Style course Dresses: Advanced Pattern Adjustments. Currently, I am creating an evening gown for private society client who is attending a black tie benefit. In the next few months I will be working with Ou Ma to create her ready to wear line for the September NYFW shows.
Natty childrenswear dresses, garment and promo from new class.
Do you have a favorite decade or era to sew?
I love 1930's bias cut evening wear gowns, the have this transcendent quality of bringing old world glamour into the modern century and are just quiet timeless. 1960's shift dress, and box tops with cigarette pants are my go to personal sewing project. Simple shapes, amazing fabrics and you have a polished look for day or night.
1930's inspired wedding gown, 1960's inspired cocktail dress, both designed and made by me.
Who are your top three fashion and style icons?
1. Alexander McQueen, hands down genius!
2. Balenciaga, great shapes and fabrication comes to mind
3. Charles James, beyond amazing construction and attention to detail
Charles James Dress and my work in progress inspired version on it for a private client
Anything else you'd like us to know?
I have a sewing kitty, her name is Bella and she is almost two years old. She loves to sit behind the machine and watch me work. She even has been know to pattern make from time to time.
Want to see more of Nasya? Don't miss her upcoming courses; Draping: The 3 Foundation Patterns, which goes live on may 24th AND Dresses: Advanced Pattern Adjustments course with BurdaStyle.com, which goes live on May 30!
Thanks, Nasya!