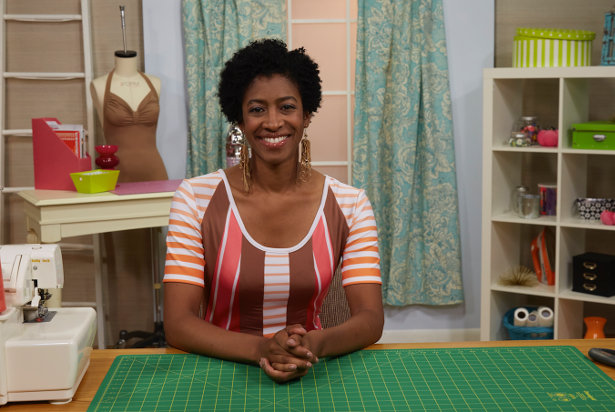 ShareThis
Dyanne Marte first began sewing and designing at the age of 12. She loved se wing so much that she changed her major from architecture to fashion while attending the Savannah College of Art and Design. At SCAD, she fell in love with knits while taking a course on designing activewear knits. After graduation, she moved to New York City to work for such companies as NY & Co., J. Crew and Doncaster where she held positions in design, sourcing and development. While working, she studied design management at Pratt Institute.
After receiving her graduate degree in 2003, she moved to Baltimore, Maryland where she started her own label called Dennya. In Baltimore, she started teaching fashion at the Baltimore City Community College in 2005. She has also taught at Community College of Baltimore County. At Bowie State University, she co-wrot e the curriculum for their fashion design concentration. She created 8 courses . After closing her label in 2014, Dyanne consulted as a designer and product d eveloper for small labels until July 2016. Dyanne currently teaches full-time at American River College in Sacramento, California. Read our Q&A with her right here!
Where are you from originally, and where do you currently live?

I'm originally from a small country in South America called Suriname. My family moved to the states in the late 70's when I was a toddler. I grew up in the DC suburbs in Maryland. I just moved to Sacramento, CA where I am an assistant professor of fashion at the American River College.
How and when did you start sewing?

My mother came from a large family where all the clothing is sewn by family members including wedding dresses and suits. This tradition was passed down to me. I started sewing on my mother's Kenmore machine when I was 12 years old. I first started making clothing for my Barbie dolls and then I started sewing and designing clothing for myself. I fully beaded a gown when I was 14.
How did you make sewing a full time job?

Although I had sights on becoming an architect, sewing and designing kept calling me and I ended up changing my major to fashion. I studied at the the Savannah College of Art and Design in Savannah GA and graduated with my BFA in fashion in 1998. I moved to New York City and worked in the fashion industr y in design and sourcing for NY & Co., J. Crew, Doncaster. At that time, I attended Pratt Institute for graduate studies and received my masters degree in de sign management in 2003. From there, I moved back to Maryland. I resided in Baltimore. I started my line called Dennya. I ended up acquiring 9 industrial sewing machines and screen printing equipment for my line of easy and comfy knitwear. I produced the line in Maryland until 2014. From 2014 until last month, I designed for small labels and start- ups that produce in the USA. I traveled to NYC and LA to manage the design and development process. I handled everything from concept, sourcing, costing, negotiations, sample development and approvals to top of production sample approvals. I started my teaching career as an adjunct faculty member of the Baltimore Ci ty Community College. I started teaching Fall of 2005 in the Apparel Technology Program. From 2008 to 2010, I taught Project Runway Design and Sketch for tweens and teens at the Community College of Baltimore County. I also taught fashion entrepreneurship in the continuing education department of the college. In 2009, I wrote 9 courses for the fashion design concentration of the Visual Communication and Digital Media Arts Program of Bowie State University. I t aught fashion design at Bowie State until spring of 2016. As I've mentioned previously, I am now a full-time assistant professor of fashion at the American River College in Sacramento, California.
Do you prefer to work from patterns, or draft your own?

I prefer to draft my own patterns and construct garments from them. Aside from seeing the results of the patterns, it is very relaxing and therapeutic to me! Drafting and draping are the most creative parts of the design process. I'm always looking forward to fittings, to see how the garments fit and where I need to make adjustments. This part always keeps my interest because there is always something to learn. Even after all these years, this business keeps me stimulated because there is always something to learn.
How would you describe your personal style?

My personal style is very clean and simple. I wear a lot of black but I am trying to wear more color now that I live in sunny California. I love to wear jumpsuits and column sheath dresses. I like very structured clothing mixed with loose and drapey layering pieces. My favorite piece to wear is my motorcycle pants from spring/summer 2011. I can dress that up or down. As much as I like clothing, I don't want to spend a lot of time figuring out what I'm going to wear. I just like to commit to an outfit in under 2 minutes. That's why like wearing neutrals.
What are some of your favorite ready-to-wear brands?

I absolutely love Rick Owens. He has a great eye for drape. His pieces are extremely fashion forward and timeless all at the same time. I also like Balmain, Olivier Rousteing knows tailoring and has this attention to detail that is impeccable. I'm still talking about the Met costume gala dress he made for Kylie Jenner. Just superb. Cushnie Et Ochs has a simple elegance. These ladies know how to dress the female form and use exquisite materials.
What is a typical day like for you?

When designing, my day starts out with reading emails from vendors because many of the vendors are in Europe and I need to contact them at the end of their work day. I also have conference calls with my clients. I'm also sourcing, creating or updating tech packs, boards, sketching, and costing as I receive information. On fit days, I fit on a fit model with my clients and we make decisions on how the garments should fit and I relay those changes to sample rooms. I end my day with looking at my calendar ticking off tasks that have been completed or samples, components that have been approved.
What's your sewing secret weapon?

My secret weapon is the experience I have working with contractors and vendors from around the world. They are a great resource for me and I always ask questions regarding how to construct a certain treatment or if they acquire new machinery to attachments that improve productivity. They are very open with sharing their core competencies and I in turn, share those competencies and apply those practices where I can.
How has blogging changed your creative life?

I've met so many fascinating people since I've started blogging and started posting my videos. I've also been a part of many fun and unique projects! This blog has helped me get clients fir design and development and I'm so grateful for the network that it has built! I'm really looking forward to writing new posts an d sharing what I've learned!
What has been your favorite project recently?
My favorite project has been working on videos for my students. I have many students where English is their second language. I started making hyper lapse videos of class lectures and I set the videos to fun music. I use these videos a s a supplement to my lectures as and my students love them! I'm setting up to make more videos for my classes this semester and I'm in the planning phase s. I love how you can use technology in the classroom!
How would you describe your design process?

My design process is very linear. I start every project or collection by conducting research. I shop the market and read up on trends in trade publications. At the same time, I source materials and components. I then put together a concept board with my findings and build from there. I sketch bodies and turn them in to tech packs complete with directions for construction, and treatments. If I don 't make the sample in house, I select a contractor who has a dedicated sample room to make the sample. While the sample is being constructed, I cost out the sample based on consumption and labor costs. Once, the sample is finished I fit the sample on a fit model and either approve the sample or request another sample if the fit is less than desirable. Once the sample is fitted I can confirm actual costing and start pre-production planning. Once the sample is approved, I put it in que for production.

Can you describe your brand in 5 words or less?
Clean, sophisticated, easy, travel-friendly and modern.
What's your current sewing soundtrack?

I'm currently listening to my classic Prince Hits Volumes 1 to 3, FKA Twigs, Jill Scott, Bebel Gilberto, Eurythmics, Santigold, Massive Attack and Stevie Wonder. It's all over the place but it works for me! It keeps me sewing!!
Fun Facts:




Dyanne has worked for Troika Costume Shop and has worked as a shopper and assistant designer for Joseph and the Amazing Technicolor Dreamcoat.


Dyanne danced ballet for over a decade as a child/teenager. She studied Vaganova, Balanchine, and Cecchetti on pointe.



Dyanne's favorite material to work with is Lenzing Modal spandex.



Los Angeles is Dyanne's favorite city for sourcing materials and components.


Dyanne's had design internships with both Anna Sui and Cynthia Rowley


Dyanne's favorite food is pizza!
If you're interested in taking a class with Dyanne, register for her new course, How to Sew Stretch Fabrics: From Tops to Swimwear! In this online course, you'll learn all about the many different cuts of knits that you can sew with. Dyanne Marte, will review the different kinds of stretch materials that are appropriate to use for dresses, skirts, tops and swimwear. Learn all about stretch ratios, ease reductions and fabric weights. You will also learn how to construct four projects including a knit top, skirts, dress and a swimsuit. All patterns are included with course purchase!