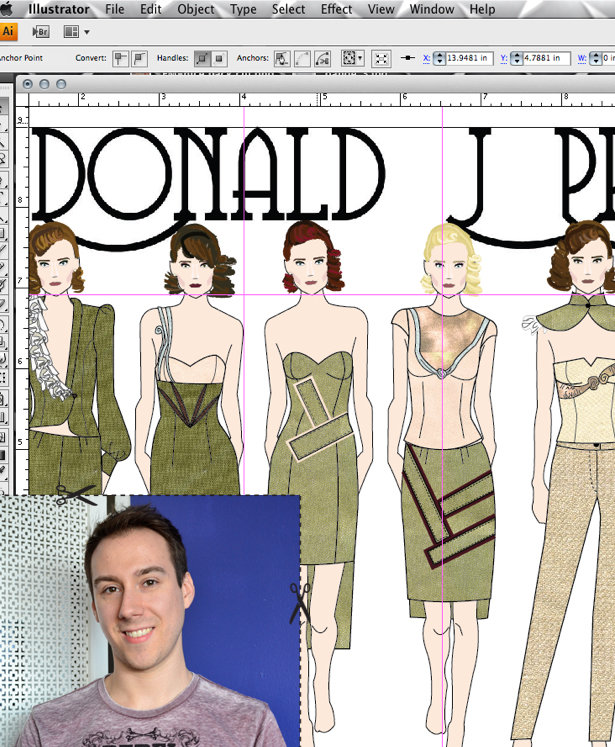 ShareThis
Today's interview talks color inspiration, designing statement pieces, and stitching with Madonna and Cher. Meet Donald Procunier, then sign up for his course on designing with mood boards!
Tell us a little about yourself.
I'm a fashion designer whose interests and experiences range from design, illustration, tech packs and manufacturing and textile design.
Where are you from originally, and where do you currently live?
I grew up in a small town in Ontario Canada and am currently living in Toronto.
Do you have a day job, besides sewing?
I work in the production department for a bridal designer. I also have my own clothing brand, Free Maple, that will be launching soon!
How and when did you start sewing?
I started sewing around 7 or 8 years old. Watching my mother and grandmother sew, it became natural for me at a young age and I used to make dresses for my younger sister.
Do you prefer to work from patterns, or draft your own?
I always draft my own patterns!
What's your sewing secret weapon?
Patience! Haha. Sewing is a rush doesn't work. You can be a fast sewer but not a rushed sewer.
Where do you find inspiration? Celebrities, runways, color forecasts?
All of the above. Inspiration is everywhere. A lot of the time I'm inspired by colors and textures.
What has been your favorite project recently?
Developing courses for Burda! I love to inspire and teach, it leaves me with a very positive feeling.
Do you design by piece, collection, or brand?
I typically design with the brand focus in mind. Creating 'runway' or 'wow' pieces is fun, then filling in the gaps for the rest of the collection.
If you had all the fabric, money, and equipment at your fingertips, what would be your dream garment to sew?
Red carpet evening gowns for events like the Oscars or Golden Globes.
What's your current sewing soundtrack?
Anything fun with a good beat! Madonna and Cher can be really motivating, haha.
Thanks so much for chatting with us!
We hope getting to know our fabulous instructors gives you an idea of what to expect from Burda's latest courses.