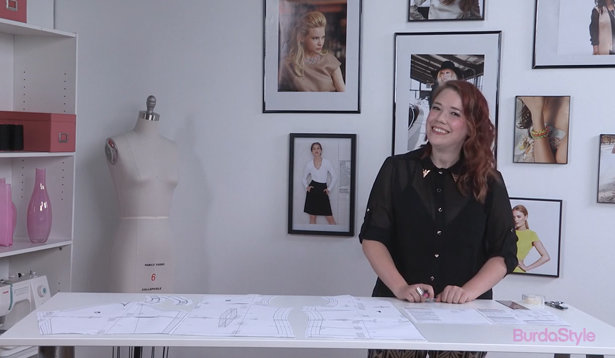 ShareThis
Learn how to turn a digital file into a dress with this week's featured video!
Featured this week at BurdaStyle Videos: Working with Burda PDF Patterns, presented by BurdaStyle's own Meg Healy.
Ever wonder how a digital file printed on 8 ½" X 11" paper could turn into a dress? Click here to check out our newest video. In this video tutorial, Meg will show you the best practices for taping your pages together as well as what all the various markings and numbers mean on your pattern. She will also show you how the instructions PDF works with the pattern and how you can tell which size is which line, adding seam allowance,piece names and how many to cut of each, and more.
What You'll Learn in This Video Tutorial:


How to tape your pattern pages together
How to make sure your pattern prints to scale
What the different markings and notches mean on your pattern
How to determine what sizes the pattern comes in and which line is which size
How to determine how much seam allowance you need to add and how to do so
Figuring out which pattern pieces you need and if you need to draft your own.
With new videos added weekly from your favorite BurdaStyle editors, BurdaStyle Videos has all the sewing, fashion, and DIY inspiration and instruction you'll ever need.
BurdaStyle Videos offers access to a library of high quality instructional sewing videos, starting as low as $19.99 a month for everything from sewing fundamentals to advanced tutorials and techniques from our experts. You can stream the videos on your PC or Mac computer, or take it on the go with the latest generation iPhone, Kindle Fire, iPod Touch and iPad. You can even watch BurdaStyle videos on your living room TV, from an iPhone or iPad with AirPlay & the latest AppleTV!