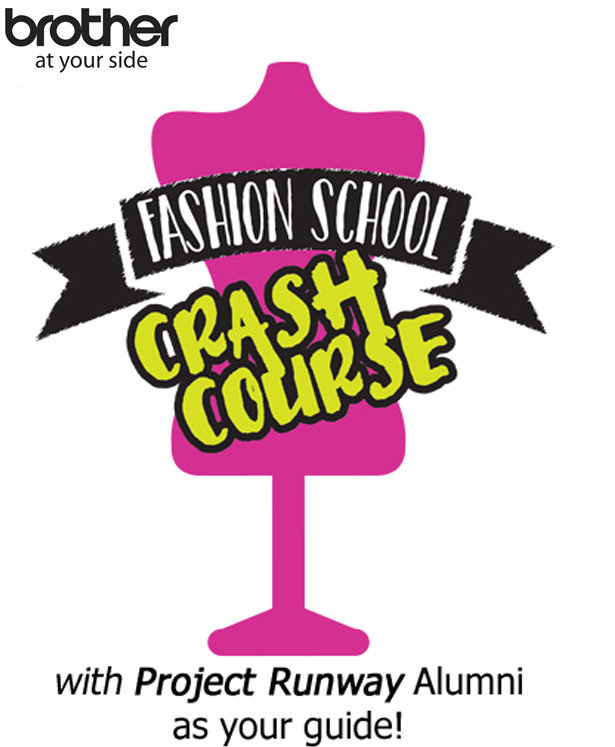 ShareThis
Have you always dreamed of becoming a fashion designer? Do you want to get an inside look into fashion design with Project Runway Alumni as your guide? If so, this course is perfect for you! Explore a fashion designer's perspective on fit; an introduction into fashion illustration; fashion forecasting; draping-what is it and how to start; styling like a pro; fashion branding dos and don'ts; and so much more.
In this online course, you will learn how to take your sewing, your fashion and/or your career path, to new heights! You will be guided through everything from how to break into a creative career to color theory to creating a fashion collection!
The eight week course will prepare you for the many aspects of fashion design through video lectures, collaborative projects, thought-provoking homework assignments, and one-on-one feedback from Carmen Webber!
What You Will learn:



Six simple steps to break into a creative career


Basic tips and techniques you should know in order to sew and design like a pro


Fabric choice, body type, darts and seaming. Plus fit like a pro by understanding flattering waistlines and hem lengths


Helpful hints for understanding textiles and finding the right fabric for you and your designs


Familiarize yourself with expert knit sewing tips so you're ready to sew with the fabric


Professional tips and techniques when working with leather to ensure professional looking results with every design you create


How to leverage your designs using color for maximum impact, beginning by understanding the basic color wheel


Evaluate the size, function and cost of a domestic machine and an industrial machine to find the one that's right for you and your fashion design career


The basics of sketching a body form and adding elements to make your designs come to life on the page


How to define your design aesthetic to help maintain your brand cohesion and help customers find you


Gain a better understanding of what styles are consistent staples in the fashion world to build a successful design portfolio


Factors when creating a collection that's cohesive and, most importantly, sellable


The differences between look book, editorial and commercial styling and discover tips for photo shoots to ensure your designs are presented as desired


How to organize a runway lineup to keep the story going stay on track


Tips and tricks to design on the fly while working on a tight deadline


What a stylist is and how styling makes or breaks the garments you design


Important things to consider when draping a garment for the first time


How to avoid the mistakes many designers make when considering body shapes and sizes in order to have a successful design career


What cosplay is and how it applies to fashion design


When mass-producing garments, keep these things in mind to ensure desired results


How to develop and grow your brand as you begin a fashion design career


Experiment with functional design sensibilities in order to meet the needs and desires of those intended to wear your garments


How to focus on your inspiration throughout the design process and refer to it often to take your vision from conception to reality


How to find garments to start with and bling your way to high-fashion statement pieces in no time
Who Should Take This Course?
This course is for sewists of all skill levels who want to want to dive into fashion designing with Project Runway alumni!
Anyone who is interested in Fashion and want to learn more about the industry
Project Runway fanatics
Those interested in becoming a fashion designer
Designers who want guidance from experts
Designers who want to understand textiles and fabrics
Designers who want to learn about fashion forecasting
Those who want to learn about look books, editorial and commercial styling
Designers who want to learn how to organize a runway lineup
Those who want to learn about styling garments
Sewists who want to experiment with draping
Sewists who want to learn how to design for many shapes and sizes
Designers who want to learn how to develop and grow their brand
Sewists who want to begin a fashion career
The Experts:
Carmen Webber
You will rarely meet anyone as eclectic as Carmen Webber a Native from Charlotte NC, who has lived and worked in Paris she now currently lives in New York. Her love for fashion, art, culture and current events is unshakable. She is author of DIY books; T Shirt Makeovers, Denim Mania & Chic Sweats. Project Runway contestant from Season 4, guest on Martha Stewart Show for a demo of a Chic Sweats project, style consultant on several episodes of the "Look For Less Show" as well as on VH1's "Can't Get a Date show. Carmen has also taught at SVA New York , School of Visual Arts and done lectures for A.I. New York the Art Institute, FIT (Fashion Institute of Technology, New York) & SCAD (Savannah College of Art & Design). She's currently a fashion education consultant for Bowie State University's Fashion department. As an instructor for Burda Style.Com Carmen looks forward to giving feed back and inspiring the true designer/ stylist in every student.Carmen will be guiding you through the course and answering all of your questions along the way!
Michelle Lesniak
Determined to jumpstart her career in fashion, Michelle tried out for Project Runway, landing a spot on Season 11. Her lack of formal training gave her an edge; there were no rules to follow. As a self-proclaimed, professional rule breaker, Michelle won the season and the ability to design full-time, a luxury many designers never achieve.
This rule-breaker, no-shit-taker continues to live in Portland, Oregon focusing on small production and emotive clothing, as she likes to say, "Fashion with a purpose". Fun Facts: Favorite color – dirty chartreuse. Chihuahua lover. Project Runway All-Stars alum. Former trombonist. 5'5" in flats – wicked tall in heels.
Peach Carr
Peach Carr burst onto the fashion scene as a cheeky self taught Chicago designer on Season 8 and Season 2 All Stars of PROJECT RUNWAY. Drawing from her 60's and 70's childhood, Peach finds inspiration for her designs from the music, art and vibe of that era.
When designing, Peach always asks herself if Edie Sedgewick would have worn it. Dubbed by Tim Gunn as "Country Club Chic" Peach designs for the woman who likes to be on-trend yet comfortable and polished. Her pieces range from bold wrinkle free day wear to chic evening and even stretch sequins for cocktails. The entire collection is MADE IN CHICAGO by women and is machine washable.
"Real Housewife of NYC" Alex McCord, RHNJ's Dina Manzo, Linda Yu, Leanne Trotter and Chicago's own actress/writer Nora Dunn are among Peach's celebrity clients.
Gunnar Deatherage
As a contestant on seasons 9 & 10 of Lifetime's Project Runway, Gunnar Deatherage was well known for his witty comments, outspokenness, and quirky whimsical aesthetic. His experience on the show came to life on one of the biggest stages in the fashion industry, the tents of the Lincoln Center, where he presented his Spring/Summer 2012 collection at Mercedes-Benz Fashion Week.
Gunnar has built his namesake brand by creating innovative collections each season and showing the collections around the country. Gunnar's shows transport audiences to the root of the inspiration for each collection through theatrical music, distinct styling, and clothing for the "not so every day" woman.
Gunnar later competed on Project Runway Allstars season 4 where he showcased his talent once again on a televised platform.
Althea Harper
Althea Harper is a fashion designer and entrepreneur who manages her own fashion line, ALTHEA HARPER. With a cutting edge style that combines both tailoring and draping to make silhouettes appear strong and beautiful, Althea Harper is one of the breakthrough fashion designers in today's industry.
Her style reflects her experience working alongside numerous renowned designers, including Anna Sui, Zac Posen, Alexander McQueen and Vivienne Westwood. She is also known for her unique work in knitwear. Althea is poised to dress the women of today for tomorrow. Her designs have received much praise from industry leaders.
Carrie Slutskaya
Carrie Sleutskaya was featured on Project Runway's Season 13, and is recognized for her signature blue hair. Her background as a professional artist and lover of Japanese culture opened the doors for her into the world of high fashion, as well as costume fabrication for television and film. She isn't just a designer, or artist — she is a Creator — because she believes any artist can branch off into other mediums if they work at it, thus transcending their own abilities.
Carrie's brand, HOUSE OF HALCYON, specializes in high-end women's and men's clothing and accessories, including but not limited to, custom couture and stage gear for rockstars.
HALCYON emphasizes on the beautiful dichotomy between architectural structuring and the elegance of fine-draping. Carrie is fascinated with innovative textures that aspire to influence the streetwear norm. Her ultimate goal is to help evolve society into a new age of wearable aesthetics.