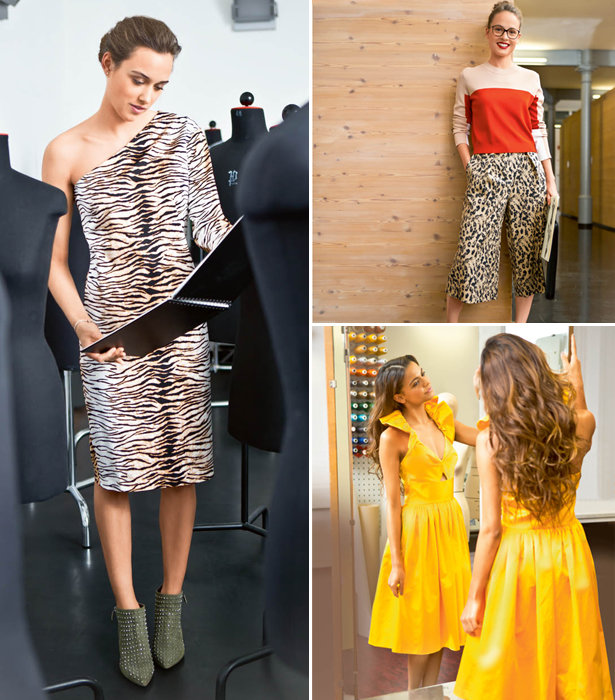 ShareThis
This pattern collection is from the latest 04/2015 issue of BurdaStyle magazine, and it is filled with street style ready designs! You'll find a variety of dress patterns, a jacket, skirt, and another pattern of our favorite new trend the culotte! We love the versatility of these pieces and we can't wait to make and wear this spring and summer! We have even selected three suitable fabrics (from Mood Fabrics) that you can make each of these patterns in.

African Safari Wool-Blend Animal Print; Kiwi/Off-White/Dirt Animal Jersey Prints; Mauve/Black Animal Jersey Prints
This gorgeous one shoulder dress hits at about knee-length and has one exposed shoulder. You can make this dress your style with the fabric you choose to use, stay classic with a solid solid light pink or choose bold with a floral or animal print.

Famous Designer Metallic Purple/Silver Flocked Floral Silk Chiffon; Tie-Dye Pink Silk Chiffon; Carolina Herrera Soft Pink Silk Chiffon
This drop waist dress has a plungling neckline and sash that ties on the hip. It also features a playful front bow and has a modern flapper feel to it! Side note: This dress was the cover image for the April issue!

Blue Denim Chambray Cotton Lawn; Black Orange Cotton Chambray; Italian Parakeet Quilted Stretch Cotton Woven
This mini chambray ruffle dress is so adorable! The ruffles are stitched the shape of waves and the spaghetti strap is slightly flared. We can't wait tyo make this dress for spring and summer!

Taupe Nylon/Spandex Paillette Sequins; Leopard Print Inspired Sequined Polyester; Croissant Silk Satin Face Organza
This sexy blazer style top features short sleeves and a plunging neckline. Adorable for everyday paired with dark skinny jeans and heels! Dress it up using similar fabric to what was used in the magazine or dress it down by using a chambray type material.

Yellow Solid Cotton Lawn; Yellow/White Polka Dotted Stretch Cotton Twill; Buttercup Stretch Cotton Sateen
This halter dress is made out of a cantilevered elastic ruffled collar, cinches at the waist for a flattering silhouette and features a tiny peek-a-boo cutout. Perfect for any special occasion this summer!

Black/Brick/Tan Animal Fur Print Cotton-Lycra Twill; Italian Black, Beige, Khaki & Mud Animal Print Cotton-Lycra Woven; Chaiken Black Italian Stretch Cotton Woven
These culottes are made with an eye-catching leopard print, which we here at BurdaStyle like to think of as a neutral print that will step up any outfit. They feature front pleats, a waistband and hit below the knee. Culottes are very on trend right now, give them a try!

Italian Forest Night Satin-Faced Stretch Cotton Twill; Steven Alan Medal Bronze Stretch Japanese Cotton Twill; Dark Tan Herringbone Woven
This versatile blazer has so many details that make it a really special piece! It hits at about the hip and features a padded collar with parallel stitching. The bags are specially designed with box pleat, kimono sleeves and a dragon wedge to fit perfectly. Throw this jacket on with almost everything in your closet for chilly spring days and summer nights.

White on Black Polka Dotted Polyester Jacquard; Italian Black/Off-White Stretch Cotton Print; Black Cotton Denim
This beautiful wrap dress has great structure and features elegant shoulder lapels. Wear this dress when you want to feel both feminine and powerful!

Green & Blue Multicolor Floral Silk; Jalapeno Viscose-Acetate Satin; Green & Copper Silk Iridescent Chiffon
This beautiful flowy skirt features double ply hip yoke. Perfect skirt for a garden party or a music festival!
Want all these sewing patterns? Purchase them all here in one download and at a discount.
Happy Sewing!