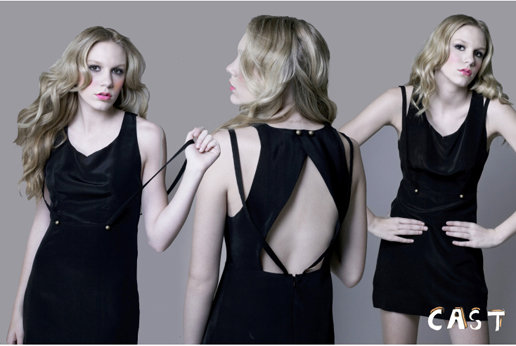 ShareThis
With our upcoming election here in the USA I have been preoccupied with thoughts of the next Depression. The economy here has reached
a startling low and we've all really begun to feel it. It makes me question fashion: what does it mean to me, to the world, why is it important and what can I do to feel as if I am doing something that is not disposable, excessive or outright rude during times like these.
My latest project (Dahl & Dane) has really got me thinking about a utilitarian fashion design mentality. Utilitarianism is the idea that the moral worth of an action is determined solely by its contribution to overall utility: that is, its contribution to happiness or pleasure as summed among all persons. All persons is quite a huge undertaking, but to be able to reach some, and create a positive reaction, is what I aim to do with my work.
My wholesale line, which can be classified as a high-end collection, is made up of material formations of my ideal…or dreamworld. Dresses & tops that involve much work to be put together, hand-crocheted elements and open backed dresses; they speak a specific dialect that only some seem to understand or speak themselves…The Dahl & Dane organic t-shirts and totes line has gotten much adoration from greater amounts of people from all walks of life who understand our language. It is not too expensive, the items are hand screen-printed with thought & care, and it gives a chance for someone to express their love. That reaction is what has planted a seed of thought in my mind about where, at this point in time, should one in my position go in terms of creating fashion designs?
I have decided to strip down the high-fashion and get to the grit of what people want. I have been asking around to friends about what they wear the most & what is lacking out there…I have decided to create a more utilitarian line that will be made up of more staples, like a soft bamboo extra long t-shirt and creating my own prints…
What do you like to wear everyday?