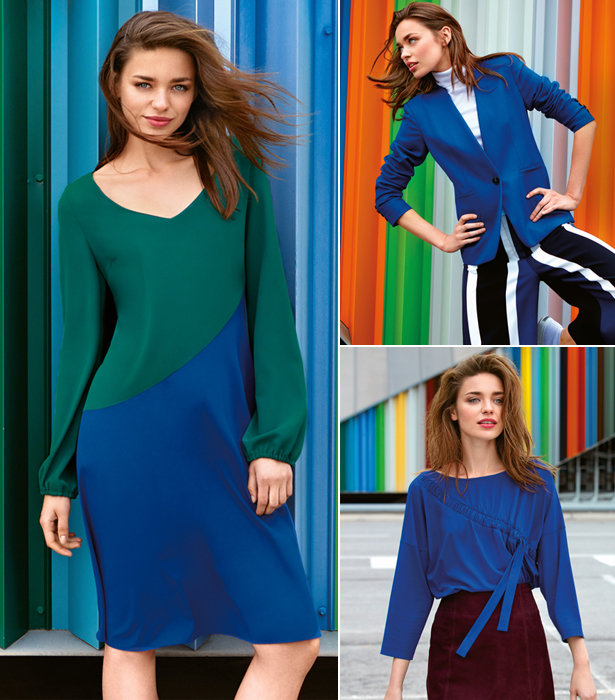 ShareThis
A cheerleader skirt, a striped sweater, a varsity jacket, a blouse and a blazer in fabrics ranging from delicate crêpe to sophisticated wool that make these U.S. sportswear inspired looks from the September 2016 issue of BurdaStyle true office fashion champions.
Click on the pattern image to go to the pattern store page…
Whether you wear it loose as shown here or more formally tucked into the skirt waist, this blouse with double XL pleats is always a great choice.
This sophisticated twist on the blouson jacket includes 3/4-sleeves and is sewn with a high quality wool. Wear it when you would otherwise choose a relaxed blazer. The details are classic: raglan sleeves, standing collar, hems with ribbed knit – all the way through to the full-length snap front placket.
The result is worth every minute of work for this dress. The phenomenal visual impression for this slightly flared dress is first and foremost on the patchwork jersey stripes. The exact placement at the bodice and sleeves is part of the precision look. It is comfortable, too, with pockets tucked into the side seams. Every millimeter counts for this style! To ensure that the stripes are truly exact for sewing together, it is recommended to trace the sewing lines carefully when preparing the pattern and to stitch exactly on the matching markings.
Contrasting wool in precise bands outline along the edges of the faux wrap skirt. A wide yoke makes for a flawless fit.
Every swing gives a new look on this knee-skimming skirt. The contrast base panels of the inverted box pleats are sewn in a bordeaux colour. Sew it with a mid-weight wool for the most beautiful drape on this style.
A cool combination: Exposed edge accent strips are sewn on along the raglan sleeves and the zipper front for a look that is reminiscent of a retro training jacket. It also features the egg-shaped cut of a relaxed '60s style. If you don't want to cut your own accent fabric strips, you could use strips of petersham.
Need a quick style option? This slightly flared dress slips on effortlessly. Thanks to the striking combination of blue and green crêpe fabrics, there isn't a need for statement jewelry or elaborate make-up. Simply add a pair of lace-ups or boots, and dash out the door!
A style that shows confidence with this two-colour inset striped shirt that works for the office, too. It is a straight cut with a standing collar and ribbing at the hems. For a modest look, pair it with a pair of blue or black pencil trousers.
A sleek front without lapels shapes an exacting fit that is refined by precisely placed darts and panels. The blazer gets an accent in front with welt pockets, and on the sleeves with a row of decorative buttons for a faux placket at the cuffs.
An easy way to transform a simple blouse into a spectacular fashion statement. The diagonal drawstring casing lets you adjust the tying bands for tight or loose gathering.
Panel seams and a high waistband work together with the contour yoke in back for advantageous shaping of the figure. Invisible zippers in the trousers at the inner leg seams give a narrow fit at the lower hem.
Get ALL of these patterns in the discounted pattern bundle here!
Happy Sewing!