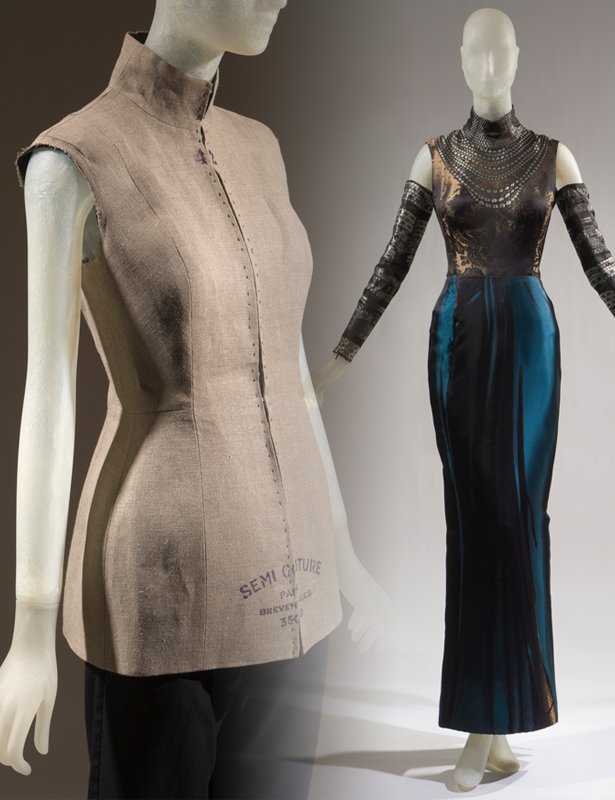 ShareThis
Read about Meg's experience at The Museum at FIT when she went to view their latest exhibit Fashion, A-Z Part Two. Check out her favorite pieces and see how you can achieve similar looks using our patterns.
I was invited to attend the opening preview of the second part of Fashion, A-Z: Highlights from the Collection of The Museum at FIT. This exhibit is the second of two consecutive exhibits that highlight selected designs from the museum's permanent collection of roughly 50, 000 garments and accessories. The Museum at FIT steered away from its usual chronologically themed exhibits and wanted to put items on display from various designers and time periods to celebrate their expansive collection. This exhibit is being displayed in The Fashion and Textile History Gallery at The Museum at FIT until November 10, 2012.
It was amazing to be in the same room with all the couture garments from famous designers, and to be able to see all the details and fabrics up close. This exhibition, like Part One, was organized alphabetically by designer. From Balmain, Calvin Klein, and McQueen all the way down to Vivienne Westwood, this exhibit features the world's greatest fashion designers. This setup allows visitors to experience sixty garments on display from leading designers of the 20th and 21st century. This exhibition gives us a look into the extent of the museum's collection in terms of modern and contemporary fashion.

Chado Ralph Rucci, Tabernacle Infanta dress, amethyst duchesse silk satin, fall 2003, USA, gift of Ralph Rucci. Photograph ©The Museum at FIT.
I had a chance to talk with the two co-curators of the exhibit, Jennifer Farley and Colleen Hill, who were hands-on in the process of selecting the garments with chief curator Valerie Steele. Deciding which of the 50, 000 designs to showcase wasn't easy. They based their decisions on both their personal preferences and how to best represent the designer. In the layout of the exhibit they made connections between original house designers and current house designers, which was very interesting to see. They also wanted to represent great designers not featured in Part One of Fashion, A-Z, as well as display a range of fashions dating from the 1920s up to current styles.

Rick Owens, dress, sleeveless coat, hair comb, pale grey washed cotton, silk faille, resin, spring 2011, France, gift of Rick Owens. Photograph ©The Museum at FIT.
I asked about their personal favorites showcased in the exhibit, they expressed love for the Vivienne Westwood pirate ensemble and, of course, the Charles James pink evening dress (pictured below). They explained to me how the two exhibits are leading up to a book expected to be out in fall 2012. The book will feature color photographs of 500 pieces from the museum's plentiful collection and an extensive essay on the history of fashion museums. The book is also a way to showcase more delicate pieces from their collection that could not withstand an exhibit.

Charles James, Tree dress, pink silk taffeta, pink and lavender netting, 1955, USA, gift of Robert Wells In Memory of Lisa Kirk. Photograph ©The Museum at FIT.
Above is the Charles James Tree dress, which is a dress from the mid-20th century that embodies James' intricate construction style. He made fewer than 1,000 garments in his fifty year career, making his dresses considerably rare. The Museum at FIT has more than forty of his creations in their collection, making them the largest collector of his garments.

Alexander McQueen, dress, digital printed silk chiffon, spring 2010, England, museum purchase. Photograph ©The Museum at FIT.
Here we have my favorite dress in the entire exhibition, an Alexander McQueen creation. This dress was part of his spring 2010 Plato's Atlantis collection, which is actually the last collection shown by the designer. It has a beautiful and vibrant multi-colored reptile print, and also features meticulous seaming and gathers. Each dress from this collection featured a computer generated print that worked so well with McQueen's signature style.
There were a lot of prints shown at the exhibit. Another dress I loved was a long sleeve maxi dress by a designer from Switzerland, Akris. It featured a digital photo print on wool mousselline of scenic tree branches.

Martin Margiela, sleeveless jacket, beige linen, spring 1997, France, museum purchase. Photograph ©The Museum at FIT.
Above is another one of my favorites, a jacket by Martin Margiela who is widely known for his thought-provoking fashions. It is made to resemble a couture dress form, and I love all the features from the firm construction, distressed edges, right down to the writing details.

Comme des Garçons (Junya Watanabe), dress, distressed denim, spring 2002, Japan, gift of anonymous donor. Photograph: William Palmer.
Here we have a beautifully distressed denim dress.It is a very interesting and unique dress with intricate seaming. This was one of the more casual looking styles in the exhibit and it blended well into the layout and gave the exhibit some diversity.
Check out more pieces from the exhibit below, and see how they are paired with our patterns so you can make your own designer-inspired fashions!

Madeleine Vionnet, dress, black silk taffeta, 1936, France, gift of Carole K. Newman. Photograph ©The Museum at FIT.
This was a classic tiered dress shown at the exhibit dated 1936. I love the multi-layered effect and you can achieve a similar style by making this layered maxi dress (pattern above right).

Jean Paul Gaultier, ensemble, printed Lycra, teal and black silk, fall 2002, France, gift of Mrs. Martin D. Gruss. Photograph ©The Museum at FIT.
Here is a printed long gown by Jean Paul Gaultier that was displayed. I love the color combination and the use of prints. To obtain a similar silhouette you could use this column dress (pattern above left).

Isabel Toledo, dress and shrug, burgundy silk taffeta, spring 2005, USA, gift of Toledo Studio. Photograph ©The Museum at FIT.
Above is a beautiful burgundy dress and shrug by designer Isabel Toledo. We noticed a lot of red hues being shown in the exhibit. The bubble hemline is a great detail and to get the look check out the twisted bubble dress and shrug (above right).

Alexander McQueen, dress, digital printed silk chiffon, spring 2010, England, museum purchase. Photograph ©The Museum at FIT.
This is McQueen's digital print dress again, and to achieve a similar aesthetic, try making this cocktail dress (above left). We love the saturated photo print and think this dress is a piece of fashion art.
Overall the Fashion, A-Z exhibit was a wonderful selection of the museum's immaculate collection of designer clothes and accessories. You get to see fashions from the 1920s up to designs recently shown on the runway. Clothes aren't the only thing on display in the exhibit, as you get to see a collection of Christian Louboutin shoes and designer bags. This exhibit is not only for the fashion elite, it is also a look into fashion history that everyone can learn from and appreciate.
The exhibit has all your fashion staples from a signature Chanel jacket, a classically tailored Yves Sait Laurent suit, a perfectly printed Missoni dress, to a quirky Helmut Lang dress made with chiffon and horsehair. Fashion, A-Z is a celebration of the fashion world, and I cannot wait until the book comes out so we can see more works of art from our leading fashion creators.
The Museum at FIT is the only museum in New York City that is solely dedicated to fashion. It is open Tuesday through Friday, noon to 8 pm and Saturday 10 am to 5 pm. Closed Sunday, Monday, and holidays. Admission is free. Visit the website here
Don't miss out on this great exhibit! View from May 23 through November 10, 2012.
-Meg