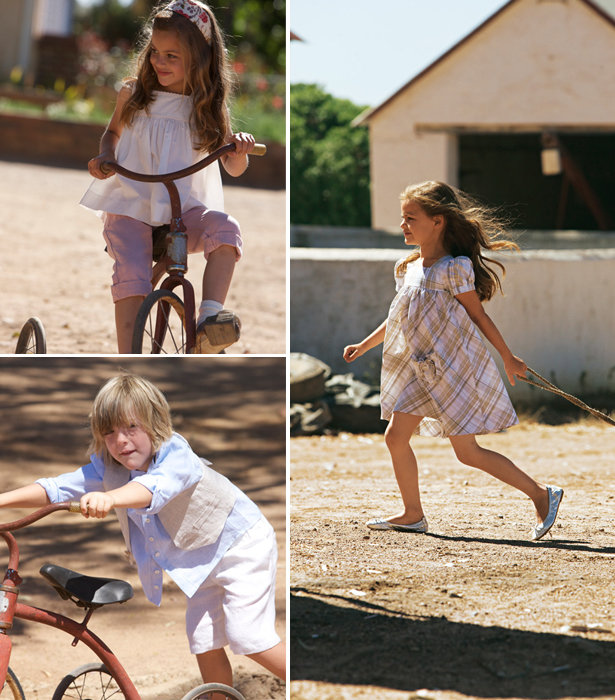 ShareThis
This children's sewing pattern collection from the May 2010 issue of BurdaStyle has newly updated instructions, fashion images and descriptions.
Click on the pattern image to go to the pattern store page…
This ruffle blouse for girls features a babydoll silhouette and sweet little frills at each shoulder.
This adorable girl's babydoll blouse features a square neckline and thick straps. It's suitable for cycling and a much more!
The bow and ruffles on this girl's skirt make it a sweet and fun option! It's actually combined using two skirts, a petticoat and a rounded skirt with ruffles with are connected at the waistband.
These bloomer-style girl's trousers are comfortable and can be worn easily during warmer month with tunic tops.
This girl's dress features a babydoll silhouette, ruffled sleeves and two front patch pockets.
This boy's vest is an easy way to dress up any outfit. It features a v-neckline and two buttons.
These boy's bermuda shorts feature an elastic waistband for comfort and movement. Patch pockets in the back with button closures so boys can play with ease without losing their trinkets.
A casual pair of boy's trousers for a warm summer day! The linen cloth is great for hot weather so they aren't sweating as easily. Pair them with homemade suspenders made of elastic, clips and leather!
This collarless button up shirt features a front pocket and long sleeves.
This wide, straight-cut shirt only buttons half way down and the sleeves can be easily cuffed.
Happy Sewing!