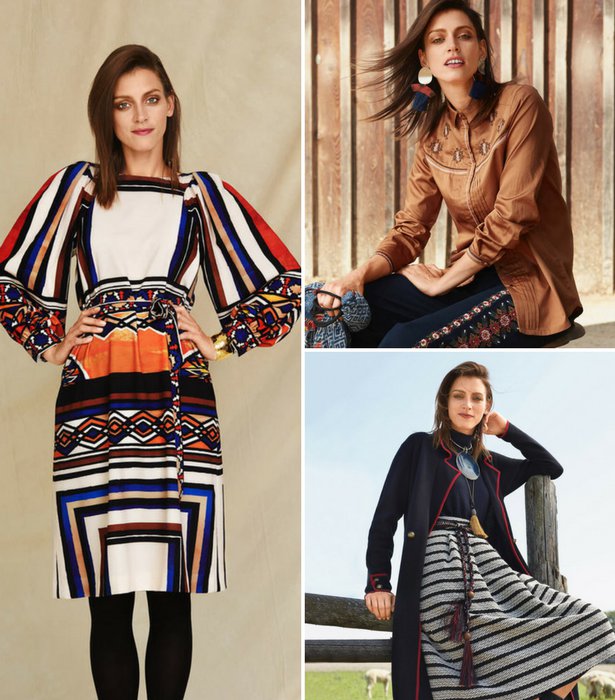 ShareThis
Statement pieces with pronounced embroidery in a style tapped from the Andes. These patterns are fashionable for the outdoors and at the office with striking details from the 01/2018 issue of BurdaStyle magazine.

Transition the grey winter days with a sunny yellow wool, decorative bands and flap pockets decorated with exquisite hand stitching. The mini tassels at the sleeve hems are a fun surprise on this coat.



Here is the perfect winter skirt… The draping, striped fabric is beautifully warm, and the length and width – drawn in at the waistline with stitched down pleats – works with the many heights of boots for the season.



Precision layout and placement add an exciting pop with the playful sleeve volume of the dress for a bold and shaped look. The long tying belt and the wide cuffs add accent along the figure.



Reminiscent of a folksy country blouse, though with an added sophistication of detail work featuring embroidery, inlaid pleats and a covered placket that make it a perfect first choice for anyone looking to try out the trend.



This season highlight is a must! Even better, to make this jacket with the geometric panels in front and back, standing collar and hook closures one that is possible for every skill level.



The folklore trend can work for the office! A modest touch of color on the belt band of the pleated trousers is perfect. We show you how on the following pages.



You can wear it inside as a pullover or outside as a replacement for a jacket as the weather warms. The top sewn in a striped jacquard is one you will turn to often – and the playful trim and pom-pom accents at the sleeve make it special.


Download ALL the pattern styles in this collection here at a discount to sew yourself a new winter wardrobe!