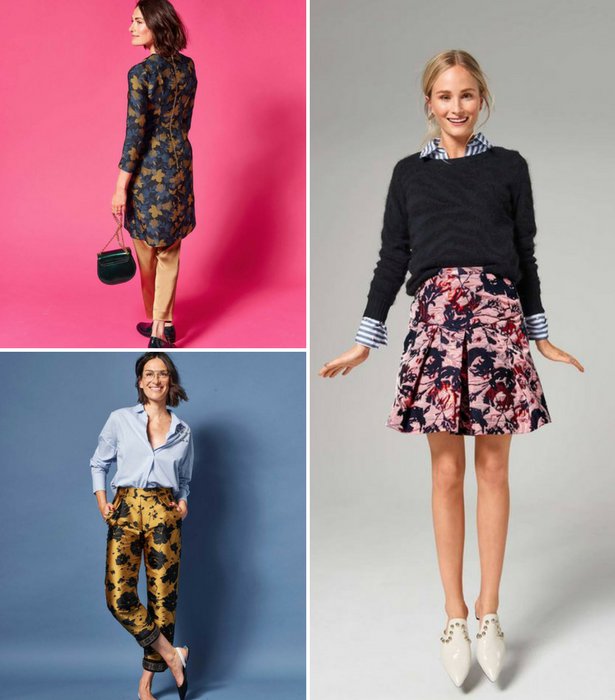 ShareThis
It's time to clear space in the wardrobe – get ahead of the curve this season with these eight stylish additions from the 10/2017 issue of BurdaStyle magazine!

Romantic…cool: A bit of both with this style that is cut like a denim jacket, yet sewn with a fine floral tapestry fabric. The flounce collar and the mitered welt pockets are wonderfully feminine.



A gorgeous embroidered velvet finished with scalloped edge ruffles at the sleeves and hem = Wow! To add a bit of edge to the soft look of the velvet, an exposed metal zipper adds texture in front.
You could also choose another fabric and embroider your own border with your sewing machine – or add 4 cm (1 1/2 in.) seam allowance to the ruffles for a straight hem.



Shorts in autumn? Of course! This glamorous jacquard version includes relaxed hip yoke pockets and is a great change-up from the mini skirt this season. We pair them here with semi-trans parent tights and trendy loafers.



A classic cropped sleeve style that transcends positively for all fashion trends and figure types. The perfect tailoring is a result of deep darts – avoiding panel seams altogether. Wear it fashion-forward as shown here with slim fit trousers; or in the timeless look worn on its own with pumps or boots.



The fashion revival of autumn: Pleated skirts are back! The new twist: a narrow hip yoke and a flat back panel – to stay closer to the body. Style tip: This glamorous fabric transitions beautifully with a blouse and heels for an evening look.



Lots of details and a brilliant jacquard put these ankle length trousers in the limelight. The hem bands are embroidered with glittering stones for a surprising finish and couture origami details at the pocket openings create oversized belt loops at the waistline. High heels and a sexy top are all that are needed for the perfect party look every time.



This style can replace a blazer for the office. The safari style is relaxed with patch pockets that include box pleats and flaps, and a tying belt draws it together casually. The flaps of the upper pockets are decorated with an embroidered trim.



This pencil skirt charms its way to shape a super sexy figure with its ribbed band at the waist and gathering along the front panel seam. A comfortable stretch jacquard fabric works with the design details for perfection.


Get all these fall must have styles with the discounted pattern collection bundle here!
Happy Sewing!