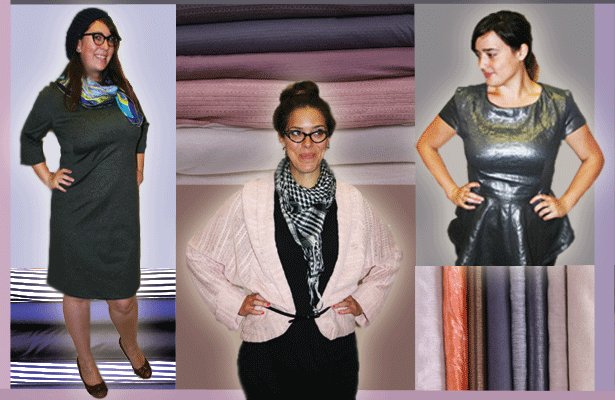 ShareThis
This week, we hear from the fabric experts themselves. Amy Shockley, a fabric buyer from Hart's Fabric, shares some fall fabric inspiration with our readers, including tips and projects made by her team in Santa Cruz, California.
I love when it starts to get chilly outside and the leaves start to change because I know that fall is finally here, winter is on its way, and I get to start wearing warm comfy clothes. I love all fall fashion fabrics! You can easily dress up classic fabrics such as sweater knits, wools, double knits, and metallic linens. So when BurdaStyle asked me if I could write a post on fall fashion fabrics, I was really excited!

I have been one of the buyers for Hart's Fabric for over seven years and I absolutely love my job. I love searching for high quality, hard-to-find fashion fabrics. Many of the fabrics I bring in are fabrics from a designer's previous collection, such as Betsey Johnson, Anna Sui, and Armani just to name a few. We picked out a few of our personal favorite BurdaStyle patterns and used our fashion fabrics to create the following three looks.




Recently I went shopping and saw a lot of pencil skirts, blazers, dresses, and pants made out of Ponte de Roma knits. Ponte is a double-knit interlock fabric that is made up of two layers knitted together to form one thicker, more durable fabric. It has a natural stretch and both sides of the fabric look and feel the same as if it were a double-sided fabric.

Dani made the BurdaStyle Sheath Dress (09/2012 #109) pattern out of a charcoal Ponte knit. She loved how the dress turned out. It is easy to make and since she made it with the Ponte stretch fabric she didn't even have to put in a zipper. Dani is a beginner sewer and commented that if she can make this dress, anyone can.




Peplums are not just for spring fashion – they work for fall, too! Katrina made the BurdaStyle Peplum Top (08/2012 #113) pattern out of metallic linen. She said it was an easy pattern to make, but was a little challenging to decipher the different pattern pieces for the peplum. She also moved the zipper to the side seam instead of the back. Her advice is to take time tracing the pattern and notching seams and it will turn out perfect. She absolutely loved the fit of the top and wants to make this fun top again using bright colored cotton/spandex twill.

Linen is a great versatile fabric that comes in many colors, weights, and textures. People most associate linen with a summer fabric because of its ability to wick away moisture and keep you cool on a hot day, but you'd be surprised about all the possibilities for your fall wardrobe, too! Think layers!

You can pair this fun peplum linen blouse with a warm knit scarf and some cozy leggings for a nice walk through town, or while you're sipping your delicious pumpkin spice latte. The best thing about linen is all the colors you can get to match your fall wardrobe. Bold saturated colors are in this fall! Linen doesn't just come as woven broadcloth either! You can get beautiful linen sweater knits. They are luxuriously soft and have a beautiful hand. Many of us here at Hart's have made beautiful infinity scarves out of the linen knits. They make wonderful Christmas presents, too!




I made the Esther Cardigan (#8027) pattern out of a pink sweater knit. I loved how easy this pattern was to make. The Esther Cardigan is a must-have for your fall wardrobe – you can easily dress it up or keep it casual. The hard part was picking out which fabric to choose.

Sweater knits are often knitted, crocheted, or woven and are made from a variety of fibers such as cotton, wool, rayon, and synthetic yarns. I love wearing sweater knits because they are soft, comfy, and drape well. Sweater knits are perfect for scarves, cardigans, shawls, shirts, skirts, and dresses.


Hart's Fabric is an independent fabric store located in Santa Cruz, California. Started in 1969, they have been a leader throughout the evolution of home sewing. They have seen sewing evolve from home economics classes to the explosion of quilting to the current fashion sewing phenomena. Throughout all of it, Hart's has done its best to provide fabrics to help inspire their loyal customers.