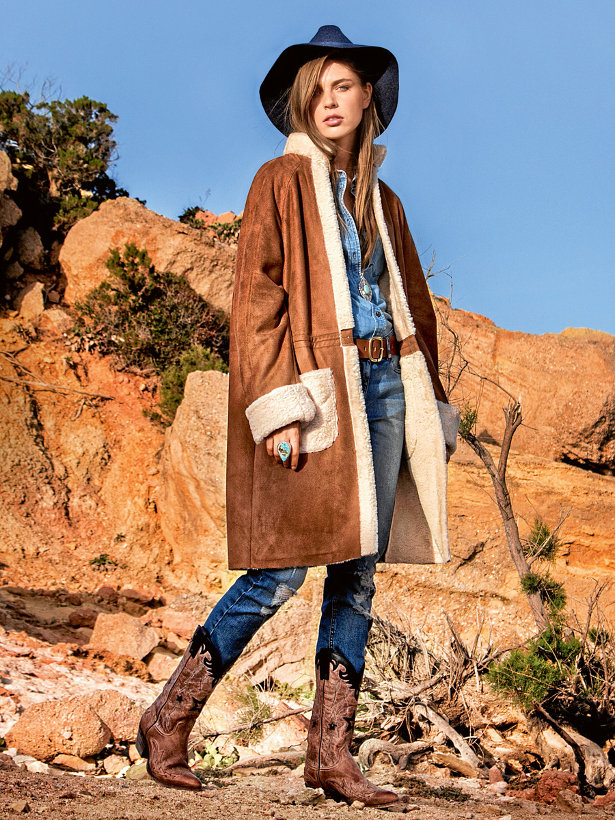 ShareThis
While we are still enjoying the fall temperatures here in Colorado, we know that serious cold weather is just around the corner and now is the time to sewing for it. Back in February, fashion designers sent coats down their runways that set the trends for our approaching weather and we've rounded up our favorites along with patterns to make them your own. If you're looking to keep things classic, opt for minimalist coats with interest, grown-up toggles and pea coats with a modern shape. To make a statement, patchwork faux fur for optimal warmth and style, add shearling to points of interest on your topper or forgo fitted for an oversized silhouette. Read the article to see the six coat trends you should have on your fall sewing list.
From long, sweeping coats to shorter styles, this fabric has been made quite the statement on the runways during fashion week this past February. This is on the trickier side of the fabric spectrum so prepare yourself for a bit of a challenge and opt for a leather needle rather than a universal or ballpoint. The shearling coat above is from the October 2016 issue of BurdaStyle that features a vintage, southwestern appeal as well as shearling that accents the standing collar, sleeve cuffs, and pockets. Shop more sewing patterns that feature shearling right here.
You can't go wrong with a super minimalist coat with streamlined edges and fit but this season appreciate the addition of interest in the form of an asymmetric collar or unexpected color choice such as cobalt blue, such as this coat from the August 2013 issue of BurdaStyle. We also recommend this coat from the color blocked coat from the September issue of BurdaStyle and this menswear style coat with larger lapel from the November 2015 issue of BurdaStyle, which are both will stand the test of time without being tired.
Classic pea coats are getting a cropped, boxy makeover for fall 2016 that gives it a more modern look and feel. The above cropped pea coat is a new style from the October 2016 issue of BurdaStyle and features an exaggerated lapel and a belt cinch with a half circle ring. To keep the style somewhat classic, make it in a navy or white fabric to give that bit of nautical style.
Faux fur is always a great trend to look forward to when the cold weather rolls in but this year it gets an update with statement color blocked squares, asymmetric contrasting lines and bold colors. The patched fur coat from the January 2014 issue of BurdaStyle is perfect for this trend. Just keep in mind, when working with faux fur, use ball point needle for knit back, mark with chalk, cut with nap laying down and never use scissors. Use pattern weights for pieces. Also consider a light lining (a silky fabric) because backing can be itchy. Don't topstitch.
In this instance, we're going to rely less on fit and more on oversized silhouettes that accompany sloping, dropped shoulders and longer hemlines just like the above coat from the October 2015 issue of BurdaStyle, which already proven to be a fan-favorite.
Toggles bring a cozy, rustic feel to fall coats that make me want to sit by the fire with a cozy cup of hot chocolate. This season they seen on all types of coats at fashion week in February that can easily be recreated using the duffle coat sewing pattern from the November 2011 iss ue of BurdaStyle, which features a large hood and two front patch pockets. Also recommended is this hooded toggle coat pattern from the December 2015 issue of BurdaStyle.