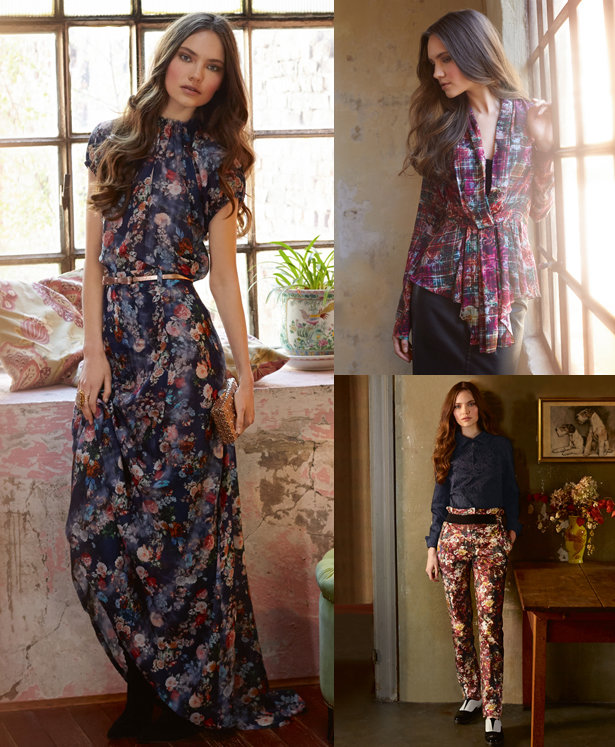 ShareThis
Bring romance wherever you go in this floral collection with plenty of ruffled dresses, tops, and pants. These designs are from the September 2014 issue of Burda Style magazine.
Instead of plain high waisted trousers, elevate your look with these unusual Button Tab Pants. The asymmetrical button tab closure is like a built-in accessory for these floral pants.
A slight train has a lovely effect in this lightweight floral Maxi Skirt. Belt loops make it easy to wear with tucked in tops like the Short Sleeve Blouse with Neck Ruffle.
This Paneled Boxy Jacket has so much detail. Rounded lapels are a new take on the smoking jacket. Solid panels at the elbow and waist make the floral fabric pop.
A dreamy dress for evening with plenty of flounce. Velvety Duvetine gets organza ruffles at the wrist and hem. The squared off neckline has a peekaboo effect from the sheer organza. A beautiful semi-formal look!
You can wear this Boatneck Sweatshirt slightly off the shoulder for a hint of the 80s. It's lightweight in a scuba knit jersey, but you could mix and match classic sweatshirting with any other knit fabric to change up the style.
A Long Sleeve Dress for all occasions with princess seams and a split neckline that doesn't show too much skin. This dress is modest for the office or a job interview.
Take your peplum top to the next level with this detailed style. The collar detail and buttons make this look polished.
Accentuate this full skirted schoolteacher Dress with a tulle petticoat. A pointed collar, belt, and cuffs are a businesslike look that's still feminine and fun.
This Draped Long Sleeve Top has the same style as those open fluttery jackets. A generous cut creates a V neck shawl collar and a fluttery peplum flounce at the hem. A great pick to wear with leggings!
You don't have to give up florals for fall. These draped and flounced pieces greet cooler weather in style. Welcome the back-to-school season with these put together outfits.
Happy sewing!