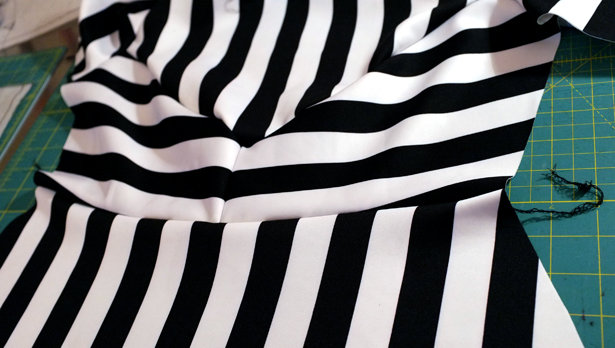 ShareThis
Fabric can really elevate a sewing project, and really take it to the next level of style! Get creative with your fabric choices and positioning on your sewing pattern, because you have the power when you sew your own garments. Check my latest sewing project and how I designed with striped fabric.
This specific dress was designed and drafted by myself, and you can see every step in this recording of my From Sketch to Pattern Web Seminar. You can see how I drafted each style line and manipulated the darts using a basic pattern specifically our Theater Dress. This is definitely my go-to pattern when I want to draft my own design, I simply just trace out my size line (because I know it fits great), and add my style modifications.
You have to be very careful when cutting out stripes, when I folded the fabric I made sure the stripes laid perfectly on top of each other (even if the cut edges didn't match up). I placed my pattern pieces according to my sketch, so the stripes go vertical on my top bodice and skirt, and then horizontal on my sleeves, back, and bottom front bodice. Since I wanted to match my stripes at my side seam both on the front and back bodice, I placed my under arm points at the start of a black stripe. This will ensure they get sewn together perfectly!
For this style, I sewed my darts first and then paneled my front bodice together. When sewing a point I always start from the outer edge and sew into the point on each side. It is hard to get a nice point when you try and sew as a continuous seam (even with pivoting).
Since this was an off the shoulder design, I sewed each corresponding half armhole to each bodice. Then I attached each skirt to the bodice waistline. I always like to attach the front skirt to the front bodice, and the back skirt to the back bodice so I can sew the side seam continuously. This makes for easy alterations later!
Now I was able to sew my side seam from my sleeve hem all the way down to my skirt hem. I also made sure my under arm points and waistlines matched up.
Since the fabric I used was stretchy, I could cover stitch my edges (or zig zag). So I finished my entire off the shoulder neckline edge with a folded cover stitch finish, as well as my sleeve and hem edges.
What is a simple dress design truly turned into one stylish garment… Thanks to the strategic use of fabric! I love the way my striped dress turned out, and I plan on making more garments where I can play with the placement of fabric designs. Check out more project pictures here and draft yourself this same dress following this web seminar.
Happy Sewing!
Meg
Meg Healy is BurdaStyle.com's Online Editor and eCommerce Manager. She has an education in fashion design and earned several awards for her technical skills in pattern making and sewing.