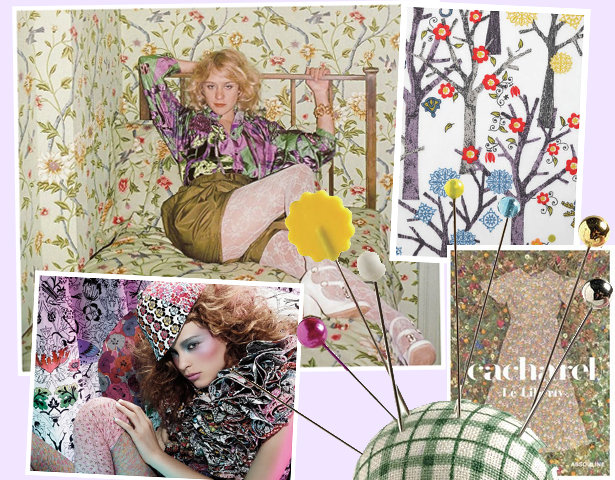 ShareThis
A look inside the makeup of Liberty of London fabrics! Read on…
Most of you are familiar with Liberty of London fabrics right? The brightly decadent prints and quirky florally designs have made quite a big impression on the fashion set over the past few years. Liberty & Co. is a long-established department store on Regent Street in Central London, England, in the West End shopping district and Liberty of London is a luxury accessories brand which draws on Liberty's heritage. Launched in 2005, it operates under the creative direction of Ed Burstell. They are not only known as one of the more exciting textile manufacturers, but for offering a wide range of products, like Vivienne Westwood Anglomania dresses, beauty products and home goods.
Liberty of London's widespread popularity led them to appear in lines by Kate Moss for TopShop, Chloe Sevigny for Opening Ceremony and Nike. They also launched a line for Target last Spring (I got a bedspread!).

Today you can find many different types of Liberty of London fabric online and in fabric shops. Pictured below are the most popular and most widely available types of Liberty fabrics: Tana Lawn, Silk Twill, Cotton Twill, Cotton Lycra, Varuna Wool and Corduroy.




Tana Lawn: Tana Lawn is 100% pure cotton and is the most widely utilized Liberty fabric. Tana Lawn is finely-woven, light-weight cotton— it's ideal for dresses, blouses, tops, skirts, robes, lingerie and even fabric covered shoes! Care: Machine wash delicate-tumble dry low or hand wash cold – line dry.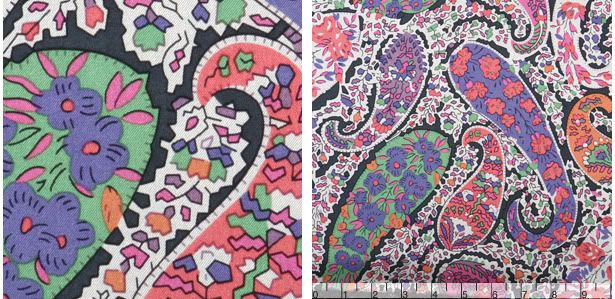 Silk Twill: "Twill, put simply, is one up, two down, one up, two down… and in the next row the same, but offset by one, and by two in the next row. This produces a diagonal structure on one side which is hardly discernible on the other. If the offset goes to the right for some rows, then to the left, you get herringbone". Silk twill has a wonderful drape, great luster and excellent durability for the weight of the fabric. Ideal for more tailored styled garments like dresses, blouses, pants and lined lighter weight jackets. Care: Hand wash warm water, line dry. (The above information in quotes was found on this very informative website, Discerning Fabrics.)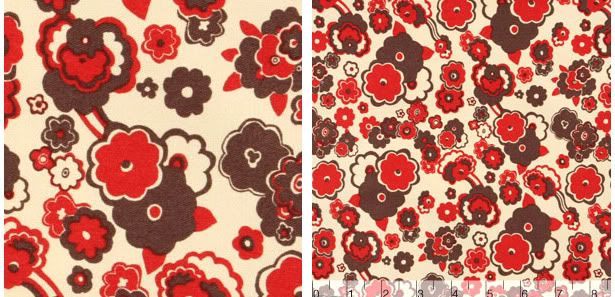 Cotton Twill: Made from 100% cotton, the twill fabric pictured above are damask prints and have a very English feel. Twill is a fabric characterized by its diagonal weave. This weave may be evident in tweed variants of twill, where several colors are used. More well known examples of twill fabric are chino, drill, denim, gabardine, tweed and serge. Care: Machine wash delicate-tumble dry low or hand wash cold – line dry.




Varuna Wool: A very fine wool fabric, ideal for clothes or shawls and scarves. Has anyone had the opportunity to read the book Maiden Voyage? If you have, you may remember Tanya Aebi's boat, which she single-handedly sailed around the world, was named Varuna. Sigh. Care: Dry clean only.




Cotton Lycra: A Cotton/Lycra combo is the ideal choice for light-weight sweatsuits, t-shirts, costumes, even lingerie. It's very soft and cool to the touch. Care: Machine wash delicate-tumble dry low or hand wash cold – line dry.




Corduroy: Corduroy fabric is woven with little ridges, called wales. Use corduroy for jackets, purses, trousers, and other casual garments. While being woven, the fibers of the fabric are normally twisted as they are woven, creating the wales. Care: Hand wash or cool machine wash not to exceed 40 degrees. Tumble dry low.

You can order Liberty of London fabrics in the US online at B&J Fabrics, and in the UK from Liberty of London.

Swatches pulled from B&J Fabrics and Liberty of London