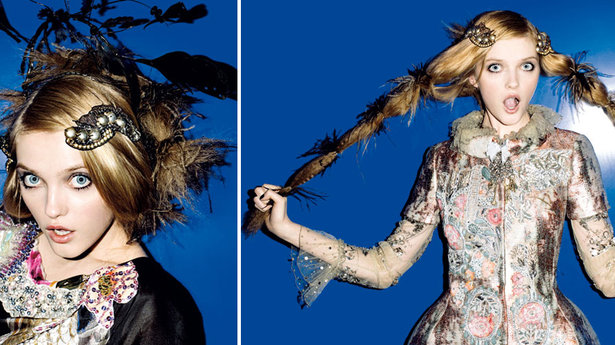 ShareThis
Today there are so many different types of fabrics it's difficult to tell one from the other, isn't it? Ever since the utilization of man-made fibers in textile blends it's hard to pin point exactly which type of fabric one may be handling. Today we're focusing on brocade and damask— two very regal types of fabric that need no further embellishing, as they stand quite opulent on their own.
Brocade dress pictured above by Christian Lacroix, Fall 2007, shot by Terry Richardson.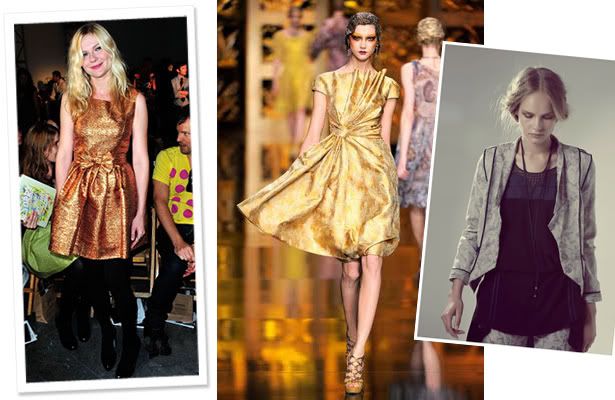 Kirsten Dunst in metallic brocade dress at Rodarte, Dior gold brocade draped dress, and Lerario Beatriz Resort 2009; the model wearing a rare Brazilian cotton-damask jacket
Brocade Fabrics

Brocade fabrics mainly consist of solid or multi-colored silk threads, often times combined with gold or silver metallic threads. A brocade is woven by adding a supplementary weft to the weave, creating the illusion that sections have been embossed into the fabric, or embroidered on top of it. The back (or wrong side) of a brocade is determined quite easily, as it will have groups of threads that have been trimmed away or left out of the weave and look more messy.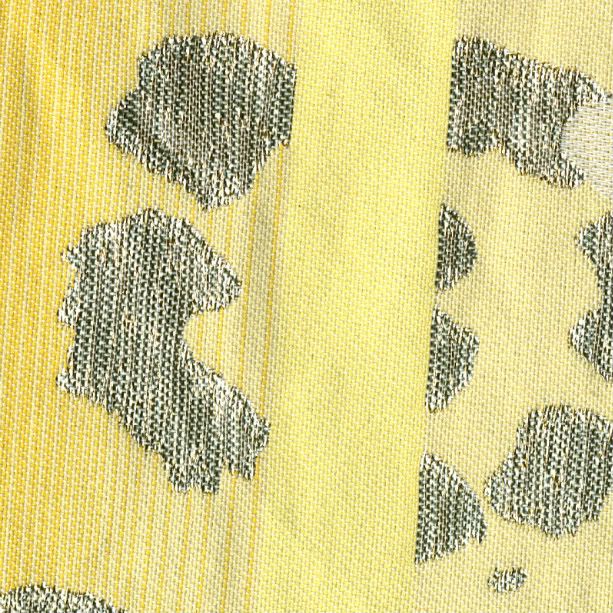 Front view of a yellow, creme & metallic gold brocade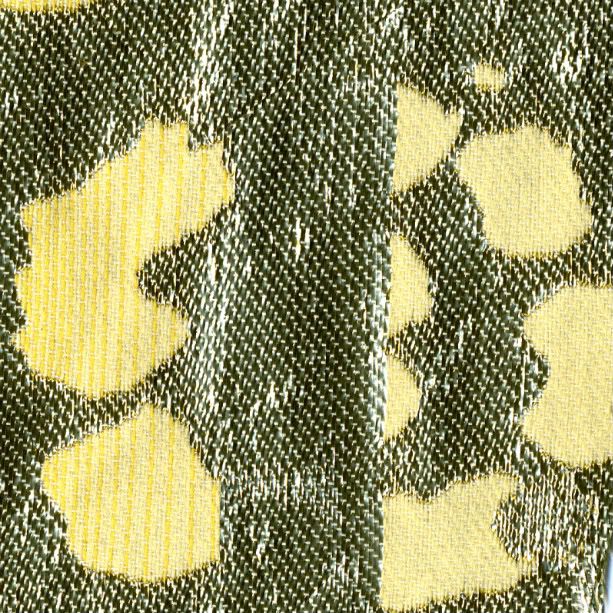 Back view of the same brocade as above. Notice how most of the metallic threads show only on the back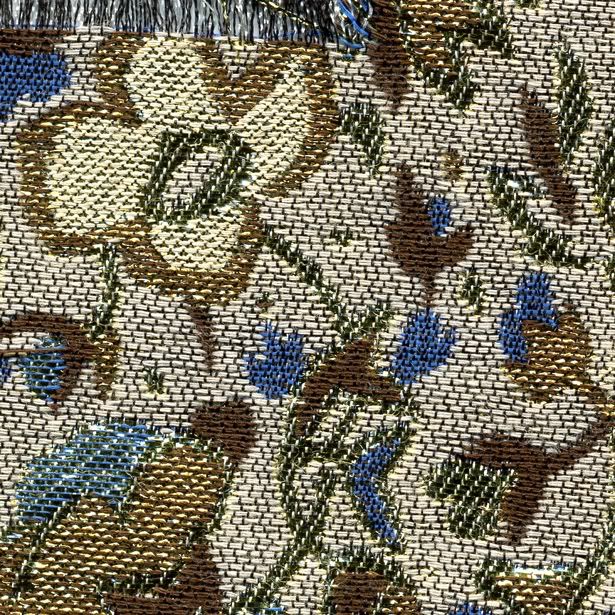 Front view of a blue, tan, brown beige and gold metallic brocade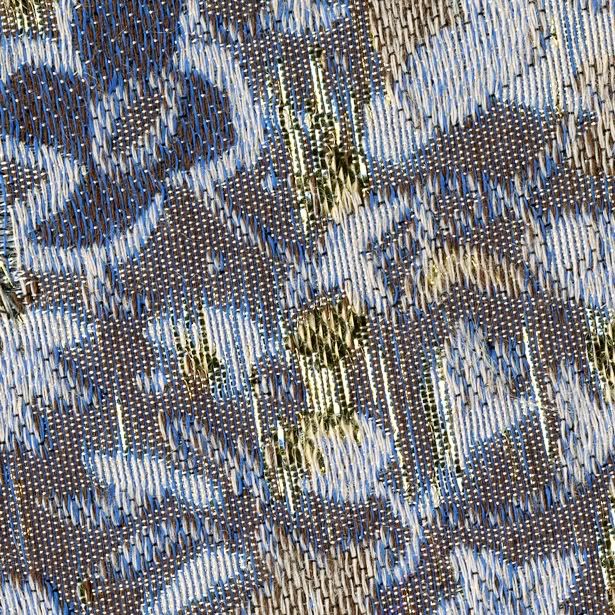 Back view of the same swatch of brocade above. Notice the layers of threads and thefewer metallic threads

The word brocade comes from the Italian word broccato which directly translates to "embossed cloth". Brocades are richly decorative fabrics and quite suitable for holiday dresses or outerwear— because brocades are so intricately woven, the price tag often reflects the vast amount of work which goes into brocade production. Many designers will use brocade for outwear pieces, or pieces that will be seen on the outside, as not to waste the gorgeous fabric itself or hide it beneath outer layers.



Gabrielle "Coco" Chanel, Evening ensemble, Gold brocaded silk satin, circa 1953, France, Gift of Mrs. Stephane Groveff, The Museum at FIT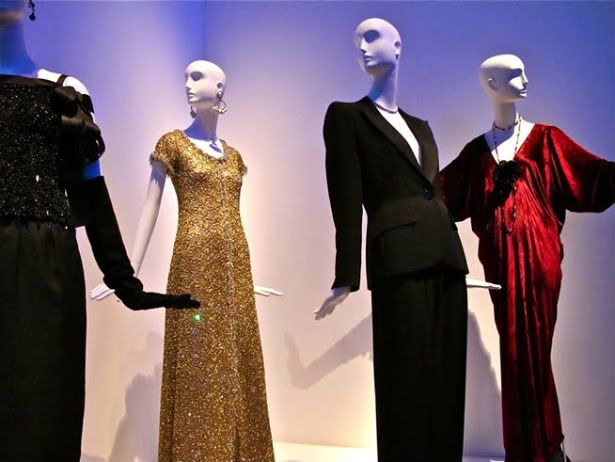 YSL, 1967 Gilded brocade evening dress with gold pearls and embroideries for Marie-Hélène de Rothschild. Photo from BennielovesWombie
Damask Fabrics

Today Damask fabrics are most likely to be found hanging from windows or acting as shams for pillows or chair covers, but a damask ensemble used to represent wealth and prosperity and was worn by many royal families.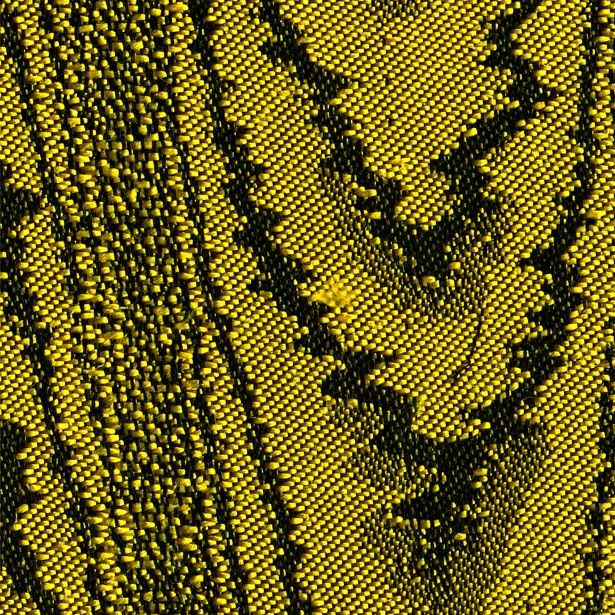 Front swatch of a acid yellow & black damask silk



Back view; Notice how the back view is the negative image of the front. Both sides though are acceptable as the "right" side of a garment

Damask fabrics are actually reversible, yet the opposite side is like a film negative— it has the same pattern, but the colors are opposite as to where they are on the front— you will recognize damask fabric used in the iconic Fendi bag below. Damask fabrics can be quite stiff, which can make for an ideal material for structured, more sculptural pieces.



Christian Lacroix, Poiret, BCBG, Fendi

Damask (from Damascus) was one of 5 basic weaving techniques used by Byzantine and Islamic cultures in the Middle Ages. You'll most likely find damask fabrics today woven from silk, linen or linen blends, often times depicting a floral or geometric motif. Modern damask fabrics are woven on computerized Jacquard looms and have a slight sheen or iridescence when light bounces off of them. Check out this post on Fashion-Era.com for further Jacquard loom weaving explanations.



YSL, 1994 Lime and wisteria green printed silk damask Evening coat; (above centre) 1977 Evening outfit, black purple and gold oilskin damask Jacket, purple gold crepe georgette blouse, purple damask Pants and passementerie; (above right) 1977 Evening outfit, orange and gold damask Jacket, gold threading and gold damask Pants… Photo from BennielovesWombie