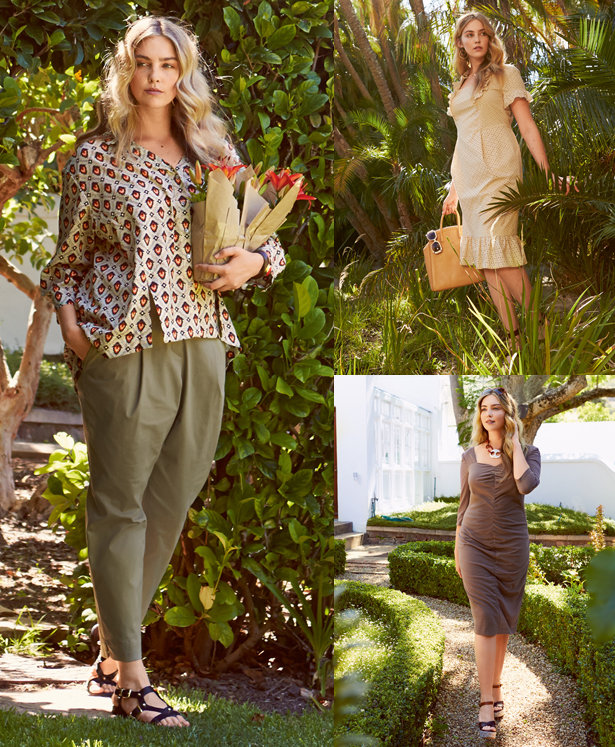 ShareThis
Form fitting dresses for summer are here, plus a pair of go anywhere trousers and breezy high-low blouse. This collection in shimmering neutrals and graphic patterns has you covered for summer days, from lunch dates to the office. These designs are from the June 2014 issue of Burda Style magazine.
Ruffles are the star of this sweetly feminine dress. The knee length sheath is dolled up with flounces at the hem and sleeves, plus smaller ruffles framing the princess seams and square neckline. So romantic!
Slits at the front give this Blouse the illusion of a crop top with a little more coverage. It's cut slightly larger at the back but still shows off high waisted pants and keeps you cool.
You can wear the Drawstring Blouse Jacket on its own or as a layer. A drawstring waist brings in the waist in this flowy top with gold buttons and cuffed sleeves. The round neckline doesn't have a collar to show off your decolletage.
Princess seams frame a squared off neckline in this demure sheath dress. This pleated style is sophisticated anywhere with hip pockets and a narrow collar.
The Pleated Trousers have a little volume with a high waist and pleats at the top and taper down at the ankle. Khaki gabardine is nice and sporty for the office or for the weekend with a floral blouse. The unique hip yoke has a slim look without back pockets.
The Ruched Dress has ruching down the front to draw attention to curves and create an alluring sweetheart neckline. Find a stretch floral to give this dress more of a retro bombshell look, or keep it in a solid color for work. The square neckline is mirrored at the back for a pretty portrait effect.
A figure conscious sheath dress or unexpectedly cut blouse are the new warm weather staples. Make this collection your own with summery solids or mod prints.
Happy sewing!