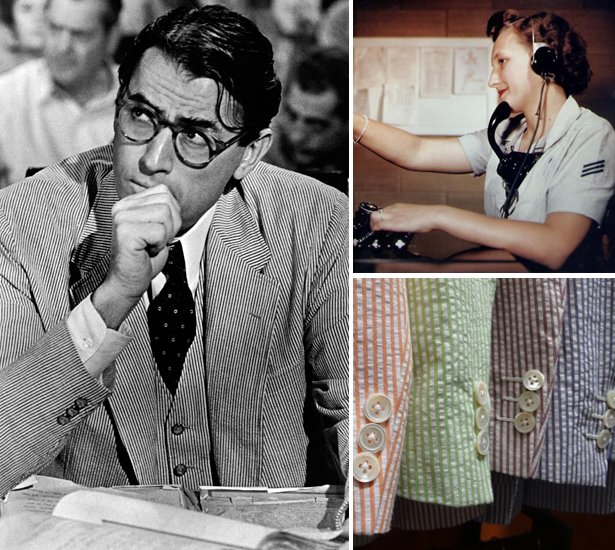 ShareThis
Ah, when men were men and men wore seersucker.
Before the ironic t-shirt and the Old Navy button-down, men wore suits. Yes, even in summer, even in the deep south. Men had their tricks, though, and one of them was seersucker.
Seersucker – or "shir o shekar," Persian for "milk and honey" – came to America with the British, who first acquired the fabric from Muslim traders. The crinkly, light weight texture of all-cotton seersucker creates small cooling pockets between the fabric and the body of the wearer, making it a perfect choice for anyone doing business in the balmy Old South. Seersucker gets extra gentleman bonus points for not needing to be ironed – EVER! – and standing up well to frequent washings. Though it is traditionally done in stripes, you can also find seersucker in solids and sometimes even retro floral prints if you're lucky.
For many people, seersucker conjures up images of the refined southern gentleman but, historically speaking, seersucker has always been a lady thing, too. Those adorable WWII nurse and navy uniforms for the gals? All of them were made out of delightful wash-and-wear seersucker. I recently thrifted a really fluttery, bias-cut, 1950's handmade (!) summer party dress all cut from light blue seersucker. Gorgeous!
So, what happened to seersucker? Well, two things. For one, the fickle GQ set became concerned that seersucker was too much Colonel Sanders and not enough Rhett Butler. On the business side of things, seersucker is, unfortunately, a low-profit, high-cost fabric to produce. Seems that seersucker's old-school, intricate weave makes for slow going, even on today's uber-efficient looms.
My bottom line? GQ and profits be darned, I'll keep sewing, wearing and loving seersucker! The carefree durability of this fabric combined with its featherweight hand makes seersucker a lifetime friend of anyone who sweats and washes their clothes because of it.