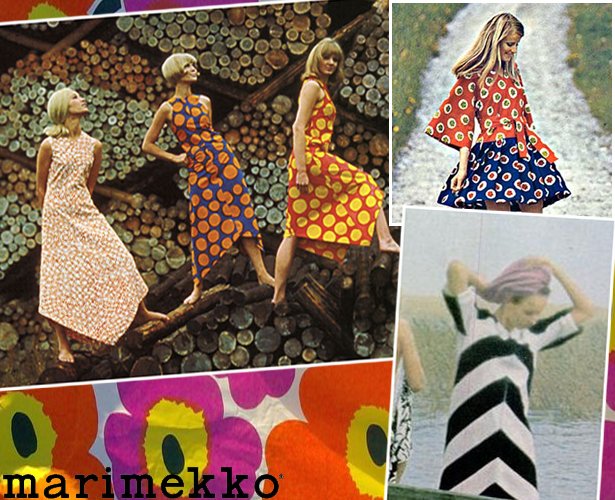 ShareThis
Hope, democracy, equality. No, it's not Obama's new re-election slogan. Those three words are commonly used in descriptions of this week's vintage fabric: Marimekko.
It takes one heck of a fabric to express such weighty concepts, but Markimekko – a woman-owned, woman-operated Finnish fabric design house that dominated fashions of the 60's and 70's – is no ordinary fabric company. Marimekko was founded in 1951 by Armi Ratia, the wife of a failed oilcloth factory owner. Because women typically could not secure business loans at that time, Armi recruited her husband to secure the loan for her new venture and talked her artist friends into designing graphic prints for her new line of textiles. Soon, she converted the failed oilcloth factory into one of the main hubs of Scandinavian design.
From the beginning, Marimekko prints were large scale, screaming with color and utterly unlike anything else on the market at the time. Marimekko produced a line of simple, a-line skirts and dresses to demonstrate what could be done with these bold, new fabric prints. The dresses were loose fitting and asexual in comparison with the tight-fitting, hour-glass fashions popular at the time. The designs were liberating, functional and egalitarian – anyone, old, young, thick or thin, could rock a Marimekko dress and look good doing it. After all, Marimekko means "a dress for Mary" – i.e. the woman on the street.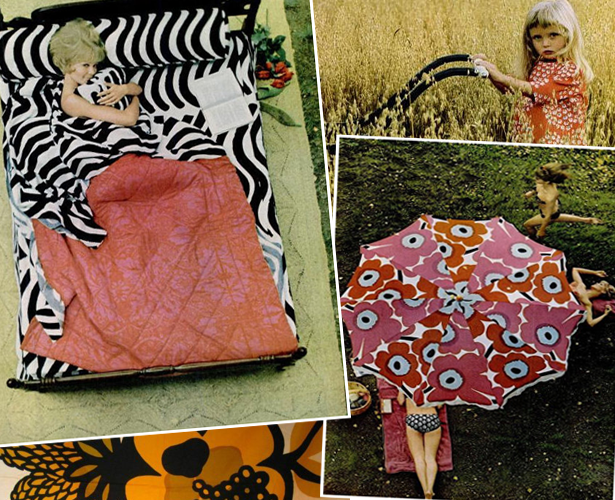 Equality by design is a pretty neat idea but it took a style icon like Jackie O to catapult Marimekko into fashion history. Kennedy's PR people were concerned that Jackie O's predilection for Parisian haute couture would alienate the "average voter." It was important for Jackie O to look average but extraordinary at the same time, a more attractive, more intelligent version of "everywoman". So, in a highly calculated move, Jacqueline Kennedy bought 8 Marimekko dresses to wear on the 1960 campaign trail. The dresses she chose were refreshingly simple – honest yet interesting, unusual but affordable, the prints brimming with optimism and youth. Marimekko's unconventional, informal tone set the stage for Jackie O's legacy as an accessible style icon.
So, let's see, equality – check, style icon creation – check, promotion of optimism – check. All that with prints of poppies and a couple of well placed squiggles? Hey, that's vintage fabric for you…