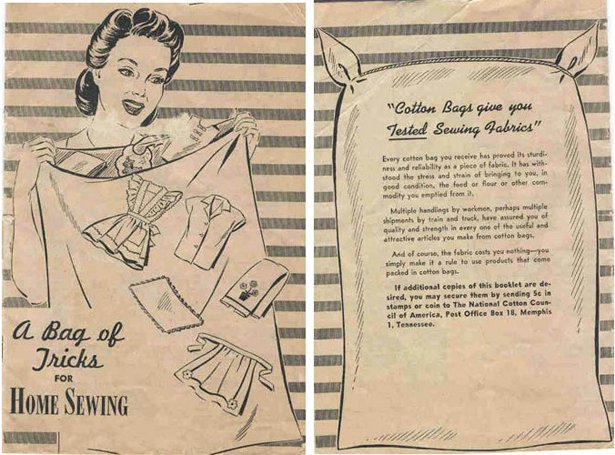 ShareThis
When I finish a sewing project, the last thing I want to hear is "You look like you're wearing a bag!" but for many women between 1930 and 1950, that was actually a compliment.
Enter feedsacks. At the turn of the century, the cotton industry was booming and sewing machines were on the rise. The bulky wooden barrels that used to hold stuff like grain, sugar, meal, salt and seed were replaced with fabric bags a.k.a. "feedsacks." At first, these sacks were sewn out of unprinted, unbleached muslin – really not much to look at. But as the depression took hold, many hard-up housewives started using the fabric from the sacks to make children's clothing, aprons and other necessities, even if the fabric itself wasn't very exciting.
Marketers and advertisers took note of this trend in the 1930's and began making feedsacks out of attractive, colorful calico to get these women to buy their bags, and more of them. Heck, one unfolded bag equaled 1 yard of fabric! Getting the prettiest print – and enough of it to make an adult sized dress – became a cut throat consumer competition. I, for one, like to imagine my grandmother getting in a fist fight over the blue and yellow ribbons and bows print to your right.
There are a bunch of companies today that make reproduction feedsacks but the thread count is too high to really capture the twinky hand of the real deal. You can find original feedsacks – in all their cheap glory – at estate sales, flea markets and on eBay. I'm thinking a blouse with tons of tiny buttons down the front, a couple of pintucks on either side and a peter pan collar. What would you make with feedsack?