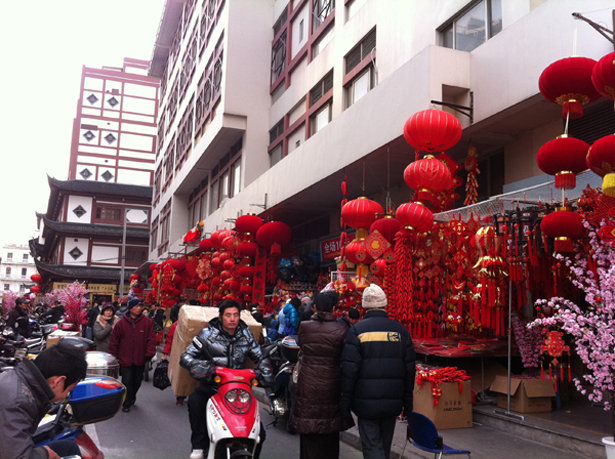 ShareThis
Shanghai… arguably the most dynamic city in the world's fastest growing nation. In a place that seems like one giant monument to capitalism—with a constantly morphing skyline, residents working seven days a week, and multinationals flocking to set up offices—I wanted to investigate firsthand what options were available for independent designers like myself to sustainably manufacture and sell.
Photo: Busy Street Photo of Shanghai's Yuyuan Gardens (home of many trim/fabric markets)
Amongst the overcrowded and densely populated metropolis lies a growing community of eco-conscious designers committed to servicing the equally growing demand for a more holistic approach to life.
Heather Kaye is one of the co-founders of FINCH, an eco-friendly design label based in Shanghai. FINCH is a great model for anyone looking to sustainably produce clothes in China. Kaye uses 100% organic fabrics sources from carefully vetted mills, products made from natural fibers grown on certified organic farms, fabric colored using low-impact dyes, and produces with socially and environmentally responsible practices (Kay sourced a local factory in Pudong that she's used for years and visits weekly).
"Eventually we want to build a design and manufacturing collective for like-minded small scale brands with exceptionally well-trained and well-treated employees," said Kaye. Kaye also imports fabric from Indian NGO WomenWeave, an organization that empowers local hand-weavers in Maheshwar to make their skill more profitable in the marketplace amongst other endeavors. "We arranged to visit their weaving facility in Maheshwar, and saw the hand-cut block 'Booti' printing in nearby Bagh. The accessories you see in our photos – the floppy hats and large tote bags – are our own designs made with WW fabric."

Pictures from left: Heather Finch in her Studio located in Shanghai's French Concession, photo from Snoozer Loser NY's S/S2011- Shot in Shanghai.
1. You worked previously as a designer in NYC. What inspired you to move to Shanghai to start FINCH?
Actually, I relocated to Shanghai in 2006 with my then company, Liz Claiborne. After Liz, I managed a Canadian apparel company's design center, focusing on creating original prints and textile sourcing.
FINCH came about over time with my dear friend and co-founder, who is also a designer in Shanghai. We decided to focus on creating a brand that was as efficient and respectful of our natural resources as possible – this remains the cornerstone of our brand.
After two years of sharing what we love about fashion design and the kind of responsible company we'd like to work for, we made the decision last February to create our own brand using organic (fiber grown without pesticides and toxic chemicals, harvested by hand, using responsible farming and labor practices) and sustainable fabrics (like bamboo and hemp), and collaborating with artisans for textile inspiration.
2. What challenges did you have producing sustainably and ethically in Shanghai and what methods did you use to overcome them?
The most difficult, yet vital, part of what we do is ensuring transparency throughout our supply chain. We work with only one mill, Hempfortex, because they only handle sustainable and organic fabrics and offer certifications for all of their products. The idea of 'organic' or environmentally friendly manufacturing is still far off from the reality of a typical factory floor – so we've had to search out facilities that are on the same page, and are seeking to be innovators in an emerging market.
The reality is that China's factories run on migrant labor that wants to work as many hours as humanly possible, for the maximum wage possible, then move on to the next phase of their life. I've worked with the garment factory in Pudong where FINCH is made for years now, and with my weekly visits, I am confident that they do run a highly ethical operation.
3. What types of fabrics do you use? How are your prints and dyes processed environmentally sound?
We use organic cotton (raw fiber is from Turkey), silk, hemp, and bamboo blends. One of our fall fabrics has some recycled poly in it (from used soda bottles), and one for spring has yak hair.
For screen printing, we use low-impact reactive dyes, which are still petrochemicals,instead of vegetable dyes. Low-impact dyes require less heat to set, and form a stronger bond with the fabric so there's very little run off in the water supply. Also, they don't fade over time so you're more likely to wear the garment season after season. We also use digital printing, when a print has more than a few colors which is the least wasteful printing method possible for multiple colors.
4. You are heavily involved in the Eco-Design Fair in Shanghai. Could you elaborate on how your involvement came about?
For FINCH, the EDF is such a great way to get involved and meet our community. The best part of building a brand locally is that we are TALKING to our customers, getting their feedback, and seeing what more we can do to serve the awesome women of Shanghai.
The EDF is also a great opportunity to promote the design collective that many of us call our home base – the Nest shop, in Tianzifang. Seeing the number of great brands Trine Targett has put together under one roof is a testament to growing consumer interest in eco- friendly alternatives. The EDF is the perfect place for the Shanghai public to check out these new products and meet the people behind them.
5. Do you manufacture your garments in a factory or make use of local tailors in Shanghai?
We currently work with just one factory, in Nanhui, Pudong. We are, however, dedicated to building a small design collective and manufacturing facility in Kunshan within the next year. With several other eco-conscious brands, we will have a workshop in a carbon-neutral 'factory' space aimed at accommodating small units. This workshop will be open to any small-scale designer, local or abroad, who wants to ensure their goods are produced in a socially and environmentally responsible way.
6. Which commonly used fabric, do you believe, has the biggest environmental impact?
While the stats on the amount of pesticides used to grow conventional cotton are impressive (25% of the world's insecticides, 10% of the world's agricultural chemicals), plus most farmers use GMO cotton seeds, studies looking at the longevity and care of a garment actually assert that a polyester garment outlasts even an organic cotton garment. It has more to do with the sheer number of garments consumed and the mainstream acceptance of 'disposable clothing' than with a particular fabric. It would seem a poly blazer you wear for 8 years is actually less impactful, resource wise, than buying 2 or 3 cotton summer dresses each year.
7. What is your inspiration for next season? Where do you cook up most of your ideas for future collections?
Our spring collection, due out in March, will have another gorgeous print from an emerging artist we work with in New Delhi, named Anant Dayal. He painted several of our fall and summer collection prints, and is just incredibly talented. We saw one of his paintings and immediately thought the same thing, "I need to WEAR that!!" And so our collaboration began.
8. Any advice for future clothing companies looking to produce eco-friendly in China?
Contact us! We're an open book and love to collaborate and share our lessons learned.
info@finchdesigns.com.
SONIA TAY launched New York-based Snoozer Loser back in 2005 out of an art
collective of the same name. She takes an environmentally conscious approach to fashion
by hand-printing materials with eco-friendly pigments, using vintage overstock fabrics,
and producing her lines on a made-to-order basis.