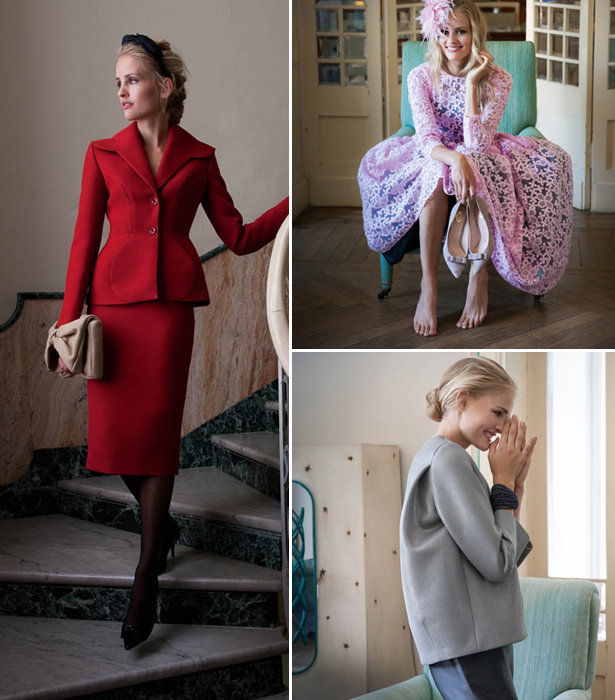 ShareThis
This collection of sewing patterns come to us from the fifties! BurdaStyle has revisited 11 of its original designs including ball gowns, dresses, skirts, tops, and even a sunsuit. Get nostalgic and sew up these patterns from the past in today's fabric!

Famous Designer Black Stretch Viscose Georgette; Black Solid Georgette; Midnight Silk Crepe de Chine
This chic dress remains simple yet very sophisticated. It features a sweetheart neckline and a diamond shaped panel in the center, which adds a beautiful silhoette to the figure.

Primary Red Solid Double Face; Italian Red Stretch Polyester-Viscose Suiting; Brick/Marine Solid Suiting
Working woman! This fabulous suit will take you from the office to cocktail hour without a hitch. The jacket features vintage style lapels and a slightly peplum flare on the bottom half while the pencil skirt will prove to be a closet staple, it will never go out of style.

Angora Beige Fuzzy Wool-Acrylic Woven; Off-White Solid Faux Fur; Delightful Ivory Silk Woven
This coat proves that trends come back year after year! Although vintage in style, this coat is so modern day chic! It features a slightly larger collar than normal for added drama.

Satin; Baby Pink Silk Wool; Beige/Pink Bold Chevron Jacquard
This full vintage style skirt has made a recent comeback and we absolutely love the look. It features two pockets, which are just simply convenient and a large sash.

Salmon Solid Silk Faille; Bellini Silk Crepe Back Satin; Metallic Copper and Sea Blue Polyester Brocade
Have a special occasion coming up? This gorgeous dress is so timeless, perfect for a wedding or fancy fundraiser. It features a sweetheart style neckline, a skirt that is pleated at the side and a hemline that hits just below the knee.

Off-White/Gold Polka Dots Organza; Eggplant Silk Organza; Blue Black Silk Taffeta
This sweet vintage dress features two bows, one near the right shoulder and one on the left front hip. There is a slightly dropped waist and then a full skirt, made for twirling!

Steven Alan Red and Black Striped Cotton Woven; Black and Orange Striped Polyester Blended Ponte De Roma; Brick Solid SuitingBrick Solid Suiting
We imagine Audrey Hepburn wearing this top on a chilly fall day with peg-leg pants. It features a button up back, which they just don't make anymore, and a wide collar in the front. Darts and a belt add a feminine silhouette.

Black/White/Pink Floral Cotton Sateen Print; Black/Pink/Green Floral Cotton Voile; Ivory Cotton Lightweight Woven
Want to feel like you're lounging in the south of France? This sunsuit is for you. It's adorable, playful and sexy! It features a romper style playsuit that can be strapless or have an added strap around the neck and buttons in the front. You can also make a button up full skirt to wrap around the playsuit when you want to go inside for champagne and truffles, à la vôtre!

Hot Pink Polyester Lace; Neon Fuchsia Floral Polyester Heavy Crochet Lace; Navy Stretch Silk Charmeuse
This dress is vintage but also has a subtly modern feel to it, it can easily be worn to any special occasion. Featuring a full skirt, cinched at the waist and 3/4 sleeves. There is also a small v dip in the back, a little flirty.

Black Floral Silk; Famous Designer Midnight Blue Misc Printed Silk Chiffon; Moonless Night Black Acetate Lining
This gorgeous vintage full skirt dress features off the shoulder sleeve caps and a hemline that reaches just before the ankle. Add a beautiful broach at the bust for an exta retro feel.

Silver/Black Solid Denim; Platinum Solid Double Face; Pale Gray Metallic Cotton Jacquard
This beautiful jacket is so simply chic! The sleeves are about 3/4 length and the neck features an open collar.
If you want all the pattern in this collection you can still purchase the From the Archives: 11 Exclusive Vintage Burda Patterns Kit for $29.99 and you'll get all the patterns!
We hope you enjoy this amazing vintage collection as much as we do.
Happy Sewing!