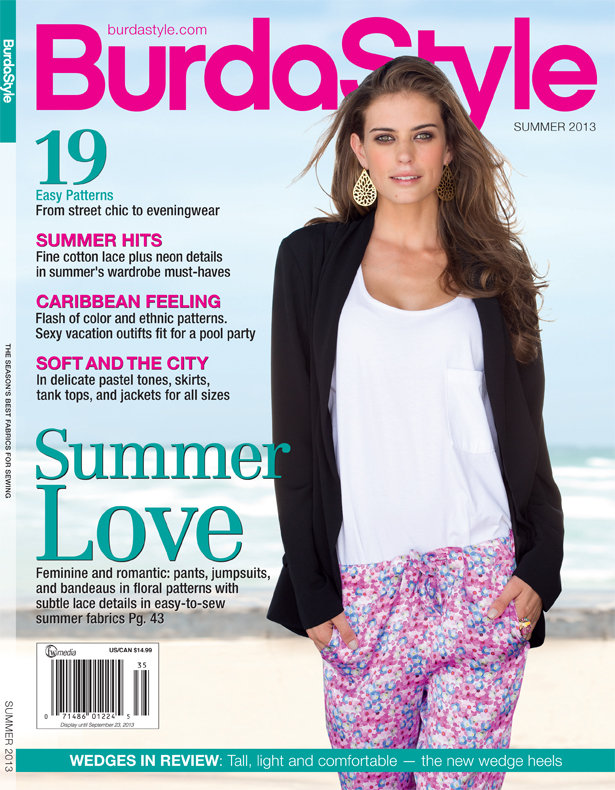 ShareThis
BurdaStyle fans, we have exciting news! This fall, we're introducing the first ever United States edition of BurdaStyle magazine.
BurdaStyle US is packed with 30+ patterns, plus all the features sewers love—think runway-ready DIY, sewing how-tos and tips, and BurdaStyle fashion collections for every occasion. The magazine will also feature beautiful editorial spreads, thorough sewing instructions for included Burda patterns, and full size pattern inserts for original Burda designs. You'll want to collect every issue!
At launch, the US edition will be available exclusively on newsstands. Make sure you're subscribed to our newsletter, and be the first to hear when new issues are available. The premier issue hits stores October 2013, just in time to make the season's hottest trends.
Enter your email address to sign-up for our newsletter and be the first to know! Newsletter sign-up can be found on the right of our homepage
We've got a couple of ways for you to access the magazine:

To Subscribe to BurdaStyle US online using your credit card click here..
To Subscribe to BurdaStyle's US edition via mail or phone:
Call Toll Free (US & Canada) 1-800-219-2067
Outside North America: 1-386-246-0105
Or send a check in US Funds payable to BurdaStyle to:
BurdaStyle
PO Box 433289
Palm Coast, FL 32143
Include your full name, postal address and email address.
Get 4 issues for only $29.99, 50% off the cover price!
Canada: Add $9 postage. Other countries: add $20 postage.
Do you have questions or changes to be made to your subscription? Contact Subscriber Services:
Call toll free (US & Canada) 1-800-219-2067
Outside North America: 1-386-246-0105
Email burdastyle@emailcustomerservice.com
You may also sign into your subscription account online to
- make a payment
- renew your subscription
- change your address
- update your email address
Just log in at: https://ssl.palmcoastd.com/07644/apps/LOGINSSO
For international issues of BurdaStyle magazine, click here.
For subscriptions in foreign countries:
Phone: +49 – (0) 8382-963180
E-mail: burda@guell.de
For specific inquiries regarding your BurdaStyle magazine subscription, please find the appropriate contact below:
-International distribution in English, French, Greek or Dutch, e-mail abos.burda@abopress.fr
-International distribution in Spanish, e-mail suscripciones@ovejer.com
-International distribution in Portuguese, e-mail assinaturas@marcopostal-epp.pt
-International distribution in German or Russian, e-mail burda@guell.de
-Distribution within the USA in English, Russian, German, Dutch or French e-mail info@glpnews.com
-Distribution within Canada in English, Russian, German, Dutch or French, e-mail info@gcnews.ca
Happy Sewing!