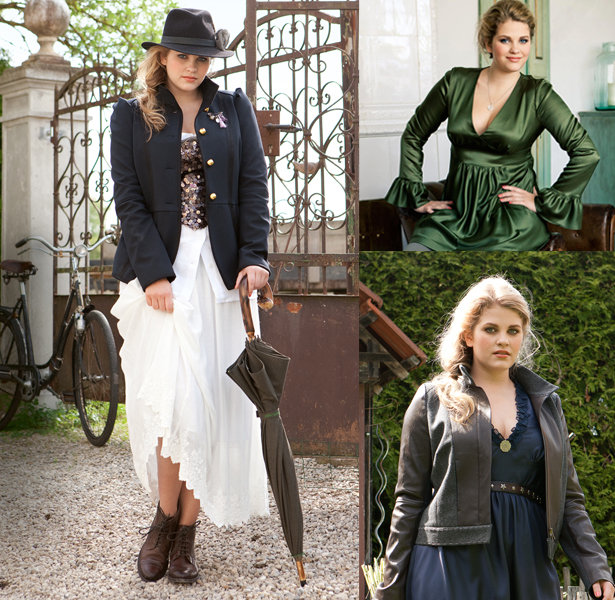 ShareThis
We are sharing with you a new collection of plus size patterns from burda style magazine. This collection is styled with a nod to the countryside, and we think it is perfect for fall!
Everyday Equestrian is a pattern collection of both rustic and romantic styles which can be worn in the country or city. These designs are flattering and tailored to the body, made with many lovely fabrics, from leather, sequins, and rich textured fabrics. Check out the entire collection below!

These hip hugging Leather Trousers are so stylish and comfortable to wear with the top yoke sewn with elastic. These trousers are nicely panelled and are flattering on the leg – sure to be a staple in your fall wardrobe.

We adore the styling of this Corset with the Hook and Eye Jacket. The corset cinches in the waist to accentuate the waistline. It has different panels so you can incorporate various fabrics and textures to create a truly wonderful piece of wearable art! This Hook and Eye jacket is classically styled with nicely structured sleeves and waistline.

Here is the lovely Flouncy Dress that is so figure flattering. The bust pieces and skirt beautifully gather into the waist panel, and the flounces on the sleeve hems give this dress a lovely touch. This dress is finished off with a neckline detail and centre front appliqué sure to make a statement.

This leather accented Blouson Jacket is great for fall, and the style is so edgy! This semi-fitted jacket has many panels and seams, and a zipper front closer. It has a high collar for warmth and beautifully fitted sleeves that don't add bulk.

This is a lovely outfit consisting of the Military Jacket and the Elasticated Maxi-Skirt. We love the masculine style jacket worn with this ultra feminine skirt.

This shining Empire Top can be worn casual or elegant! It features many flattering details like the under bust gathers and the sleeve flounces. We love the empire waist panel that sits just under bust, and you can even cut this panel in a contrast fabric for even more style.
This collection has many versatile designs that can be interchanged and worked into your existing wardrobe. If you want this style now, try sewing the Leather Trousers or the Elasticated Maxi-Skirt, they are quick to sew and easy to wear.
Happy Sewing!