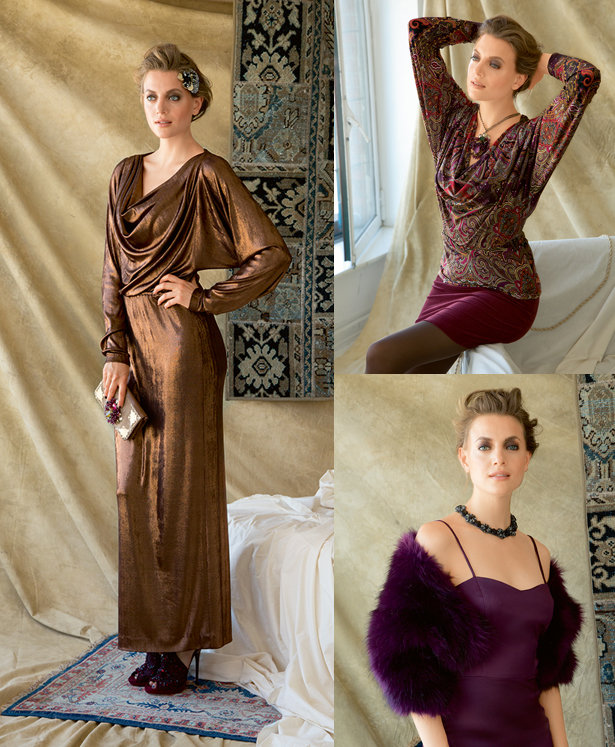 ShareThis
This collection explores bold patterned silks and rich textures in a plaid coat, silky dresses, faux fur wrap, and more. These patterns are from the December 2013 issue of Burda Style magazine, and go well with an evening of theater or drinks with friends!
Don't be afraid to mix prints in this little Jacket with Trim. The clean lined cut gives structure to novelty fabrics, and will make an attention-getting layering piece at your next party. Mix up your outfit with the simple A Line Skirt in patterned silk.
Light up the room with a bold pleated Sequin Skirt. Patterned jersey peeks out from underneath for a playful party look.
This essential Bodice Dress will take you from dinner parties to late night dancing. The body skimming silhouette looks good with any shoes and jewelry so you can personalize your look. For a regal outfit, slip on the Faux Fur Wrap like a Hollywood starlet.
Metallic fabric makes this simply cut Grecian Cowl Dress totally regal. Choose a fabric with plenty of drape to show off the cowl neckline. A long sleeved maxi dress is unexpectedly glamorous.
Patterned jersey fabric makes this comfortable silhouette into a real statement top. Stretch jersey has lovely drape around the neckline to flatter your shoulders
Faux fur with a rich flat pile gives this coat a luxurious feeling and lots of warmth. Throw it over your cocktail dress and make a noteworthy entrance at your next party.
The sixties are back in this mod Paisley Blazer. Long, deep lapels with hook-and-eye closures and buttoned cuffs add a little modern style.
Bright plaid boucle gives this coat a fresh, fun feeling and is sure to brighten up your commute. Roomy pleated pockets and belted cuffs ad modern detail.
The rich colors and textures in this collection shine in evening wear. Try a bold new pattern or textile, like faux fur, patterned silk, or bright paisley. You might find a new favorite!
Happy sewing!