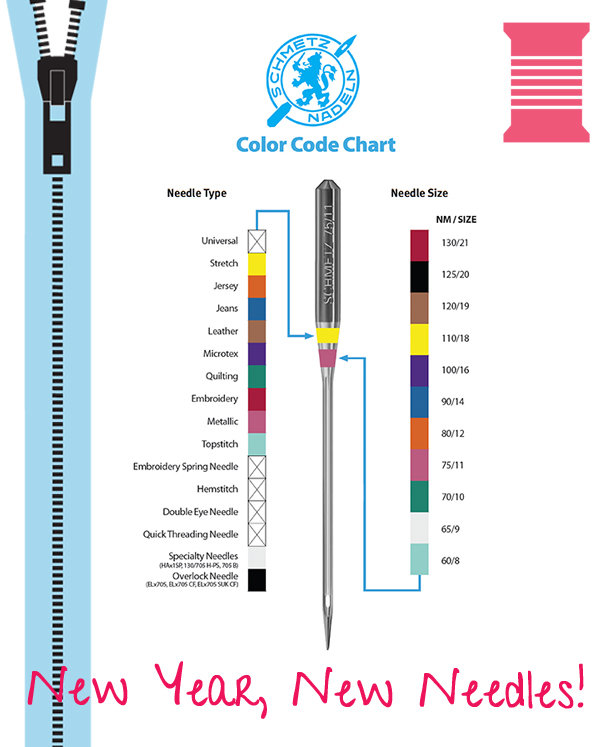 ShareThis
We're starting the new year off with a month of giveaways from SCHMETZneedles! Enter every day for your chance to win a goodie bag stocked with needles, pattern books, notions and more.

Update: This sweepstakes is open to all BurdaStyle members, including international residents.
Rhonda Pierce, Marketing Director, SCHMETZneedles.com is sweeping her office clean and filling SCHMETZ tote bags with lots of sewing goodies – samples, books, patterns, notions and yes, a couple packs of SCHMETZ needles. Each tote is filled with different sewing goodies, and we're giving one away to a lucky BurdaStyler every day this month!
Here are just a few of the giveaways:




Kai Scissors

2013 & 2014 Needle Travel Guide

Islander Sewing Easy Zippers DVD

BobbinSavers

Cuddle Fabrics

Sandra Betzina's fabulous Power Sewing Master Series DVD Set

2 books from Joan Ford's Scraptherapy series

myPad Needle Organizers
PLUS assorted threads, interfacings, and the Winter 2014 issue of Burda Style US magazine! These goodies will be packed in a high quality quilted nylon tote embroidered with the SCHMETZneedles signature logo. It's roomy and durable, perfect for carrying to sewing class or craft night!
Enter to win a daily prize, and you'll also be eligible to receive our grand prize of a SCHMETZ tote, SCHMETZ "Super" needle, and a vintage SCHMETZ sewing tin. See more here!
Don't forget to like SCHMETZneedles on Facebook! You'll find all the latest news on top of the line needles, plus the SCHMETZ color chart for an organized SCHMETZ needle stash. >/p>

Are you a winner?
Jan. 1 Amy Chastain
Jan. 2 Cathy Freeman
Jan. 3 Liz Godts
Jan. 4 Natalie Blades
Jan. 5 Pearl Smith
Jan. 6 Marty Remsen
Jan. 7 Elise Williams
Jan. 8 Luci Griffith
Jan. 9 Susan Schwarz
Jan. 10 Anca Clintoc
Jan. 11 Melissa Patterson
Jan. 12 Holly Abreu
Jan. 13 Jonni Burnham
Jan. 14 Eileen Pansano
Jan. 15 Alisha Burse
Jan. 16 Jessie Smith
Jan. 17 Shantrell Every
Jan. 18 Tony Siegel
Jan. 19 Johannah Brookwell
Jan. 20 Nancy Giese
Jan. 21 Sharyn Powlesland
Jan. 22 Cheryl Scott
Jan. 23 Melissa Westergard
Jan. 24 Kelly London
Jan. 25 Brenda Melahn
Jan. 26 Barbara Cohn
Jan. 27 Melanie Kennedy
Jan. 28 Jocelyn Markle
Jan. 29 Jody Zinno
Jan. 30 Laura Mendoza
Jan. 31 Glenda Bard

Grand Prize Winner: Lauren Kapcha