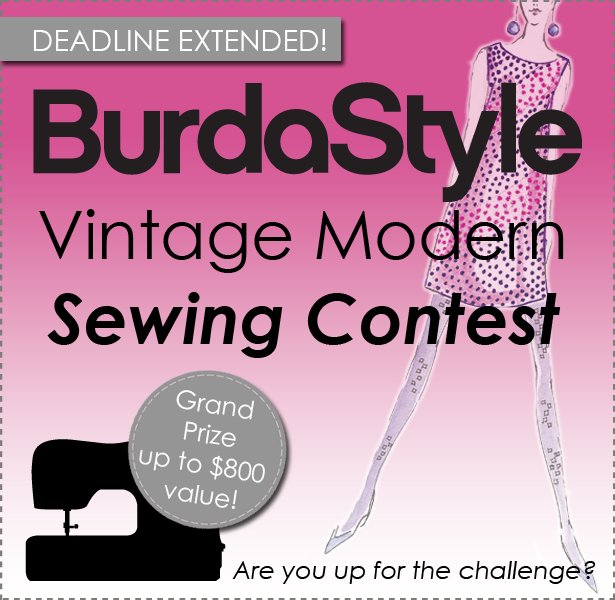 ShareThis
[2/24/2013 UPDATE: Voting is closed.] View the top finalists!
[1/28/2013 UPDATE: Submission Deadline Extended to 2/15/2013!] To kick off the new year, we are celebrating the release of our new book with an exciting sewing competition open to the international BurdaStyle community – the BurdaStyle Vintage Modern Sewing Contest!
The grand prize winner will receive a lovely package valued at $800 filled with prizes from B&J Fabrics, Hart's Fabric, MOO, and Spoonflower.

How to Enter:
Create a fashion sewing creation to showcase your take on giving a vintage look a modern spin. Use one of the following options as your starting point:

Option One: Make a creation using one or more master pattern(s) from the BurdaStyle Sewing Vintage Modern book.

Option Two: Create one or more variation project(s) featured in the BurdaStyle Sewing Vintage Modern book, which are based on the master patterns featured in the book.

Option Three: Create your own variation project using one or more master pattern(s) and/or variation project(s) from the BurdaStyle Sewing Vintage Modern book.

Upload your project with the words "BurdaStyle Sewing Vintage Modern Contest 2013" included in the project title by February 15, 2013 at 11:59 PM EST (new extended deadline). This project must be a new project, never previously posted on BurdaStyle.com. To be eligible, the project must link back to the pattern from which you based the project on. Only projects following these criteria will be considered for this competition. Limited to one entry per participant. However, you can make more than one project from the book and turn it into an outfit and submit as one entry (e.g., a blouse from the book paired with pants from the book).

On February 19, 2013, the BurdaStyle team will select and post 20 finalists in a slideshow gallery, which will be announced on the homepage. BurdaStyle community voting will be open from February 19, 2013 until 5:00 PM EST on February 24, 2013.

Top 20 Selection Criteria:
1. Creativity - In addition to following contest rules, we are also looking for projects that showcase your creativity and how you interpret the "vintage modern" essence of the sewing competition. We encourage you to alter, embellish, and style your garment to your own liking!
2. Craftsmanship - Show off your attention to detail and finishing skills! (This is where detail shots of your project really come in handy!)
3. Presentation - Make sure your individual creation gets the attention it deserves through quality photography and styling.

The Prizes:
Grand Prize – BurdaStyle Community Choice First Place: A $100 USD gift card to Hart's Fabric, 3 yards of fabric from Spoonflower of the winner's choosing, a $50 USD gift card to MOO that can be used toward the purchase of 40 postcards or 100 business cards, a fabric assortment from B&J Fabrics (approximately $550 USD in value), and a limited edition BurdaStyle tote bag. Yes, that's right, the grand prize includes tons of high-quality fabric to add to your stash for creating more sewing projects!

BurdaStyle Community Choice Runner-Up: A $100 USD gift card to MOO that can be used toward the purchase of 80 postcards or 200 business cards and a limited edition BurdaStyle tote bag.

BurdaStyle Favorite: One lucky winner chosen by the BurdaStyle team will receive a travel iron. The BurdaStyle Favorite will be chosen from the 20 finalists in the voting slideshow.

This competition is open to all BurdaStyle members, no matter where you sew! BurdaStyle is such a vibrant, diverse and fun community of creative people – we can hardly wait to see what you guys come up with! Remember, the last day to post your projects is February 15, 2013, so start brainstorming, experimenting and sewing now! Click here for official rules and happy sewing!