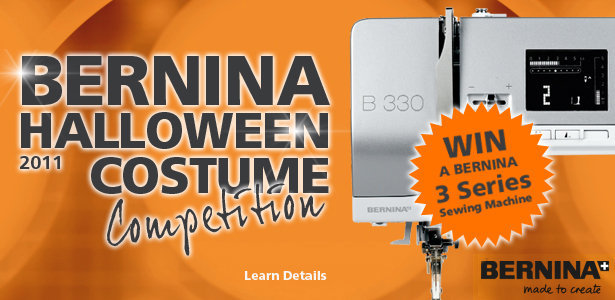 ShareThis
We can't believe this year has flown by so quickly and that it's almost time for our favorite holiday, Halloween! We've already started breaking out our favorite fabrics and wackiest embellishments in anticipation and now we're giving you the chance to do the same with the BERNINA 2011 Halloween Costume Competition.
The bar has been set high by last year's winner gonewandering and her awesome Jaws creation, and this year we're looking forward to loads more jaw-dropping and hair-raising ideas from our fantastically creative community. Have a costume idea that you've always wanted to try but never had the chance? Here's your opportunity to pull out all the stops and take home a sweet cash prize or brand new 3 Series machine from our friends at BERNINA!
How to Enter:
Transform yourself (or your kids, husband, wife, dog, etc.) with the most impressive Halloween costume that has ever appeared on BurdaStyle.
Upload your project(s) with the words "BERNINA Halloween 2011" included in the title by October 23rd at midnight (EST). Only projects with the full phrase included will be considered for this competition!
UPDATED:
Voting:
Voting will be open from October 25th until midnight EST on Sunday, October 30th. Vote for your favorites via a Gallery slideshow. All eligible entries will be featured in the slideshow!
3 Huge Prizes:
First place winner will be chosen by the BurdaStyle community, via the voting slide show, and will score a $1,000(USD) cash prize.
Second place will also be chosen by the BurdaStyle community and will win a $300(USD) cash prize.
One lucky winner will be chosen as a sponsor favorite by BERNINA to take home their own BERNINA 350 PE Sewing Machine. Sponsor favorite will be chosen from the 50 finalists in the voting slideshow.
This competition is open to all BurdaStyle members, no matter where you sew!
BurdaStyle is such a vibrant, diverse and fun community of creative people – we can hardly wait to see what you guys come up with! Remember, the last day to post your projects is October 23rd, so start brainstorming, experimenting and sewing now!
Click here for official rules and happy sewing!