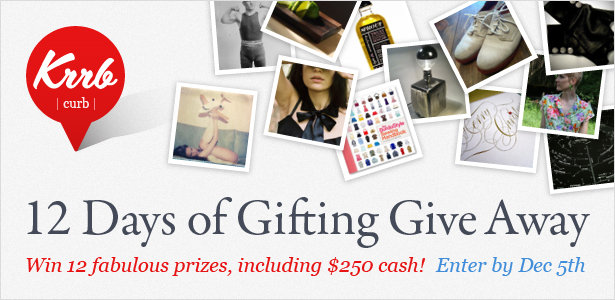 ShareThis
The holidays are right around the corner and our friends at Krrb (a great website where you can buy, sell, trade, borrow or give to your neighbors — locally and in-person) are getting in the spirit with their 12 Days of Gifting Give Away! Everyday from December 6-22, Krrb will be giving lucky winners the chance to score great prizes including The BurdaStyle Sewing Handbook , specially made accessories from Lamia Designs, a gift pack from Sprout Wellness, a $250 cash prize and much more!
Want to score one of these great prizes? Entering is easy:
Find an item from your home, office or studio that you think would make a great gift. Maybe it's something you made by hand, maybe it's something you once loved but don't use much anymore, you could even offer a service – get creative!
Post your object on Krrb (learn how it works here) – you can post as many items as you like – and give a little background story about the object, it's history and why you think it would be a great gift.
Comment on this Krrb blog with a link to your Krrb gift posting(s).
Krrb will choose one winner per day from December 6-22, with a $250 cash prize given on the final day.
Deadline to enter is 11:59 EST on Monday, December 5th so search your space for those one-of-a-kind items that you think will make the perfect holiday gift start posting on Krrb!
For more info and full contest rules check out Krrb's 12 Days of Gifting Give Away!