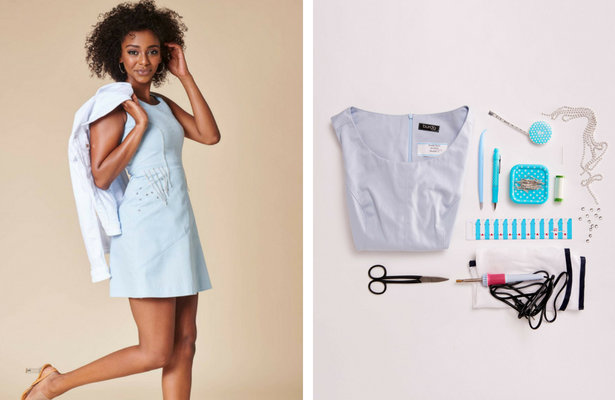 ShareThis
SHINING STONES – Rhinestones for everyday? Why not? Gems and crystals sparkle especially well in the sunshine!

Rhinstones jeans, dresses, and blouses are spotted on the trendy street of New York as well as the runway shows of designers like Dries Von Notes and Anna Sui!



+ Dress (style 104, 6/2016)
+ Rhinestone chains
+ Hotfix applicator
+ Hotfix crystals (Swarovski)
+ Jewelry scissors
+ transparent thread
+ Straight pins
+ Needle
+ Pressing cloth
+ chalk pencil
+ Ruler
+ Tape measure
+ Precision stiletto (Clover)



Step 1: Determine the positions of the rhinestone chains. Mark positions with a chalk pencil (here approx. 1.5 cm/ 5/8" apart).
Step 2: Also determine and mark the length.



Step 3: Use the jewelry scissors to cut the rhinestone chains to the desired lengths.
Step 4: Knot transparent thread securely on the inside of the garment.



Step 5: Take several stitches around the first rhinestone in the chain.
Step 6: Pin the rhinestone chains along both princess seams of the bodice.



Step 7: With the transparent thread, sew each individual stone in place, along the entire chain. Knot the thread end securely.
Step 8: With the help of the Precision Stiletto, place individual crystals on the desired positions.



Step 9: Attach the crystals with the help of the Hotfix applicator.
Step 10: Finally, carefully press the crystals from the wrong side, under a pressing cloth, for approx. 15 seconds.



Those who like it a little flashier can use rhinestones and crystals in rainbow colors!



Would you rather embellish a jacket or trousers? No problem. Work in the same manner, adding crystals along the seams – or grouping them to create patterns.